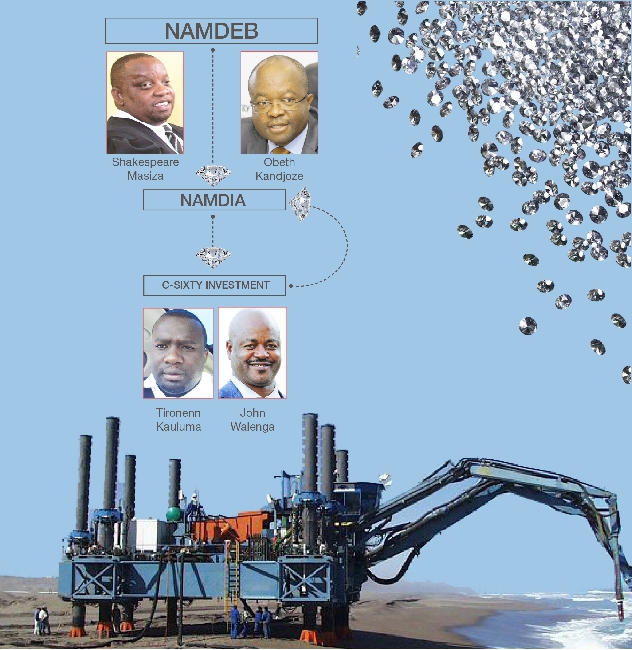 ---
By Shinovene Immanuel | 4 November 2016
---
A COMPANY owned by businessman John Walenga and a nephew of former Cabinet minister Helmut Angula was hand-picked to evaluate diamonds from a new state-owned diamond firm, and will make anything between N$600 million and N$1,5 billion in the next five years.
Walenga and his partner Tironenn Kauluma were awarded the deal by the ministry of mines to evaluate diamonds from Namib Desert Diamonds (Namdia), a 100% state-owned company, born out of an agreement between the government and diamond giant De Beers earlier this year.
Namdia will serve as a diamond sales and marketing arm of government into the international market, but its operations have been largely secretive as it is not clear where Namibian diamonds are being sold.
Namdia's board chair Shakespeare Masiza confirmed to The Namibian on Wednesday that Walenga's company C-Sixty Investment won the tender to evaluate Namdia's diamonds, estimated by experts to be worth around N$2,1 billion per year.
Masiza said C-Sixty Investment's directors are Walenga as chair, Patricia Kauazunda (deputy chairperson), Uushona Shiimi and Rosa Nangolo.
Sources said Namdia appears to be in the hands of a cabal of top politicians, top officials and their cronies who are strategically placed to benefit from Namibian diamonds.
Masiza said the board does not know who the C-Sixty Investment owners are since "Namdia did not select nor appoint C-Sixty Investment".
He said questions regarding the appointment of the company should be directed to the energy ministry.
Namdia's acting chief executive officer, Kennedy Hamutenya, did not respond to detailed questions. Mines minister Obeth Kandjoze initially promised to answer questions, but suddenly went quiet. Shortly after The Namibian had told the minister it cannot wait indefinitely, Walenga's newspaper, The Villager, published a vague announcement online last Thursday, only stating that they had been picked for the job.
Sources said Kandjoze's ministry hand-picked Walenga's company for the job, despite a long-held tradition to advertise the tender to get market-related prices, instead of choosing one company that might dictate the price of the contract.
Masiza said the current government valuators are ring-fenced from assisting Namdia to avoid collusion and dependence on the De Beers price book, which is the intellectual property of the international diamond giant.
Asked why this tender was not advertised, and the value of this contract with C-Sixty Investment, Masiza said the mines ministry is better placed to respond to questions.
"We have not seen the contract, and cannot respond to that," he said.
Walenga confirmed to The Namibian on Wednesday that they got the tender. This is despite claims that their role in this deal is a duplication of what government diamond valuators already contracted by the state can do.
He said C-Sixty Investment, which he owns with Tironenn Kauluma, Angula's nephew, also won the N$23 billion-rated Kudu Gas Project last year when it was chosen to partner Norwegian oil and gas operator BW Offshore.
Angula, the Swapo spokesperson, also owns a diamond company.
Namdia's claim that it does not know how much the contract is worth adds to concerns about the lack of transparency at the new company.
The Namibian understands that the contract with C-Sixty is worth between N$15 million and N$26 million per month.
Walenga said these "figures are grossly incorrect. C-Sixty will be paid a fee according to the value of the diamonds valuated". Namdia's diamonds to be valuated by C-Sixty are estimated at around N$2,1 billion per year (N$10 billion in five years).
Experts said government would have settled for a better deal if it advertised the job to evaluate Namdia's diamonds, unlike now when they opted for one company.
Walenga said as entrepreneurs, they saw an opportunity from the new relationship between the government and De Beers.
"We subsequently submitted a proposal to government, offering our services, and the government responded by accepting our services of valuating the 15% of diamonds from De Beers (for Namdia)," he noted.
Walenga said they are a 100% Namibian-owned company with qualified staff.
"We do not pride ourselves in being middlemen, as you term it. We have the skills, the technology and the capacity to execute the process," he stated. He did not say where they gained their experience from.
According to Walenga, C-Sixty Investments is now part of government diamond valuators of the 15% of diamonds obtained outside the Namdeb agreement, and the company also holds exclusive rights to all Sarine products and services in Namibia.
Sarine Technologies, an Israel-based company listed on the Singapore Stock Exchange, owns machines used in the evaluation, planning, processing and trading of diamonds.
Walenga said Sarine provides rough diamond traders with the means to quickly and automatically inspect, evaluate and determine the value of diamonds.
He said the use of Sarine's valuation technology will ensure that Namdia's sourcing, buying, and selling processes and value chain is enhanced, thus maximising profits and price discovery.
"A substantial amount of money has already been spent in securing the hardware to enable us to execute the mandate," he said.
Walenga, who owns a music label under Omalaeti Productions, said they will support arts development as part of their social responsibility.
TRANSPARENCY
A source warned last month that Namdia might be known as an "exclusive club for the super-special" to get diamonds or profits due to the lack of transparency.
Some pointed to the secretive appointment of the board, and the hand-picking of Walenga's company for the valuations of diamonds as reasons for the suspicions.
Besides Masiza, Namdia's board include businesswoman Tania Hangula, economist Lorentha Harases, human resources executive Florentia Amuenje, and geologist Venondjo Maharero. Most of them appear to have connections to state power.
The Namibian understands Namdia's diamonds are being sold to Dubai, a tax haven known for secrecy and transfer pricing. Dubai is one of the top three diamond trading hubs in the world, rivalling centres such as Antwerp (Belgium), and Mumbai in India.
A report by worldpolicy.org said an American embassy cable released by Wikileaks said former chief executive of the Dubai Diamond Exchange, Noora Jamsheer, claimed that the Kimberley Process system in Dubai was corrupted, and that she was offered commissions to turn a blind eye.
Masiza said Namibian diamonds will be sold to the international market because Namdia's mandate is price discovery. "That is, to sell outside the De Beers' pricing system," he added. Experts said even developed countries use De Beers diamond valuators because of their dominance of the market.
Masiza also said information about the company will be available to the public to ensure transparency.
"Certain information, for example as they pertain to price, costs and business strategies are commercially and competitively sensitive. That will remain confidential information," he said.
* This article was produced by The Namibian's investigative unit
---