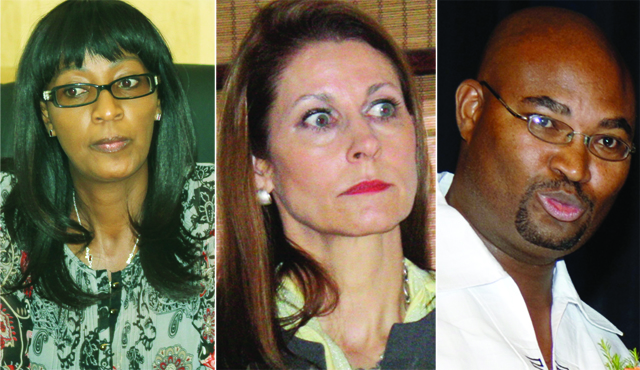 ---
By Tileni Mongudhi | 5 June 2013
---
NEWLY appointed TransNamib chief executive officer Sara Naanda 'head-hunted' a potential CEO for the parastatal and then competed against that person in a process which allegedly cost more than N$229 000.
The TransNamib board of directors, of which Naanda is the deputy chairperson, decided to 'head-hunt' for a CEO after failing to get their first choice. The board hired Christina Swart-Opperman of PricewaterhouseCoopers to conduct the process, which sources say did not strictly follow TransNamib's recruitment policies.
The Namibian understands that a recruitment drive which began in 2012 with the help of consultants HR@Work identified former Namibia Breweries Managing Director Desmond van Jaarsveld as the suitable candidate. Van Jaarsveld told The Namibian that he turned down the TransNamib offer after receiving other offers in October last year.
People with close knowledge of the recruitment process told The Namibian that the board then requested Naanda to ask Jerry Muadinohamba, head of the Motor Vehicle Accident Fund (MVA), to make himself available as CEO of the parastatal. Naanda had more than two meetings with Muadinohamba before the MVA chief executive warmed to the idea.
After several telephone and face-to-face contact since Monday, TransNamib Acting CEO Struggle Ihuhua, said late yesterday that they would reply by latest Thursday.
Muadinohamba, who initially declined to speak to The Namibian until he was told the story would be written even without his comment, confirmed he was approached by Naanda and said he did not realise he had been called for a formal interview until he got to the meeting venue.
'For me it was a meeting of minds to see whether they are interested in what I have to offer because I never applied,' Muadinohamba said this week.
Muadinhamba said he was 'shocked with disbelief to hear that Sara (Naanda) was running for the same job, after she approached me. Had I known that Sara was a candidate at the time of going to the meeting-turned-interview, I would not have continued with the process.'
Naanda, could not be reached for comment as she is out of the country with board chairman Festus Lameck.
When the 'interview' took place on 29 November, the discussions between Muadinohamba and Naanda had allegedly advanced to a possible secondment of the MVA chief to TransNamib.
Muadinohamba said he was under the impression he was going into the meeting to discuss his employment terms.
The Namibian has independently confirmed that Muadinohamba made a disclaimer that he did not research TransNamib in preparation for the 'interview'. He only learnt about competing with Naanda long after the 'interview'.
The panel interviewing the two concluded that despite positive attributes of being a 'strategist, strong people's person, excellent networker, transformative and a broad, proactive thinker' Muadinohamba did not bother to study TransNamib. He also lost because he was 'too general,' did not address 'real issues and 'lacks technical understanding and financial acumen'.
Naanda received 'overall positive comments' from the panel. She was 'astute and a numbers' person' and understood TransNamib's main challenges. She was 'well-prepared, especially for the presentation'. Though recommending her as most suitable, the panelists felt 'minor concerns were her [lack of] strategic and leadership abilities and technical understanding of TransNamib'.
The company's board decided not to conduct psychometric profiling, which is standard in hiring its senior managers, sources told The Namibian.
The panel consisted of TransNamib chairman Festus Lameck and board members Chris Nghaamwa as well as Jerome Mouton. Director of Railways at the Ministry of Works Robert Kalomo and Bank of Namibia Deputy Governor Epson Uanguta were the external experts while Swart-Opperman, was the consultant representing PWC.
It also appears that Muadinohamba's pay package of N$1,3 million annually, plus a 35 percent bonus and a N$4 000 monthly fuel allowance, and the fact that he may not have been available to start in with a month's notice counted against him. Naanda's overall annual pay at the time of just under N$1,3 million and availability was considered an advantage. Naanda started at TransNamib in January with an annual package of N$1,5 million, plus a 30 percent performance bonus.
The Namibian has learnt that the 'head-hunting' process involving the two candidates cost TransNamib more than N$229 000, with the PWC allegedly charging amounts like N$6 400 for 'regret letters' and N$10 000 for conducting telephonic references and N$16 000 for shortlisting.
It was not clear how much the initial CEO recruitment process that HR@Work conducted cost.
Swart-Opperman confirmed that TransNamib 'paid for professional services rendered' but declined to give further details.
TransNamib has been dogged by mismanagement and poor service to its customers for many years.
---