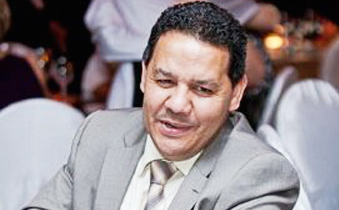 ---
By Shinovene Immanuel, Tileni Mongudhi and Ndanki Kahiurika | 13 November 2015
---
A SENIOR manager at the Development Bank of Namibia has openly defied his superiors by being a director of a fishing parastatal that has defaulted on loans he was meant to oversee.
The defiance runs in the face of DBN's good governance credentials, which the state-owned bank has often trumpeted as its pride, unlike most government companies.
An investigation by The Namibian has found that DBN's credit and risk control manager, Vivian Groenewald, refused to heed instructions to resign, claiming he had the backing of fisheries minister Bernhard Esau to serve as director of the state-owned National Fishing Corporation of Namibia (Fishcor).
Fishcor has two subsidiaries, Seaflower Lobster and Seaflower White Fish, one of which took a loan of close to N$70 million from DBN.
Groenewald is the head of the DBN division that vets applicants and also takes steps against defaulters, but has allegedly failed to do that in the case of Seaflower.
DBN spokesperson Jerome Mutumba confirmed Groenewald's appointment as a director of Fishcor, saying the bank had discussed it during the last quarter of 2014, where it was concluded to be a case of conflict of interest. However, he denied that Groenewald defied board instructions to resign from Fishcor.
This contradicts Esau's response through his personal assistant and Fishcor director, Ndaendomwenyo Sheya, who said Groenewald had resigned on 29 July 2014.
"The board's decision was taken at its meeting of 30 June 2014 and in the last quarter of 2014 […] the DBN board considered the request, but concluded that there was a direct conflict of interest, because one of Fishcor's subsidiaries has a loan facility with the DBN," said Mutumba in an email last week.
Groenewald only informed the DBN board about his Fishcor appointment a month after he had taken the position.
Groenewald has declined to comment, leaving the matter to his organisation to issue a statement also on his behalf.
A letter was written to Esau informing him of DBN's position that Groenewald should leave the Fishcor board, said Mutumba.
The Namibian has not seen proof of Groenewald's resignation.
The timing of Groenewald's appointment has raised questions whether Esau was trying to undermine DBN, which had by then started to take steps against Seaflower for not paying its loan.
The fisheries minister appointed Groenewald as Fishcor director in May last year, a few months after DBN threatened Seaflower. The loan was granted in December of 2008.
Mutumba denied that Seaflower Whitefish was in arrears with its loan repayments. "The loan has been paid up to date," said Mutumba.
"It is important to point out that Groenewald was approached by the minister to serve on the Fishcor board in his personal capacity and not as a DBN employee," said Mutumba.
DBN has long championed 'good corporate governance' and Groenewald's appointment and subsequent defiance flies in the face of the state-owned bank's approach in dealing with clients.
The Namibian has learnt that Groenewald told his bosses he will not resign because Esau "values" him and wanted "someone he trusts to represent government's interest" on the Fishcor board. Esau had similarly also forced his way through for Investec Asset Management's managing director James Hatuikulipi (the minister's relative) to become the chairperson of Fishcor against the company's regulations.
Esau has ignored DBN's request to withdraw Groenewald's appointment.
Esau, when asked for comment, admitted to The Namibian that he wanted Groenewald on the board saying it was mostly due to his financial expertise, which will benefit Fishcor.
He said Groenewald is not a board member anymore and he is aware of the conflict of interest issue, and that it will take time to find a replacement. The minister further added that there was nothing wrong with Groenewald serving on the board as the company was run into the ground by its former leaders.
Apart from Groenewald, Sheya and Hatuikulipi, other Fishcor board members are Ohangwena governor Usko Nghaamwa, Khomas governor Laura McLeod-Katjirua, permanent secretary in the ministry of fisheries Moses Maurihungirire. Bennett Kangumu, the director of the University of Namibia's Katima Mulilo campus also serves on the board.
* This story was produced by The Namibian investigative unit.
---