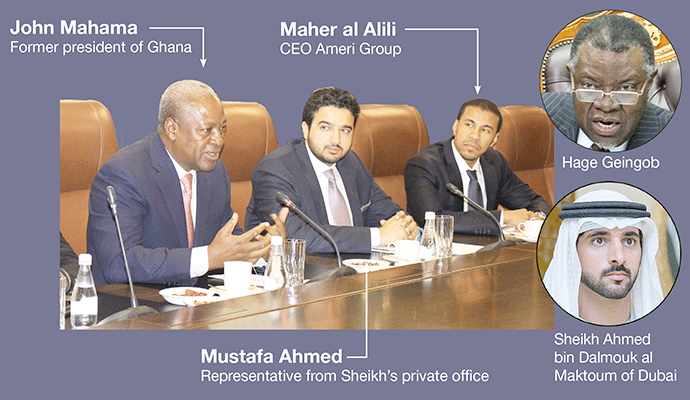 ---
By Ndapewoshali Shapwanale, Shinovene Immanuel| 13 December 2017
---
A MEETING between President Hage Geingob and former Ghanaian leader John Mahama is linked to a Dubai businessman from the ruling family of the United Arab Emirates.
The businessman owns a company that was accused by the Ghanaian authorities of inflating a contract by over N$2,1 billion. Mahama and Geingob met at State House in Windhoek in July this year. Mahama's two-day trip to Namibia was said by State House to be an opportunity to campaign for energy projects in Africa on behalf of the African Development Bank (AfDB).
The bank has now distanced itself from the meeting, stating that Mahama never represented it.
Norwegian newspaper Verdens Gang published a story last month questioning the purpose of Mahama's visit to Namibia in an article titled 'Exposed: John Mahama brings Ameri Group to Namibia'.
The Namibian partly assisted the newspaper with research on that story.
The article focused on how the meeting at State House was used to promote the interests of the Dubai company reportedly linked to a fraud accused fugitive.
It was reported that Mahama was allegedly helping a company called Africa Middle East Resources Investment (Ameri) Group LLC to clinch energy deals in Africa, including in Namibia.
Ameri Group is owned by sheik Ahmed bin Dalmook Juma al Maktoum from Dubai in the United Arab Emirates.
Mahama declined to comment for that article.
Maktoum said in a media statement two years ago that he is a royal prince from the UAE ruling family.
ENTER WINDHOEK
Mahama was accompanied by two men when he visited President Geingob at State House. The two men were Ameri Group chief executive Maher al Alili, who is also an administrator of the sheikh's private office, and Mustafa Ahmed who left his business card in Namibia bearing the logo of the sheikh's office.
Presidential spokesperson Albertus Aochamub told the Norwegian newspaper that Mahama arranged the meeting in Namibia and later asked for the sheikh's representatives to join during meetings.
Aochamub said a letter requesting a meeting with Geingob was submitted via the international relations ministry from the office of former Ghanaian president Mahama.
"The names of the two gentlemen or the name of the company were not mentioned in the letter from former president Mahama," Aochamub said.
Mustafa Ahmed has denied working for the "sheikh", despite the evidence of his business card bearing the logo of the sheikh's office.
"I do not work for his highness' private office. Nothing happened in Namibia. I have nothing to hide. I know him. I have advised him, but I do not work for him. I do not have an official position with him," he said.
The second man, al Alili, confirmed that he was in Namibia working for the sheikh's office. He refused to comment on Mahama's ties to the Dubai company.
"You will have to ask Mahama about that," he said.
The Norwegian newspaper also looked at a past contract between Ameri Energy – the mother company of Ameri Group that reportedly wants energy deals in Namibia – and the Ghanaian government.
The Ghanaian government under Mahama struck a deal with Ameri Energy in 2015 to build a power plant, own and operate it for five years before transferring it to the Ghanaian government, at a cost of US$510 million.
Mahama lost the presidential elections in 2016.
A report commissioned by the new Ghanaian government concluded in February 2017 that the power deal between the government and Ameri Energy was questionable after it was confirmed that the contract had been inflated by US$150 million (N$2,1 billion).
The report recommended that Ameri Energy "should be invited back to the negotiation table to address concerns about the contract" and for the Ghanaian government to "get back a substantial portion of the over US$150 million commission".
The report, seen by The Namibian, said the Ghanaian government should disown the contract "on the grounds of fraud" if Ameri Energy refused to renegotiate the deal.
Sheikh Maktoum confirmed the contract in a statement issued in 2015, after a news report by the same Norwegian newspaper, but denied any wrongdoing.
He said the deal was clean and not inflated as reported. Maktoum also denied claims in 2015 that former Ameri Group chief executive Umar Farooq Zahoor, who was reportedly a key person in the Ghanian deal, was accused of fraud in Norway.
BANK REJECTS LINK
A State House media invitation issued in July 2017 said Mahama was representing the African Development Bank at the meeting with Geingob.
However, the African Development Bank's spokesperson, Victor Oladokun, told the Norwegian newspaper that Mahama did "not represent the bank, neither is the bank involved in his business dealings".
"The African Development Bank does not know of, and neither does it work with, nor have any relationship with the group mentioned in your correspondence," Oladokun said.
The link between State House and Mahama contradicts Geingob's pledge in 2016 that there would be no private business talks at the presidential palace.
That episode also adds to the list of questionable meetings with foreign individuals at State House between July and September this year.
Apart from the Mahama meeting in July, State House issued a media invitation in August this year stating that President Geingob was meeting with "Mr Chris Cox – president Trump's adviser on North Africa and the Sahel".
It turned out that Cox, who was looking for business opportunities in Namibia, was not an adviser to US president Trump.
State House also made another error a month later when it announced that Geingob was going to meet Sheikh Juma bin Maktoum al Maktoum, who the Presidency identified as prime minister of the United Arab Emirates (UAE) and ruler of Dubai. State House said the two would meet in London in September.
It turned out that this was misleading since the prime minister of the UAE and the ruler of Dubai was Sheikh Mohammed bin Rashid al Maktoum and not sheikh Juma bin Maktoum al Maktoum.
Presidential spokesperson Aochamub told The Namibian in August this year that "no detailed business proposals are discussed during courtesy calls on State House".
"Such proposals are channelled through relevant line ministers before being tabled at Cabinet for consideration," Aochamub said.
He said "no meetings or further consultations took place" after the State House meeting with Mahama.
The questionable meeting between Geingob and the Dubai businessman's representatives comes a few years after the President, when he was trade minister, tried to woo companies from the Middle East to invest in Namibia. Even though Geingob is lauded for bringing companies like Qatar Airways to Namibia, other links to the Middle East raise eyebrows.
State-owned Namib Desert Diamonds (Namdia) cheaply sold its diamonds to secretive Dubai firms in 2016, while there are indications that Middle East companies have expressed interest in co-managing the Hosea Kutako International Airport.
A Middle East company, fronted by Geingob's associate Knowledge Katti, wants to mine seabed phosphates off Namibia's coast.
*The article by Norwegian newspaper Verdens Gang was published on 11 November and co-written by Rolf J Widerøe, Amund Bakke Foss and SynnøveÅsebø.
---