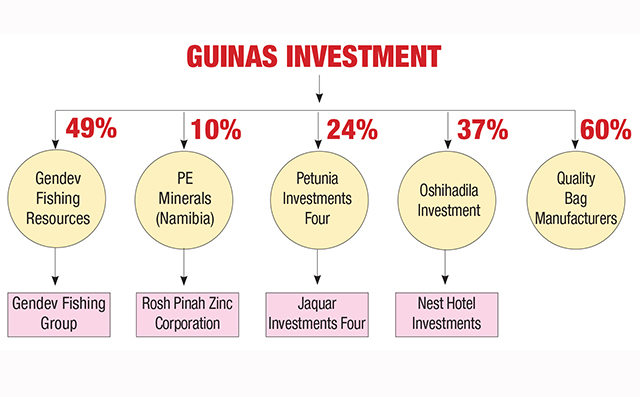 ---
By Shinovene Immanuel | 31 October 2018
---
The ruling party is widely known for running its business empire through Kalahari Holdings, whose portfolio includes 51% shares – estimated to be worth around N$250 million – in MultiChoice Namibia.
There is, however, a company named Guinas Investment, which was formed in 1991 that has interests in mining, construction, fishing, hotels and manufacturing. Unlike Kalahari Holdings, Guinas Investment is rarely in the limelight, and its operations are seldom reported on for decades.
The company also refused to answer questions sent to them two years ago by The Namibian about its operations.
A power struggle in the company has, however, resulted in a leak of documents about Guinas, its subsidiaries, estimated value, and certain questionable payments made in the past.
Party insiders claim that Guinas served as a piggy bank for some ruling party leaders.
This revelation comes after The Namibian reported in the recent past on the affairs of Guinas and claims that some party leaders were blocking people who were seen as asking too many questions about the company.
The Guinas board consists of disputed chairperson Jerome Mutumba, who was allegedly fired in September this year by a clique of leaders who dont want the affairs of the company to be exposed.
Meriam Onesmus, Anna Mupetami, Browny Mutrifa, Paulina Haindongo and Floris Fleermuys are the other board members.
A company booklet obtained by The Namibian shows that the company directly owns five companies. Four of the five companies have a stake in four other private companies.
One of the most lucrative deals by Guinas are the shares in Rosh Pinah Zinc Mine, about 20km north of the Orange River in southern Namibia.
Rosh Pinah Zinc is 90% owned by Canadian firm Trevali Mining, while 10% is owned by a Namibian empowerment group and a workers scheme.
A leaked booklet states that Guinas Investment owned 2,14% in Rosh Pinah Zinc through Petunia Investments Four, and 0,8% in PE Minerals, which was co-owned by the late Aaron Mushimba, former president Sam Nujomas brother-in-law.
Guinas also has a stake in Jaguar Investments, which co-owns Rosh Pinah Zinc.
Namibian shareholders initially owned 20% before Trevali announced in May this year that they had bought an additional 10% from the locals (including some shares held by Guinas) for N$291 million.
Guinas windfall from that transaction is said to be N$16 million, but the Guinas board, sources said, only picked up the information about the sale after the deal was done.
The N$291 million shares payment from Rosh Pinahs principal shareholders is supposed to be shared among Namibian shareholders, but it has triggered divisions in Guinas.
Axed Guinas Investment chairperson Mutumba told Swapos economic affairs secretary, Alpheus !Naruseb, in September this year that he was being made a scapegoat because of the boards stance on the shares deal.
A source said Guinas refused to remit the N$16 million to the party as requested by some Swapo leaders because the company wanted to reinvest into its operations.
FISHING AND HOTEL
Another lucrative stream of income for Swapo is its 49% stake in Gendev Fishing Resources (Pty) Ltd, which in turn owns 60% of Gendev Fishing Group. The company benefits from a seven-year fishing quota allocation from the government.
Vice president Nangolo Mbumbas wife, Sustjie, owns a stake in Gendev Fishing Group via her company Dun-Al Fishing.
Guinas also owns 32,2% shares in the 73-room Nest Hotel at Lüderitz through a company called Oshihadhila Investment.
Documents obtained from the trade ministry show that the directors of Oshihadhila in 1997 included the then Guinas managing director Mwetulamba Shingenge, land reform minister Utoni Nujoma, John Akwenye, Tshoombe Ndadi and Eva Neels.
Shareholders of that Lüderitz hotel are a Switzerland company Ouse Investments (68%), the Development Bank of Namibia (DBN) (23%), and Oshihadhila Investment (8,7%).
Oshihadhilas shares in Nest Hotel were reduced from 32% to 8,7% because a Guinas subsidiary, Naras Investments, allegedly failed to repay a loan it had with the development bank.
Documents show that the DBN took over Oshihadhilas shares in Nest Hotel in July 2010.
BAG OF TRICKS
Guinas also owns shares in a company called Quality Bag Manufacturers that started operating in 2011.
Documents show that the shareholders of the company were Guinas (60%), Ando Investment (20%), management (17%), Northern Namibia Empty Bag CC (0,5%) and Shingenge with 2,5%. Shingenge was the managing director of Guinas when she allegedly had shares in an entity co-owned by the company she was leading.
Quality Bag Manufacturers produces poly-woven bags to grain millers, governments drought relief programmes, the fishing sector and salt companies in Namibia.
The companys factory, according to a booklet, employed 76 people. Documents show that past Guinas board members who questioned the finances of Quality Bag Manufacturers were fired for asking too much.
Guinas is also involved in other deals, such as the N$20 million Kwanza-Sul Complex constructed at Ondangwa.
Guinas furthermore teamed up with a Chinese company, China Shan Xi, to construct 189 houses at Khorixas as part of the failed mass housing programme.
Several Swapo companies rely on government contracts to keep them in business, making the ruling party a player and referee across many facets of the country, especially the economy.
Guinas was also represented in China earlier this year as part of president Hage Geingobs trip to China.
Records show that Guinas was primarily controlled by party business leaders loyal to founding president Sam Nujoma.
The change in the Swapo leadership since 2012 has, however, brought in younger leaders who want to take charge of the secretive company. But they will have to deal with a group of Swapo leaders who have a history of firing ruling party officials who question financial irregularities at Guinas.
For instance, documents show that former Guinas board chairperson Maria Nakale-Gaomas and other board members were fired in 2011 for probing the ownership structure of certain Guinas subsidiaries. Nakale-Gaomas declined to comment.
Erastus Nekuta, the duputy chair of the nominee shareholder who controls Swapos businesses, last month denied claims of irregularities at Guinas.
"Thats a lie. Let them prove it. They can even go to court; or report the matter to the police," he told The Namibian.
---