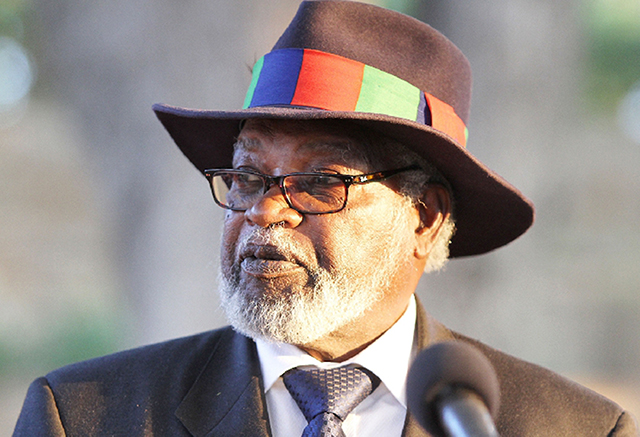 ---
By Shinovene Immanuel | 29 March 2019
---
THE government paid former president Sam Nujoma N$1,4 million – four days before he stepped down in 2005 – because they said he had been "underpaid" for seven years.
The total amount paid to Nujoma before he retired was around N$2,2 million, including the N$810 000 paid as a bonus that year.
This information is contained in documents reviewed by The Namibian.
Nujoma's personal assistant, John Nauta, yesterday confirmed the payments, but declined to give more details, saying it was a personal matter.
He, however, challenged anyone with evidence that Nujoma was paid cash – besides the two amounts – to produce it.
Nujoma's inner circle are pointing to these transactions as evidence that Namibia's first president was not paid cash as an alternative to a retirement house.
The documents, however, add another layer to the ongoing debate on how much was paid to Nujoma before and after he bowed out of office 14 years ago. There is currently a controversy on whether Nujoma broke the law when he accepted two housing benefits from the state in 10 years.
The Namibian understands that these documents were reviewed this week by Nujoma after he met current and former senior government officials who worked on his file.
Nujoma, sources said, wanted the officials to explain the cash payment and cost of retirement house as reported by The Namibian last Friday.
One of the documents reviewed this week is a memorandum dated
17 March 2005 by the former permanent secretary in the Office of the President, Ndeutala Angolo.
"Since April, due to misleading information from officials of the Office of the Prime Minister and the ministry of finance, the president was underpaid with an amount of N$204 000 per annum until March 2003," she said.
According to the document signed by Nujoma on the same day, "as such, N$204 500 x 7 years = N$1,4 million must be repaid to the president".
"Please, comrade president, accept my sincere apologies for the inconvenience this omission has caused comrade president. I am, however, pleased to submit a cheque of N$1,4 million as a refund," Angolo stated.
That document did not explain Nujoma's monthly salary at the time, but a separate sheet with handwritten notes shows that he was supposed to earn around N$58 300 per month.
Another document reviewed by The Namibian shows that Nujoma was paid around an N$810 000 gratuity (bonus) and tax deductions on 18 March 2005.
The document was also signed by Nujoma and his chief administrator at the time, Angolo. Angolo told The Namibian yesterday that she could not remember this transaction. She retired as presidential permanent secretary in 2012.
Sources said Nujoma's double benefits are mainly because he allowed the government to renovate his house after 2005, and allowing renovations of this house 10 years later.
This, sources said, was illegal, and that part of that money should be paid back to the state.
The Namibian understands that State House issued a statement to a daily newspaper late yesterday to pour cold water on the Nujoma retirement house saga, claiming that there are people who are trying to divide Geingob and Nujoma.
The Namibian understands that the division is already there. Both camps are not on good talking terms. Nujoma's camp is on an onslaught, accusing the current administration of targeting them and making up numbers to cover up dodgy deals by senior technocrats.
The Namibian understands that State House officials briefed Geingob about Nujoma's double benefits, and that the amount was N$70 million.
Nujoma's officials insist that it was N$43 million (which is equal to building 107 houses at a cost of N$400 000 each).
There are now calls for the auditor general to investigative how the cost escalated from N$11 million to N$70 million. The two camps are privately pointing fingers at each other.
A Geingob supporter believes that there is a need to appoint an audit for this transaction, and that this issue should not be politicised because it could lose the critical focus of double benefits and cost escalations, which have attracted national attention.
The secrecy around retirement packages and how they are determined has been around for years, but most of it ends up being exposed by the media through leaks from sources who are concerned about the abuse of state funds.
– [email protected]. Twitter: @ShinOvene
---