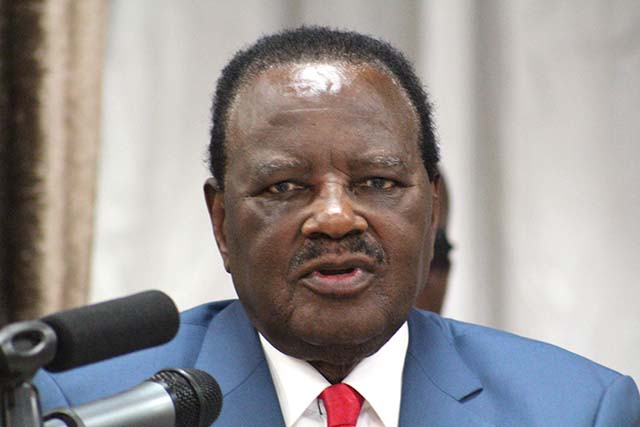 ---
By Shinovene Immanuel and Sakeus Iileka | 20 March 2019
---
According to sources, the government intended to install the elevator at Iyambos temporary Windhoek home, as the 82-year-old retired politician struggles to access some sections of the house.
The officials said a discussion about adding an elevator to the house started mid-last year.
"We were thinking about it. The possibility of the elevator was considered because of the area," the source said.
According to an official, one company that bid for installing the elevator at the house had asked for N$2 million.
"That was just a preliminary amount. Im sure we would have gone for a cheaper price," said a source.
News about the proposal has added to long-held suspicions that senior politicians continue to use state funds to prop up their expensive lifestyles.
Iyambos accommodation has come under scrutiny after presidential affairs minister Martin Andjaba announced in parliament last week that the government had offered the former vice president a house as a temporary measure.
Sources said Iyambo moved out of the state-funded vice presidents house after he was replaced by Nangolo Mbumba in February last year.
Iyambo, who was forced to step down due to ill-health, returned to his private house in Eros. But sources said he informed the government that he wanted a temporary residence while he renovated that house.
Sources told The Namibian that State House approached the Office of the Prime Minister for a house to accommodate independent Namibias first health minister.
A person with direct knowledge of the matter said: "We [State House] requested a house from the Office of the Prime Minister to accommodate state guests".
The house in which Geingob stayed when he was prime minister was recently renovated with taxpayers money, and passed on to Iyambo, a source said.
Sitting vice presidents under the presidential remuneration and other benefits law get almost everything for free.
The perks for retired vice presidents, however, are not clarified under that law.
Iyambo earned N$1,5 million per year as vice president, with a string of benefits extended to his family. He is part of the first group of Cabinet ministers to join the government at independence. That group of ministers is said to have accumulated more than N$10 million in pensions each.
Iyambo is not the first to benefit from this privilege.
The government is reported to have paid more than N$25 million to upgrade former president Sam Nujomas house.
Presidential affairs minister Andjaba yesterday said he was not aware of the discussion that took place at State House last year about the upgrade of Iyambos house. He said there were "no plans, and there will never be plans to upgrade the house".
Revelations about Iyambos state-funded accommodation came after Popular Democratic Movement leader McHenry Venaani asked how Iyambo was allowed to stay in a government house while the regulating bill was not yet in force.
A bill that is expected to be tabled in parliament soon will regulate retired vice presidents benefits and perks. Andjaba said Iyambo was only staying in the house "temporarily" until the National Assembly passes the draft bill.
He added that the Presidency was currently drafting two bills, one that will deal with presidents and former presidents, and the other to deal with vice presidents and former vice presidents.
He said the government found itself in a position where they had to approve the benefits of the former vice president, although the law for such approval had not yet been passed.
This not the first time that the government is caught offside in approving benefits for vice presidents without following procedures.
---