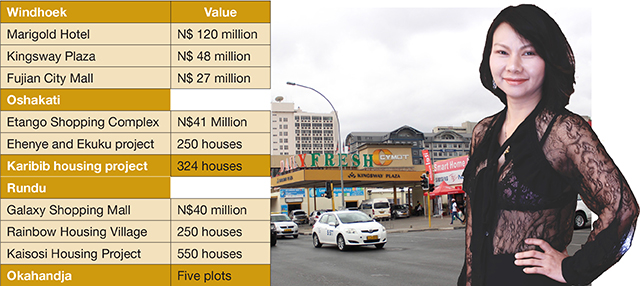 ---
By Tileni Mongudhi,Shinovene Immanuel and Tutaleni Pinehas | 23 November 2018
---
Now aged 41, she owns land and buildings in the heart of Windhoek, Rundu, Oshakati, Karibib and Okahandja, and is considered among Namibias prime property owners.
Wu and her husband came to Namibia under a government policy designed to attract investment from China.
The Namibian investigated some of Wus businesses for the past four years through speaking to people who worked with her, visiting some of her businesses, and going through the publicly available company and deeds documents.
Her empire, estimated to be worth up to N$1 billion, was built from scratch, but with help from political connections and top government officials, as whatever she touched "turned to gold".
Land reform minister Utoni Nujoma, police inspector general Sebastian Ndeitunga, former Okahandja mayor Valerie Aron and councillors in several towns rank among her friends.
Her property holdings include four shopping centres in four towns, a hotel in Windhoek, and two housing developments at Rundu.
THE EARLY YEARS
Wu – whose real name is Qiaoxia Wu – started small. Government sources said she started making money as an agent facilitating permits and residency papers for Chinese business people. She also set up a China Shop in Windhoek.
People familiar with her businesses said Wu then started setting up companies for business people based in China so that by the time they arrived in Namibia, the groundwork would have been laid. Having a business in Namibia makes it easier to get permanent residence status.
Wu obtained Namibian permanent residency on 27 April 2004, documents show. She said she chose Namibia because she heard a lot of good things about it from her husband.
"I was doing mainly an import and export business," she told The Namibian in an interview this week.
Wu got her start in the property market in December 2007 when she bought 1,5 hectares from the Oshakati Town Council in northern Namibia, where she built the Etango Shopping Complex. Municipal sources said the property is now estimated to be worth more than N$41 million.
RUNDU
She then set her sights on the north-eastern town of Rundu. In May 2008, she bought a one-hectare plot to built the Galaxy Shopping Mall. Now, it is Rundus largest shopping complex, housing more than 50 shops.
Wu saw other opportunities to acquire property at Rundu. She saw a gap in the housing market at the town, and took advantage of it.
Acting Rundu council chief executive Sikongo Haihambo confirmed to The Namibian this month that Wu owns or is represented in at least four projects, including the N$38 million Galaxy Shopping Mall.
The others are Rainbow Housing Development, comprising 251 houses; a hotel development through Cross Century Properties; and a 550-house project at Kaisosi on the outskirts of Rundu, which falls under the At Helmsman Group.
Controversy surrounds land she bought from the Rundu Town Council after then mayor Gosbert Mandema and his former deputy, Hilka Leevi, went on an all-expenses-paid trip to China in 2010.
A title deed search shows that Wu bought a 3 500 square metre plot from the council in 2011 for N$17 000 – or N$5 a square metre. Other developers at Rundu said at the time, the market price was N$20 a square metre, meaning the land ordinarily would have cost N$70 000.
In 2012, according to media reports, Wu paid for another trip to China for top Rundu officials, including the then new chairperson of the management committee, Johannes Murenga.
Leevi, who was also part of the second group, told The Namibian in 2012 that the officials visited the port city of Xiamen and Sanming City in Fujian province, where Wu was born.
She denied there was anything improper about the trips, saying they were aimed at attracting investment from China.
In July 2012, a few months before the second China trip, Wu bought a 17-hectare plot at Rundu for N$870 000 with the aim of constructing the Rundu Rainbow Village.
Property deeds seen by The Namibian show that Wu divided the land into more than 200 plots for housing. She then sold ready-built houses for N$350 000, raking in more than N$70 million.
OKAHANDJA
Wus other major property investment has been at Okahandja, 70km north of Windhoek.
The Ever-Lasting Iron Sheet Investment Close Corporation, which she owns, bought 5 100 square metres of municipal land for N$200 000 in June 2011 with the intention of setting up a roof sheeting and brickmaking factory.
A report of an urban ministry investigation conducted in 2014, which was seen by The Namibian, alleged that Wu bought several municipal plots in Okahandja for N$4 a square metre. Residents normally paid N$15 a square metre then.
The ministry also alleged that she was awarded two plots without applying for them.
"There is no explanation in the council resolution why the additional plots were given. We could also not find any payment for the three erven," investigators said.
"The company still owes the council N$1,6 million," the report said.
Deeds documents show that the five erven include a 5 100 square metre plot sold to Wu for N$200 000.
The probe also suggested that there should be an investigation to determine whether Wu financed the construction of former Okahandja mayor Valery Arons lavish new home. That investigation was never carried out.
Aron, who was mayor until 2015, is now a spokesperson for Wus Helmsman Group, but she is not the only former high- ranking official employed in that company.
Former Helao Nafidi town chief executive Chris Shivolo is a shareholder and managing partner of Helmsman Group with Wu.
Shivolo was fired in 2008 for finalising the sale of land at Oshikango to Chinese business people, such as Jack Huang. Shivolo claims that he already found the agreements to sell land to Huang when he started working at the council.
In recent months, Wu has been on a public relations drive.
She has arranged meetings with selected reporters to tell her story, and to promote her latest business: The 59-room Marigold Hotel located close to the Game shopping centre in Windhoek.
Wu held a media event at which she unveiled a sponsorship of more than 200 desks and 200 chairs for the Etunda Farm Primary School, situated on former president Sam Nujomas farm. The Helmsman Group of companies made the donation.
FURTHER EXPANSION
Wu said her father had helped her fund the construction of the hotel, which cost N$120 million.
She said she plans to add 100 more rooms to the Windhoek hotel, and satellite operations in smaller towns such as Walvis Bay and Rundu.
She said her group of companies also plans to build a low-cost Marigold Express Hotel opposite the Game shopping centre.
In addition, Wu also owns a new shopping centre – Kingsway Plaza – across from the Wernhil shopping centre – next to Cymot.
She owns 35% of Kingsway Plaza, while her other partners own 65%.
"It is currently worth around N$48 million, but we intend to demolish the existing building and build an entirely new and modern building with offices, apartments and shopping spaces, which will consist of about 21 floors," she said.
Wu owned two houses in Windhoek – one in Ludwigsdorf valued at N$7 million, and another in Eros said to be worth N$9 million.
"I had to sell these houses to have additional funds for the completion of my five-star Marigold Hotel in Windhoek," she explained.
Wu said she now resides at her Windhoek hotel, and also owns Fujian City Mall, opposite China Town in Windhoek, valued at more than N$27 million.
She is also involved in the development of more than 250 houses at Ehenye and Ekuku at Oshakati.
CONNECTED
Wu is regarded as well-connected and feared among the Chinese community.
Police inspector general Sebastian Ndeitunga told The Namibian last year that he is close to her, adding that Wu asked the police to buy houses from her company at Rundu for its officers.
It is also understood that she has made generous donations to Swapo.
Sources said Wu and businessman Jack Huang – a business partner of president Hage Geingob – contributed N$1 million towards Geingobs election campaign. The Chinese business community also donated to the fund.
"I dont mix business with politics. I have also never contributed to Swapo fundraising activities," she insisted, despite evidence of her contributions to the party.
She said land reform minister Nujoma is "a very good friend of mine, and that is it. He is not connected to my business, nor does he have any interest in my business". Nujoma did not respond to a query about his relationship with Wu.
She said claims she is protected by politicians are not new.
"These comments are not new, but no, I dont use political connections because I dont have any. My friendship with some politicians is pure friendship, and doesnt mix with my business, nor do I participate in politics," she said.
She added that "my empire is not yet worth a billion dollars, although I am working towards it. Also, with greater heights in society comes greater responsibility, and critics also increase; some good and encouraging, while others want to bring you down. In business, however, one needs to have a chest for these, because it is not a bed of roses."
Wu said she contributed to charitable causes in Namibia, including the Namibia Networks of AIDS Service Organisations, the first ladys trust fund, a womens gardening project at Okatana, Oshakati and classrooms for a kindergarten at Okaku. She said she donated a kindergarten to the Rundu town council.
*This article was produced by The Namibians investigative unit. Tileni Mongudhi started this investigation in 2014. He is now the acting editor at Southern Times.
---