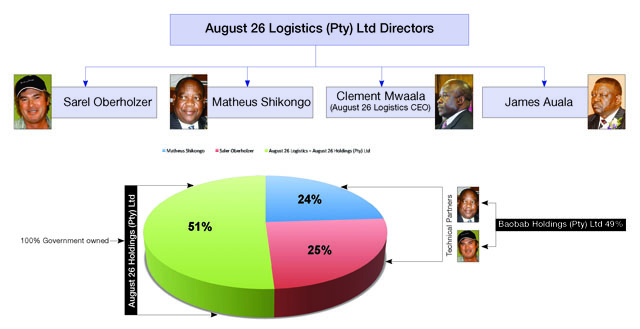 ---
By Tileni Mongudhi | 13 September 2013
---
THE Ministry of Defence's new food supply contract is expected to increase from N$3 billion to N$5 billion over the next 10 years amid allegations of kickbacks and hidden shareholding.
Sources familiar with the contract told The Namibian that kickbacks of about N$2 million have already been paid to senior army officials to push the deal through. Further off-the-book payments of N$100 000 each was allegedly promised to army officials once the business gets underway.
Former Windhoek mayor Matheus Shikongo has emerged as the sole Namibian civilian shareholder in the August 26 Logistics military company, though some documents have stated that he will be fronting for several of his South African business partners. August 26 Logistics was sub-contracted by the August 26 Holdings, a 100% government-owned company, to supply the NDF with food.
Shikongo has denied the accusations saying he was invited in his own capacity and has signed no deal to act as a "nominee" shareholder" [READ DETAILS ON PAGES 6-7].
The Namibian is in possession of the names of the people who set up the new controversial defence contract, displacing several other suppliers as from next month. The names of people who are alleged to have received kickbacks cannot be published for legal reasons.
The ministry, this year, scraped the conventional way of awarding tenders for the supply of food to its military bases in the country to various companies after allegations that top military officers had set up businesses to compete for the contracts.
The government instead gave the entire contract to its parastatal, August 26 Holdings, for 10 years. August 26 Holdings then subcontracted August 26 Logistics, a company it holds a 51% stake in, while the remaining 49% is held by Shikongo and a South African businessman Sarel Oberholzer (hold 24% and 25% respectively). The ministry and the two individuals have declined to give details about the process followed to set up the contract.
Documents seen by The Namibian read that: "Mr S Oberholzer and Mr M Shikongo shall, as nominees of the company, each respectively hold a 25% and 24% shareholding in and to August Twenty Six Logistics (Pty) Ltd and may not in any manner alienate, pledge or otherwise encumber or deal with such shareholding in August Twenty Six Logistics (Pty) Ltd without the written approval of Baobab Holdings (Pty) Ltd."
Shikongo told The Namibian this week: "I don't know what you are talking about. Do your home work."
He insisted that he was not aware of such an agreement (with Baobab), saying he was the sole owner of the 24% stake in August 26 Logistics.
"I haven't signed any other agreement." Shikongo added that he was approached by August 26 Holdings because they were looking for technical partners but he did not say who from August 26 Holdings approached him.
Oberholzer also said that he was not holding shares in August 26 Logistics for anyone. Despite initially denying of knowing about Baobab, he later said the company (Baobab) "has nothing to do with August 26 Logistics." He, however, added that "some people wanted Baobab to be involved but we did not want that."
Baobab shareholders are Oberholzer 30%, Rodney Pretorius 30%, Julian Boulter 30% and Mark Meingard 10%. All four are South African nationals, with interests in another catering company Xantium Trading Services, of which Shikongo owns 51%.
Xantium Trading Services supplies food to schools and hospitals in the Kavango and Zambezi regions. Xantium and other companies owned by Oberholzer will be the defecto suppliers for August 26 Logistics, according to sources in the military.
Despite Shikongo's denials, there are documents showing that owners of Xantium and Baobab formed part of a steering committee set up to get August 26 Logistics running. The committee consisted of Shikongo, Auala, Oberholzer, Mwaala and Xantium as well as Baobab shareholders including Pretorius, Boulter, Meingard and Jean Neethling (Xantium Finance Manager). Shikongo did not explain the link.
Defence Minister Nahas Angula had initially publicly announced that August 26 Logistics will be wholly government-owned.
The controversial tender has been described as being the opposite of the transparency and simple structure professed by ministry officials. Instead, sources said the deal is shrouded in several layers.
The decision to change the procurement system and policy came after publication of alleged corruption by the weekly newspaper Confidénte that a N$1,5 billion contract was been baited by military officers.
Sources at the ministry said the new deal was mainly hatched by a senior army official Colonel David Ndatipo and August 26 Holdings CEO James Auala.
Ndatipo said he had nothing to do with August 26 Logistics or the food supply tender. "I don't deal with logistics, I am far way from those things," he said.
Auala was not available for comment and did also not answer questions emailed to his office by The Namibian.
---