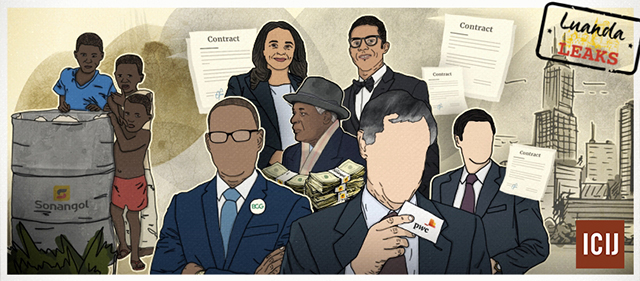 ---
By Lazarus Amukeshe and Lionel Faull | 27 January 2020
---
CONFIDENTIAL financial records exposing the business dealings of Isabel dos Santos raise serious questions over how the Bank of Namibia allowed a bank in which she had the biggest stake to operate in Namibia.
Secret documents from the Luanda Leaks international journalism project seen by The Namibian suggest that the Bank of Namibia gave Dos Santos's bank the green light without completing due diligence on her businesses.
Financial regulators also allowed the bank to trade even though it was completely owned by overseas shareholders. This is in direct contravention of Namibian policy objectives aimed at capping foreign ownership in key business sectors.
Namibia awarded Bank BIC a licence in 2016. Western banks had for some years been restricting Dos Santos's access to the international banking system over her politically connected status.
EMBEZZLEMENT ACCUSATIONS
Now Dos Santos is facing fraud charges in Angola, according to the country's attorney general.
She is accused of mismanagement and embezzlement of public funds during her 18-month stint as head of Sonangol, the state oil company.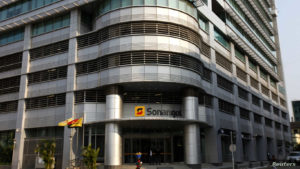 Her assets in Angola, including a telecoms company and a bank, were frozen late last month over allegations she owed the state approximately N$14,3 billion. She denies all the latest allegations by Angolan authorities.
"I have always operated within the law and all my commercial transactions have been approved by lawyers, banks, auditors and regulators," her representatives said.
But now there is uncertainty over Bank BIC's future after it announced Dos Santos is selling her shares in EuroBIC, a Portuguese-based sister bank, in which she also has a 42,5% stake.
Africa's richest woman is at the centre of the Luanda Leaks project, a collaboration coordinated by the International Consortium of Investigative Journalists (ICIJ), based on a vast trove of documents from inside Dos Santos's business empire.
The leak was first passed to the Platform to Protect Whistleblowers in Africa, a Paris-based advocacy group.
The Namibian and our partner Finance Uncovered, a UK-based journalism training and reporting organisation, have been given access to the files.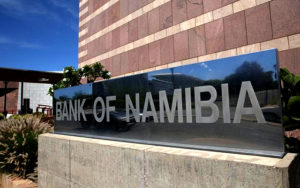 'IT'S MESSY'
Responding to questions about what due diligence it did, the Bank of Namibia's spokesperson, Kazembire Zemburuka, told The Namibian they had "considered the fitness and probity of the shareholders [and that] there were no substantial matters identified or confirmed…at that point in time".
He added that during their assessment of Bank BIC's licence application, they had approached regulators in other countries where BIC Bank was licensed. "The bank did not receive any unfavourable report," he said.
To establish the source of shareholder funds, the Bank of Namibia told The Namibian it asked Bank BIC to provide annual financial statements for all its shareholders.
The regulator granted Bank BIC final authorisation to conduct banking business on 31 May 2016 and the bank opened its first branch in Windhoek on 20 June the same year.
But even though Bank BIC received the green light at the end of May, and was operational within weeks, emails in the Luanda Leaks suggest that regulators were still waiting for key documentation almost two months later.
This included financial statements for Dos Santos's Malta company Finisantoro Holding, which held 17,5% of the bank's shares.
One of Dos Santos's financial advisers wrote to Finisantoro's auditor at PwC in Malta on 27 July 2016: "The central bank in Namibia is demanding the accounts of the shareholders of [Bank] BIC Namibia.
We have to send them the signed and audited 2014 accounts until the end of this week and the 2015 FS [financial statements] as soon as possible. Can you please give me your feedback on this matter urgently?"
The adviser had earlier confided in a colleague: "You well know how messy it has been to find information that supports accounting entries at Finisantoro."
Presented with these facts, the Bank of Namibia denied that it awarded the licence to Bank BIC Namibia prematurely. It said the bank was still required to register a holding company by law and that its request for these financial details in June 2016 was part of that process.
It said this step was completed on 12 August 2016.
CLOSE TIES
When Bank BIC first submitted its application in 2014, Dos Santos's father José Eduardo Eduardo, was still the president of neighbouring Angola and of its ruling party, the MPLA.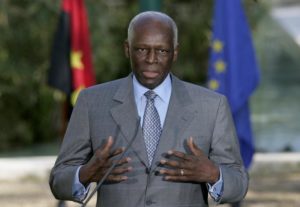 MPLA and Namibia's governing party, Swapo, are close. The two liberation parties share a history dating back to Namibia's struggle for independence.
In 2014, the Namibian economy was booming, in part, due to buoyant oil prices, which saw Angolan consumers flood into its southern neighbour, pushing up housing and rental prices in Namibia.
Bank BIC wanted market access to expand its international brand and to capitalise on close economic and regional ties with Angola.
FOREIGN OWNERSHIP
BIC's entry into Namibia gave regulators a dilemma. Namibia aspires to limit foreign ownership of key sectors like banking to 55%.
We have discovered emails in Luanda Leaks that show officials processing [Bank] BIC's application expressing concern that it would be 'wholly owned by foreign shareholders'.
"This ownership structure is significantly misaligned with national aspirations to limit foreign ownership in banking institutions to 55% in the near future," a Bank of Namibia supervision official wrote to Bank BIC, as the deadline loomed for the new bank's shareholders to submit their paperwork.
A Bank BIC representative did acknowledge these concerns, according to correspondence seen by The Namibian that indicated that in time it would seek to include local investors.
"It is the shareholders' intention to achieve a commitment with national partners/entities to incorporate the shareholder structure of [Bank] BIC Namibia in a period of five years, from the date of the beginning of operation," a Bank BIC executive wrote in a 2014 email.
The central bank confirmed last week that it is one of the implementers of a national strategy to ensure 45% local shareholding in economic sectors such as banking.
However, it awarded Bank BIC a provisional licence in October 2014 without any local shareholding and "final authorisation to conduct banking business" in June 2016.
This concession was for four years. Now, the central bank recently extended it until 2024.
SUSTAINABILITY
Responding to questions, Bank BIC Namibia chief executive Lindsay Crawford said the bank "has no business dealings with Ms Dos Santos or companies in which she might have an interest, at all".
He also stated that "Ms Dos Santos does not hold a controlling interest in the bank, is not a director and does not have any executive powers whatsoever in the bank."
But concerns are growing over the sustainability of Bank BIC after it emerged last week that Dos Santos is selling her shares in EuroBIC – a sister bank based in Portugal.
BIC Namibia has four branches and employs 31 staff members, according to its most recent 2017 statement. Deposits from clients, almost all of them individuals rather than businesses, in 2017, reached N$24,3 million. This was up 76% on the previous year.
An analysis of Bank BIC Namibia's financial statements shows it has endured several years of consecutive losses during its start-up phase while receiving periodic injections of shareholder capital. (See sidebar)
RED FLAGS
It is not the first time the Bank of Namibia, under its governor Ipumbu Shiimi, is accused of failing to take a tough stance on banks owned by politically connected business people.
Bank of Namibia was criticised for turning a blind eye to red flags at the failed SME Bank, co-owned by Zimbabwean businessman Enock Kamushinda, which caused thousands of poor people and businesses to lose their deposits in that bank when it was shut down three years ago.
SME Bank's provisional liquidators are now chasing politically connected people deemed to have benefited from the N$350 million stolen from the bank through the creation of fake documents to make the transactions appear like investments made in South Africa.
THE MONEY AND THE OWNERSHIP
Dos Santos's 42,5% stake in Bank BIC Namibia is indirectly held via a 25% shareholding by Santoro Financial Holdings, a Portuguese company; and 17,5% by Finisantoro Holding, which is incorporated in Malta.
She controls both companies.
The bank's Portuguese chairman, Fernando Mendes Teles, who is Dos Santos's long-time business partner, holds another 37,5% combined stake.
The remaining 20% is held by a number of smaller individual shareholders, all of them either Angolan or Portuguese nationals.
Before entering the Namibian market, Dos Santos and Teles had been co-investors in BIC Bank Angola for almost a decade, since 2005.
In 2007, their consortium, in which Dos Santos held 25%, obtained a licence to operate a bank in Portugal, which later became EuroBIC.
In 2013, the consortium acquired another banking licence in Cape Verde, and in early 2014 Dos Santos's Malta-based company Finisantoro Holding bought out a partner to hold a majority 42,5% stake in all four sister banks. Teles increased his shareholding at the same time to 37,5%.
The buyout was completed just days before the Bank of Namibia's deadline for Bank BIC to submit its application for a provisional banking licence in February 2014.
According to 2016 financial statements available on its website, Bank BIC Namibia kicked off with a N$300 million capital injection from its shareholders.
The bank has declined to disclose which investors provided the capital but assuming they did so according to their respective stakes in the bank, Dos Santos's companies would have contributed N$170 million.
Two-thirds of the bank's approximately 1 800 account holders were non-resident in the first year. It has not disclosed figures for subsequent years.
It is also not known whether Dos Santos, or any companies beneficially owned by her, holds accounts at Bank BIC Namibia.
When asked, Crawford said: "Bank BIC Namibia has no business dealings with Ms Dos Santos or companies in which she might have an interest, at all."
This is an important question because stories by ICIJ partners in the Luanda Leaks have revealed instances where suspect payments have been routed through Dos Santos-owned company accounts at both the Portuguese and Cape Verde sister banks.
Bank BIC Namibia is a very small player compared to its sister banks. In 2017, it declared operational income of N$20,9 million (US$1,7m), which is miniscule compared to US$477 million in Angola, US$203 million in Portugal and US$17 million in Cape Verde.
While income from operations grew from N$12,8 million in 2016 to N$20,9 million in 2017, it has made consecutive annual losses of N$27,2 million and N$23,3 million, respectively, in the same period.
Unusually, its 2018 financial statements have still not been made public, months later than it has tended to release its accounts to the public in the past.
By contrast, other BIC Bank entities in Angola, Cape Verde and Portugal have all published their 2018 financials. This has raised eyebrows, not least because the bank also switched auditors from Deloitte to PwC in 2018. Crawford told The Namibian that the 2018 financial statements "have been audited, are unqualified, and were submitted to the Bank of Namibia" as required by law.
"They have not yet been published in the local media, as they are required to be approved by the bank's shareholders at its next annual general meeting," he said.
"The reason for changing auditors was a pricing/cost issue, nothing else."
An analysis of the 2018 financials available from its sister banks show that BIC Bank Namibia received an injection of almost N$100 million in new deposits from Cape Verde (N$80,3 million, up from N$0 the previous year) and Angola (N$18,1 million, up from N$3,2 million the previous year).
Crawford said "The standby facilities were a prerequisite to Bank BIC in obtaining a banking licence as stipulated by Bank of Namibia.
"The Angolan funds are purely trade-related and are used to pay for exports from Namibia to Angola."
Crawford also said the bank was "recapitalised by a further N$121 million during December 2019 to cover the accumulated losses incurred in the start -up operations to date".
"What you seem to fail to understand is the huge costs involved in setting up a bank from scratch. We expect to trade profitably from 2021. We must stress that the bank is adequately capitalised and comfortably complies with all regulatory capital and liquidity requirements."
* This article was produced by The Namibian's investigative unit in partnership with Finance Uncovered and the International Consortium of Investigative Journalists