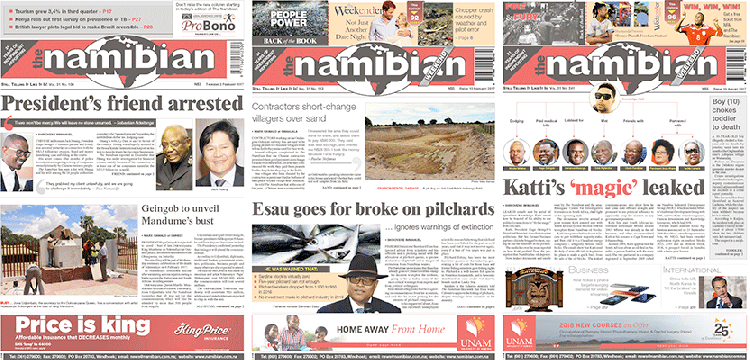 ---
By Shinovene Immanuel | 20 December 2017
---
"DON'T ever call me again. I'm not your friend or your comrade."
Those were the words of Esau Mbako, an executive assistant to finance minister Calle Schlettwein, in May 2017 after The Namibian published a story titled 'Bank bosses, politicians got shady loans'.
That short story was part of a series of articles produced by The Namibian's investigative unit, a desk at the newspaper, which was started in 2014, to focus on stories involving corrupt practices.
The unit which also served as a rapid response team for daily stories, produced over 35 investigative articles from February to December this year.
Our stories covered everyone including politicians, government officials and private individuals.
We also predicted how several top government officials would lose their jobs because of corruption and how the President told his own ministers pushing for dubious tenders to back off.
The story that implicated Mbako showed how senior government officials benefited from SME Bank loans to buy nice-to-have things from a bank that was formed to help small businesses grow.
Mbako who got a N$700 000 loan from a SME Bank to buy a Toyota Land Cruiser for personal use called the newspaper the morning the story was published and vowed not to speak to this journalist again.
He threatened to sue The Namibian two weeks later.
We reported in December 2016 that Chinese millionaire Jack Huang, President Geingob's business partner and friend, was under investigation for financial crimes involving the N$3,5 billion tax scandal.
At the time, Huang's representatives warned The Namibian against naming him as one of the people being investigated, claiming that he was falsely linked to the case. We named him, especially after we were told that he was getting special treatment from the police.
He was arrested on 1 February this year. We published a story titled 'President's friend arrested' the next day. A week later, Geingob said at the opening of the 2017 judicial year that "when my 'friend' was arrested and spent a night in jail, there was no interference".
In February, we reported how fisheries minister, Bernhard Esau ignored advice from his officials and pushed ahead with the allocation of pilchard quotas, a species declared as "depleted" and in danger of extinction in Namibian waters.
Esau took that article as a personal attack. However, the government vindicated The Namibian two weeks ago by announcing that pilchards fishing is banned until 2020 because of extinction concerns.
The Namibian has always reported tough on Presidents. Geingob is no exception.
We reported in March that the Bank of Namibia's financial crime-busting unit, the Financial Intelligence Centre, investigated whether businessmen helped relieve the hefty municipal debt of Geingob for him to protect a former Israeli fugitive.
Geingob initially refused to entertain our questions but his lawyer called us on a Thursday, a day before we planned to publish, saying the President needed more time to respond. We gave him a week. Geingob answered but avoided key questions.
In August, we reported about leaked emails sent by middleman Knowledge Katti that revealed how he boasted of his ability to use political connections to "do the magic" with officials.
In September, we reported on the N$40 million renovations at State House for offices to accommodate Geingob and other officials.
The Namibian reported in October that TransNamib was angry with Paratus Telecom for trespassing on its land and using its political connections to avoid paying the parastatal around N$100 million.
The investigative unit also teamed up with the International Consortium of Investigative Journalists and 96 other media houses across the globe to produce what is now known as The 'Paradise Papers'.
In November, as part of that project, we published a story that showed how an international fishing company was accused of cheating on paying taxes in Namibia.
Namibia's ambassador to Germany, Andreas Guibeb, served as a director of two companies registered in Malta, a European island known for helping tax dodgers, money launderers and shady businesses. Guibeb initially threatened to look at every word in that article with his lawyer if we publish the article. He never got back to us.
Other individuals we reported on include attorney general Sacky Shanghala and works minister Alpheus !Naruseb who also threatened to sue us.
Geingob has in the past said he is proud of The Namibian, but compared the newspaper to an enemy whom he smiles at.
He has, however, acted on stories we published like the N$7 billion airport and N$3 billion parliament tenders that he cancelled.
Geingob claimed last week that he "sold" his shares in a company that wants to build a township development. We reported that township story last year.
Geingob said the media keeps him on his toes and encouraged people to contact the media to expose corruption. He admitted that some media stories led him to take action.
Many of our readers have access to newsworthy information or documents they may want to share with us to expose wrongdoing. Help us write better stories by contacting us or ask someone to drop documents at our offices.
* Visit the investigative unit online page at www.namibian.com.na/The-Namibian/Investigative-Unit for all the our stories. Email us: [email protected]