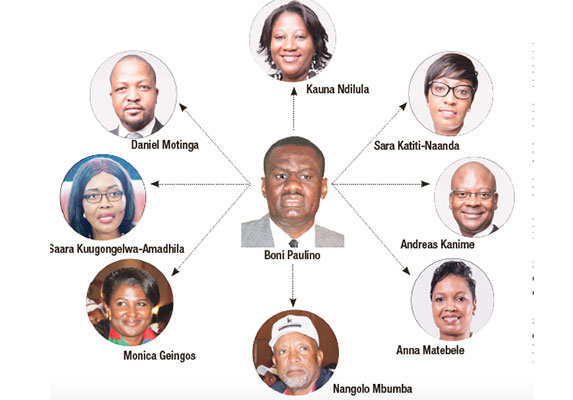 ---
By Shinovene Immanuel, Ndapewoshali Shapwanale |
22 December 2017
---
FOUR out of six directors of NamPower have connections to the Namibia Financial Institutions Supervisory Authority, where businessman Boni Paulino, who wants to partner the power utility in the N$5 billion power station, is a deputy chief executive.
Paulino is the mastermind behind Xaris Energy, a power company he co-owns with prominent Namibians such as former Swapo Party secretary general Nangolo Mbumba and his family.
Xaris Energy wants to build a power plant at Walvis Bay to produce electricity for NamPower.
The project proposal has over the years received special treatment from top government officials despite concerns that it could be costly to electricity consumers.
Xaris appeared like a flash on the scene and, at the speed of light, overtook several companies that had been in talks with NamPower for a number of years, to become the favoured electricity supplier.
Energy minister Obeth Kandjoze announced the new NamPower board in December last year that includes businesswoman Kauna Ndilula as chairperson, deputised by economist Daniel Motinga while others are Anna Matebele, Andreas Kanime, Sara Naanda-Katiti, and Detlof von Oertzen.
Four of the six directors have links to Namfisa where Xaris kingpin Paulino is influential while a fifth NamPower director was part of the Namport board that questionably approved the Xaris project in 2014.
Questions over the board members' ties to Namfisa and Paulino come at a time when the same people are expected to decide whether to allow Xaris to build a power station or not.
NamPower's board chair, Ndilula, is a managing director at BFS Namibia Procurement Fund which is regulated by Namfisa. That is not her only link.
Ndilula is also a close friend of First Lady Monica Geingos who had business ties to Paulino. One such link is Nashua Namibia which was jointly owned by Paulino and Stimulus Investment, a company co-owned by Geingos. Nashua Namibia specialises in government communications contracts. Geingos chaired the Nashua Namibia board while Paulino was a director.
Geingos this week rejected links to Paulino, saying her connection to him was professional and that their ties ended in 2015 after she became the First Lady.
Ndilula is not the only board member at NamPower who is caught up in claims of possible conflict of interests.
The Namibian reported in 2015 that former NamPower board chairperson Maria Nakale-Gaomas was embroiled in allegations of conflict of interests involving Xaris after she allegedly failed to declare a possible connection to Paulino who was her superior at Namfisa.
Current NamPower deputy board chairperson Motinga's wife, Erna, is an assistant chief executive for supervision at Namfisa, working closely with Paulino, who is an assistant chief executive for support functions.
Daniel Motinga works for FNB subsidiary RMB Namibia as senior client coverage manager for the public sector.
NamPower board member Andrew Kanime was the deputy Namport chairperson when the parastatal agreed to invest into the Xaris project in 2013, documents show.
He works at FNB Namibia as chief human resources officer. Kanime moved to the NamPower board after approving Xaris at Namport. The Paulino-linked former NamPower chair, Nakale-Gaomas, also served on the Namport board before her stint at NamPower. She is now part of the Central Procurement Board.
Another NamPower board member with ties to Namfisa is Road Fund Administration company secretary and legal adviser Anna Matebele.
According to Namfisa's 2010 annual report, Matebele was the acting head for legal services and part of the executive team at the financial supervisory parastatal. She worked at Namfisa from 2004 to 2007. Paulino has worked at the financial regulatory body since 2002.
Another NamPower director linked to Namfisa is former TransNamib chief executive officer Saara Naanda-Katiti.
One of the links is through John Uusiku, her brother-in-law, who is a long-term insurance manager at Namfisa. Uusiku was a business partner to Paulino.
Uusiku is married to Naanda-Katiti's sister, Hileni. The two women are business partners in a medical equipment supplier, AfriMed.
Naanda-Katiti is also linked to Namfisa through her brother, John Naanda who works for the financial regulatory body as collective investment manager.
The links to Namfisa, Xaris and Paulino open up questions of possible conflict of interests, especially since there is public perception that some parastatal board members are appointed to push for political and business interests.
PREMIER
Prime Minister Saara Kuugongelwa-Amadhila is also linked to Paulino via her brother, Tylvas. Paulino and Tylvas were associates. Tylvas was unreachable for comment.
People familiar with the matter said the Xaris power project is linked to the N$5,6 billion oil storage facility which is being constructed at the coast.
There appears to be a pattern that shows how Kuugongelwa-Amadhila has been pushing for the oil storage facility and the Xaris project at the same time.
The Namibian has since 2015 reported how Kuugongelwa-Amadhila, as finance minister, pressured the Development Bank of Namibia to fund the oil storage contract. The project turned out to be a scandal after its cost escalated from N$780 million to N$5,6 billion.
The Namibian reported last year that President Hage Geingob and Kuugongelwa-Amadhila allegedly used their political influence in December 2015 to ensure that the Xaris deal continued. The two blocked Kandjoze's proposal to stop Xaris after he told Cabinet that the project is not implementable. It is unclear if Geingob knows about the web of connections between Xaris and NamPower.
Kuugongelwa-Amadhila has in the past denied any wrongdoing.
The initial plan, according to documents, was to build a fuel storage facility for around N$780 million.
Experts said the cost of the storage project was deliberately inflated by government officials to accommodate the Xaris power station.
Experts said government has already started increasing the price of fuel since last year to pay for the N$5,6 billion loan. This, sources said, is being done through the fuel levy, which could affect the price of food due to petrol price increases.
Xaris was also backed by vice president Nickey Iyambo who said he cut ties with Xaris Energy after he became deputy to Geingob in 2015. His office said Iyambo represented war veterans.
Even though the 81-year-old Iyambo is likely to step down next year after a Cabinet reshuffle, Xaris could still have a political link in the Presidency.
Mbumba, who co-owns Xaris, is tipped to be appointed as the country's vice president by Geingob next year.
There are other factors against Xaris. NamPower paid around N$28 million to a private company this year to investigate if Xaris was implementable. The investigation, sources said, found that Xaris was not viable.
LEAVE ME OUT
First Lady Geingos said she had no interest in the financial dealings of Paulino, Ndilula or NamPower.
"There is a flimsy and very indirect 'link' through my previous role as the managing director of Stimulus Private Equity," she said, adding that, when Stimulus, an institutional private equity investor, purchased 25% shareholding in Nashua Namibia in 2005, Paulino was a small shareholder and director of Nashua.
Geingos said she resigned from Nashua after she became the First Lady. "Since then, I have had no personal or professional contact with Paulino as our relationship was limited to our respective professional functions," she said.
"It appears your questions are for the exclusive purpose, of seeking to draw an unwarranted and unsubstantiated link between Boni, Kauna, NamPower and myself and I strongly reject this inference as false," Geingos said.
She added: "I respectfully request that I be excluded from this destructive narrative".
Geingos said her friendship with Ndilula should not be misinterpreted.
"I have high regard for her and what she has achieved in her career due to hard work and professionalism. I trust my friendship with her is not being stretched to substantiate a false link between Kauna, NamPower and myself and thereby, unnecessarily impugning our respective reputations," she said.
NamPower board chair, Ndilula said the board members are not compromised because of their ties to the Xaris frontman, Paulino.
She said board members did not need to recuse themselves from discussing the Xaris matter because there had been no "undue influence or bias in decision making in respect to the project".
Ndilula said Xaris discussions had been "independent, objective, impartial and in accordance with their respective care towards NamPower".
Ndilula said the Procurement Act states that public officials should disclose their interest if there are relatives involved.
She added that staff members must withdraw from the procurement process "if there is a potential conflict of interest unless the public entity decides that the conflict is trivial and not likely to affect the impartiality of the staff member".
Paulino did not respond to questions sent to him last week.
* This story was produced by The Namibian's Investigative Unit. Send us story tips via your secure email to: [email protected]
---