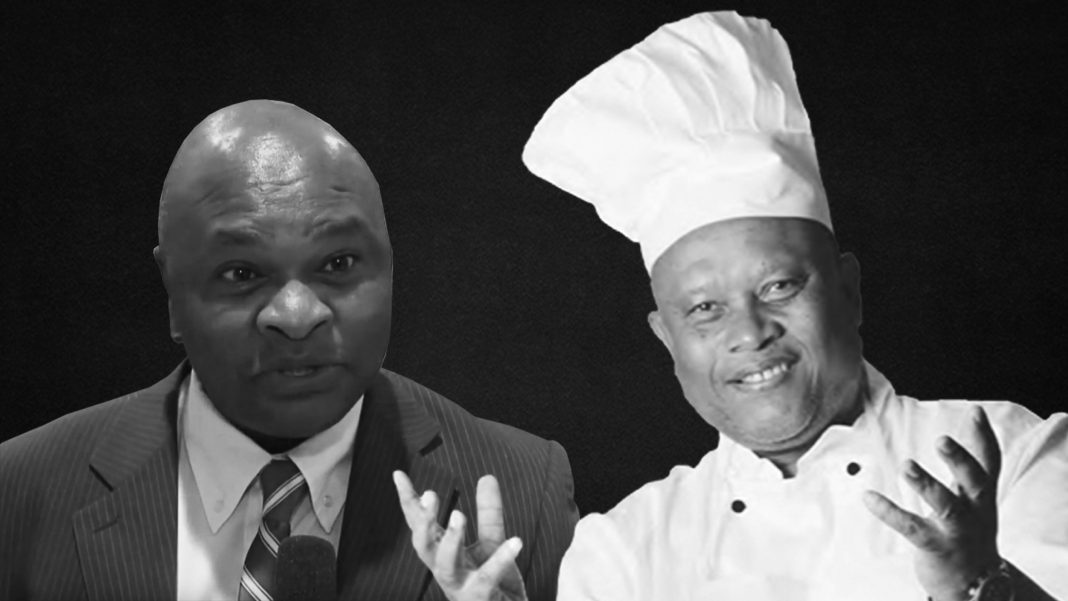 ---
By Eliaser Ndeyanale | 1 September 2020
---
THE state-owned National Fishing Corporation of Namibia (Fishcor) paid former fisheries minister Bernhard Esau's technical adviser Stephen Mbithi about N$2 million between 2016 and 2018 in a series of transfers being probed by the Anti-Corruption Commission (ACC).
Mbithi, a Kenyan fisheries expert, joined the Ministry of Fisheries and Marine Resources in 2016 as a consultant in the policy, planning and economic department headed by director Anna Erastus.
Erastus was fired last month over allegations of unfair labour practices. She is appealing against her dismissal.
Esau has denied any wrongdoing in the Fishrot scandal, involving payments of up to N$2 billion in alleged bribes to Swapo, politicians and their cronies to access fishing quotas.
Evidence, however, suggests that Esau had a hand in appointing key figures linked to Fishcor.
One of the key decisions he made in 2014 was to appoint his personal assistant, Ndaendomwenyo Sheya, and businessman James Hatuikulipi to the Fishcor board.
Sheya was also on the Fishcor board's human resources committee, which oversees the implementation of strategies for salaries and employment targets. She was not reachable for comment.
Hatuikulipi is the cousin of Tamson 'Fitty' Hatuikulipi, who is married to Esau's daughter Ndapandula.
The board, led by James Hatuikulipi, subsequently appointed Mike Nghipunya from the fisheries ministry – which fell under Esau – as Fishcor chief executive.
Nghipunya then appointed Paulus Ngalangi, who is related to James Hatuikulipi, as Fishcor's general finance manager.
THE CONSULTANT
The ministry of fisheries appointed Mbithi as Esau's technical adviser on 6 July 2016.
Mbithi's contract – vetted by the office of former attorney general Sacky Shanghala – was set to expire on 30 December this year.
Mbithi's role was to advise Esau on matters such as the allocation of fishing rights and quotas in Namibia.
People familiar with Mbithi's appointment said they did not know what his role was, despite his title of technical adviser. Mbithi's approach allegedly often angered senior officials in the ministry.
Sources said although he worked for the ministry and had an office at its headquarters in Windhoek, his salary was paid by Fishcor.
Fishcor bank records seen by The Namibian show it paid Mbithi around N$2 million between July 2016 and September 2018.
This was paid in the following tranches: N$255 215 on 20 July 2016, N$349 700 on 30 August 2016, N$299 808 on 10 May 2017, N$499 680 on 2 June 2017, and N$27 844 on 29 June 2017.
On 20 September 2017 Mbithi received a further N$377 500, while between 22 February 2018 and 6 September 2018 he received 11 payments of N$15 540 each.
ACC director general last week said the anti-graft body is investigating payments made to Mbithi.
"Our investigations focus on the payments made to him, either by Fishcor or the ministry, in order to determine whether such payments were commensurate with his contractual agreement," Noa said.
Sources say Mbithi's presence at the ministry was controversial.
His office was allegedly renovated and furnished even though the work was not budgeted for.
"He was more of a deputy minister than the deputy minister," a source in the ministry claimed.
It is understood that Mbithi sat in on management committee meetings and that Esau supported him ahead of other senior ministry officials.
'I HAD ZERO POWER'
Mbithi last week said he was not aware of the ACC investigating payments made to him.
"I have nothing to hide at all. I am, and have always been, ready to explain any question regarding my work for the government of Namibia," he said.
He said his contract with the ministry was signed by him, former fisheries executive director Moses Maurihungirire and Esau.
"I was also vetted by the Office of the Attorney General as is normal for such contracts, and the final version was drafted by the attorney general's office before signature," he said. Sacky Shanghala was the attorney general at the time.
Mbithi said the ministry decided on the procedure for paying him.
"I undertake work as per the terms of reference in the contract, I submit reports and invoices to the executive director for approval."
He said at times the invoice was paid by the ministry directly, but "most times it was sent to Fishcor for payment as were several other invoices of the ministry".
Mbithi said he never worked for Fishcor.
"I never sent an invoice to Fishcor, I only submitted my invoices to the executive director. He approved them and sent them for payment either within the ministry or Fishcor. That was an internal matter I was not privy to," he said.
Mbithi confirmed he had an office which he was allegedly told by Maurihungirire to hand over in February this year.
"The reason? Kindly ask him. From then on, I was expected to be available for assignments any day as requested. This was and could be done from home," he said.
He said he was contracted by the late former fisheries minister Abraham Iyambo to do a study commissioned by the Cabinet on how Namibia could benefit more from its fish resources.
In 2016 he was contracted to advise the minister of fisheries and marine resources.
"This gave birth to the review which raised Namibia's benefits from 1% to the current 6,5% of the landed value of fish," he said.
Mbithi denied suggestions that he received special treatment from Esau, adding that he had no relationship with the former minister other than a professional one.
"My relationship with former minister Esau was that of an appointing authority, together with the executive director who signed my contract as the accounting officer," he said.
"I did not know former minister Esau personally at any time before my appointment, and our relationship was about official/formal duties to the government of Namibia."
He said his relationship with Erastus, who he worked under, was an official one.
Erastus was one of the senior figures responsible for allocating fishing rights.
Mbithi said: "I had zero power. My advice could be accepted or rejected by the appointing authority."He also denied that he stopped going to work after the arrest of Esau near the end of November last year.
"This is not true. I went to work in the office in October through November 2019, and again after a short period of leave from 30 January 2020 till February 2020.
The executive director [Maurihungirire] instructed me in writing to hand the office over to him, which I formally did," he said.
He added that in terms of his contract he was required to be available for work assignments on a daily basis, and that he had been in the country throughout.
Esau and the government face allegations of using Fishcor as their piggy bank.
Around N$170 million is said to have been diverted from the state-owned company, and some of it allegedly funded Swapo election campaigns.
Fishcor was also used to pay N$50 000 to South African lawyer Tembeka Ngcukaitobi for a presentation at Namibia's second national land conference two years ago.
* This article was produced by The Namibian's Investigative Unit. Send us tips via your secure email to [email protected].