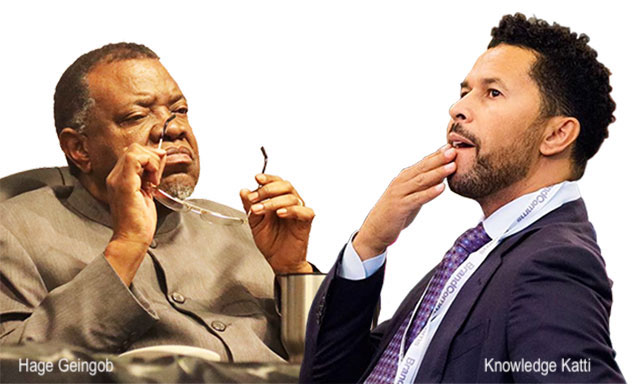 ---
By Mathias Haufiku and Tileni Mongudhi | 30 August 2019
---
PRESIDENT Hage Geingob advised former Navachab gold mine owners to "pay special attention" and consider selling their N$1,2 billion mine to a consortium that was co-owned by businessman Knowledge Katti.
This was in 2013 when Geingob was prime minister through a letter addressed to Anglo-Gold Ashanti, when the mine – the third-largest gold mining company in the world – was selling the mine outside Karibib.
Even though Anglo-Gold Ashanti subsequently sold the mine to QKR, which is co-owned by Qatar's sovereign wealth fund, Geingob's action provides clear-cut evidence that he tried to use his influence to push for Katti's business interest.
This letter comes at a time when Geingob is pushing for another Katti business venture: marine phosphate mining. The Presidency refused to respond to detailed questions sent to Geingob last month.
Documents seen by The Namibian showed exchanges between Geingob as then prime minister and Anglo-Gold Ashanti's executive director, Richard Duffy. Duffy first wrote to Geingob on 12 February 2013 to brief the government on the process of selling the Navachab mine.
Geingob responded, a month later, thanking Anglo-Gold Ashanti for engaging the government on the matter. He added that the government was aware that several Namibian bidders wanted to buy the mine.
"It is, therefore, best if your company will pay special attention to local bidders who meet all the necessary requirements needed to qualify for the purchase of the mine," Geingob's letter said. He then asked Anglo-Gold Ashanti to consider selling the mine to Giyani Gold, whose local partner was the Knowledge Katti Foundation, which is owned by Katti.
Despite several other Namibian bidders, Geingob's letter only mentioned Katti's company. "One of these bidders, Giyani Gold, has outlined its intentions to purchase the mine through a process which will involve local participation, and various other socio-economic development programmes," Geingob said.
He added that the "government would greatly appreciate it if you look favourably on companies such as Giyani Gold during your tender process as we would like to ensure that the resource available at the site will be able to benefit Namibians".
This was seen as a blatant attempt by the then prime minister to promote Katti's interest, using the smokescreen of "empowerment".
Geingob told Duffy that he strongly felt there was a need for local participation and the empowerment of previously disadvantaged groups with regards to the mining sector.
"[I] encourage you to continue your engagement with us in future so that we can ensure that the pending transaction will benefit both parties, but especially the Namibian people who are the custodians of the resource," he said in his letter.
Geingob continued: "I fully understand the reasons for your decision, given the fact that yours is a multinational corporation with various considerations to make in the management of your global portfolio of operations".
The letter, which had a government letterhead, was copied to then president Hifikepunye Pohamba and ex-mines minister Isak Katali.
AngloGold Ashanti's executive director Duffy responded to Geingob a week later on 22 March 2013, saying several possible buyers had shown interest, including various Namibian companies such as Epangelo Mining, EVI Mining, NAM-MIC Holdings, Lewcor Mining, Traverse Investments and the Knowledge Katti Foundation, which was represented by Knowledge Katti on behalf of the consortium including Canadian firm Giyani Gold Corp.
AngloGold Ashanti ended up selling the mine to UK-based private mining group QKR for US$110 million [N$1,2 billion).
The Navachab transaction is not the first multimillion-dollar deal involving Katti in which Geingob is accused of flexing his political muscle to boost Katti's business prospects.
These revelations come at a time when Geingob is pushing environment minister Pohamba Shifeta to make an immediate decision on marine phosphate mining along the country's coastline. This decision, if approved, will benefit a company co-owned by Katti and Oman billionaire Mohammed Al Barwani.
Shifeta, who earlier this month accused Katti of "blackmailing" him into approving marine phosphate mining, said he cannot intervene since the case is in court.
Should the government sanction marine phosphate mining, Namibia Marine Phosphate (NMP) stands to be one of the biggest winners. NMP, which wants to extract fertiliser from the Atlantic Ocean, is owned by Al Barwani through his company Mawarid Mining LLC with 85% shares, while 15% is owned by Katti.
Environmentalists and former leaders, including founding president Sam Nujoma, have warned against marine phosphate mining. "These imperialists think we Africans are stupid and they want to destroy our fisheries resource – which is the future of our children," Nujoma told New Era in 2013.
FRIENDS AND MONEY
Geingob has in the past admitted that Katti is a personal friend, but denied any wrongdoing.
Katti has, however, received special treatment from Geingob, and often accompanies the president on his foreign jaunts. In 2013, Geingob travelled to Oman, and Katti was part of the delegation. He was a partner of the Omanis. Government officials familiar with the Oman visit and the phosphate deal told The Namibian that the Middle East investors are highly rated by the Namibian government.
They cited a 2014 trip to Cuba. Katti and two Middle East businessmen, believed to be from Oman, were part of then prime minister Geingob's official delegation. During the trip, The Namibian was informed, Namibia's ambassador to Cuba at the time made his official vehicle available to Katti and his two business associates, while having to share another embassy vehicle with two other ministers from Namibia.
Geingob admitted that Katti had in the past paid for some of his medical bills, estimated to be worth N$200 000. Others estimate that it could be more.
TIMELINE
Katti has over the years boasted about having some politicians in his pocket, and doing "the magic". Katti and Geingob have had a cosy relationship for years. The president now appears to do Katti's bidding in the phosphate mining business.
Here are some notable cases where Geingob appeared to endorse Katti's profit goals.
2011: Geingob attended an event organised by Brazilian oil company HRT in Windhoek. Katti co-owned a Namibian subsidiary of HRT at the time, and used it to allegedly knock others by selling Namibian oil blocks.
2012 November: Katti boasted that he pledged to pay N$500 000 at a Swapo fundraising dinner held at State House, which mostly benefited Geingob's campaign.
2013 March: Geingob wrote to foreign investors pushing for a consortium that included Katti to buy the Navachab mine.
2013 April: Omani billionaire Mohammed Al Barwani bought an Australian company with a phosphate licence. Katti also acquired shares in the company.
2013 May: Katti's international partners HRT held a press conference at State House on finding oil, which was, however, not in commercially viable quantities. Geingob was present at that briefing, which turned out to be a grandstanding scheme by Katti. The two were together in March that year at Walvis Bay on an oil-exploration exercise.
2013 December: Geingob led a delegation to the Middle East. He also travelled to Oman, where a billionaire who partnered with Katti stays.
2014 July: Geingob was pictured with Katti and three Namibian businessmen in Brazil during the football World Cup there.
2015 March: Katti and his Omani business partners got red-carpet treatment at Geingob's inauguration as Namibia's third president.
2015: Katti was linked to the N$7 billion airport renovation tender in November that year. This contract allegedly involved payments of over N$100 million to senior government officials. Katti has in the past denied any role in this tender.
2015: October, the government appeared to agree to Katti's proposal to sell Kombat to the state for N$160 million. Geingob said at the time that: "I do not know anything about Kombat, and it is none of my business".
2016: The health ministry started paying N$50 000 a month to Katti for renting a house at Kombat. The ministry said the lease agreement was not signed by the ministry, and not approved by treasury.
2019: Geingob wrote to environment minister Pohamba Shifeta to make an immediate decision, which if approved, would benefit Katti. This is after Katti wrote to the head of state complaining that he was not getting his way.
* Compiled by Shinovene Immanuel