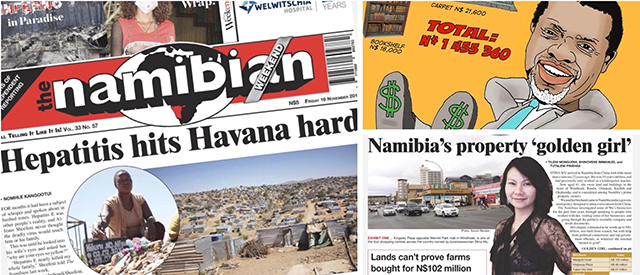 ---
By Shinovene Immanuel | 21 December 2018
---
The Namibian investigative team produced 27 in-depth news reports in 2018, including president Hage Geingob's tax-free N$120 000 imported bed, the deadly hepatitis E virus at Havana and how an Australian company dodged paying N$219 million in taxes.
THESE articles, produced from February 2018 to December this year, also included several other stories that took years to complete such as the Chinese teacher-turned-billionaire, Stina Wu.
Investigative stories require persistence, patience and planning.
The Namibian received a tip-off in December 2016 that president Geingob bought fancy furniture from China through a businessman at the heart of a N$3,5 billion money laundering and tax evasion police investigation in Namibia.
Instead of rushing to publish, the team took time to understand the story by adding it to the investigative unit, a desk which was started in 2014 to focus on sometimes complex in-depth stories.
This required patience with sources, good timing, diligence and obtaining as well as verifying documents to support the stories.
The article was only published in March 2018 this year.
It explained how Geingob bought a bed for N$120 000, as part of a N$1,6 million splash on his furniture imported tax-free through people implicated in Namibia's N$3,5 billion tax evasion, fraud and money laundering scheme.
Even though the president's supporters invoked "invasion of privacy" as a defence, critics came to our aid, pointing out that not only was the law interpreted to favour the president, but he was also not practising what he preached when he urged Namibians to buy Namibian products to support the 'Growth at Home' policy while he imported goods not produced locally.
The investigative team also produced a series of articles delving into what politicians own. This was key, after all, because politicians have been playing hide and seek with parliament regarding declaring their assets since 2009.
Our reporter, an intern at the time, spent close to week at parliament, writing down in her notebook what each of the 104 lawmakers claimed they owned, including companies, property and other material benefits.
The results: 190 pages of what the politicians owned in 2015 and 2016.
This was not easy, especially since the National Assembly does not allow journalists to copy the pages. Reporters are only allowed to write the information word by word from parliament books.
The unit produced four stories, including how many lawmakers in the National Assembly owned fishing companies, a sector rife with perceptions that it mostly benefits well-connected Namibians.
Some politicians were not happy about that coverage.
"I'm not a fishmonger," All People's Party (APP) president Ignatius Shixwameni told a reporter on the phone after the publication of that story.
The other two articles focused on how parliamentarians are among the country's biggest property investors while the other one was about how parliamentarians are part-time farmers.
The unit was also at the forefront on reporting about the marriage between Namibia and China. This was vital because the government was on a begging spree for loans to fund infrastructure projects.
China is known for taking over state assets when countries fail to pay their loans.
In April this year, president Geingob stood at the podium in China and declared: "I didn't come here with a bowl to come and beg here. Please Namibians".
Geingob was reacting to an article published by The Namibian that week, titled 'Govt takes begging bowl to China'.
The president was in China on a state visit set to negotiate loans to fund, among others, the construction of Namibian's Hosea Kutako International Airport.
Even though the government constantly denied this loan deal, it later emerged that detailed letters were exchanged between the two governments this year on the airport loan.
There is a perception that investigative stories are about corruption and politicians. The unit focused on other human interest stories to show that these stories are also worth investigating.
For instance, for months, there have been reports about hepatitis E but the media failed to give a voice to the people affected by the deadly virus.
The unit produced an article titled 'Hepatitis hits Havana hard' and told this story through a family who described how their lives had been shattered by the little-known virus.
"We lost five neighbours. A few houses from ours, an elderly couple died; just down the road, two young women and a child died. These are just people close to my house. But when you walk down the road every day, you hear of a death caused by the virus," said one of the family members interviewed for the story.
The unit also published a story in November this year on how a Chinese teenager who came to Namibia 22 years ago turned into a billionaire, with the help of her political friends.
The Namibian had worked on that story since 2014 by tracking the properties of businesswoman Stina Wu.
The unit has since 2015 reported on tax issues and how private companies and individuals used several tactics to avoid paying taxes in Namibia.
As a result, the investigative team produced a story last month about how the Namibian government lost N$219 million in taxes from the sale of shares in one of the world's largest uranium mines, Langer Heinrich, because the country's anti-tax avoidance law is not up to scratch.
We partnered with the UK-based journalism organisation Finance Uncovered for this joint investigation.
Finance minister Calle Schlettwein announced a day after the publication that the ministry was investigating how the Australia-based multi-national mining giant failed to pay N$219 million in taxes.
The unit did not only focus on producing stories this year.
The desk also trained young reporters and professionals by offering three to six months internships. In doing so, we hope to help build a strong foundation of young, diverse and gifted reporters who can improve the way we tell our stories.
The Namibian investigative team currently has five interns – two media students, two economists and an accountant (three are women).
All of them have helped us tell compelling stories. Many of our readers have access to newsworthy information or documents they may want to share with us to expose wrongdoing.
Help us write better stories by contacting us or ask someone to drop documents at our offices. We go again next year. Or alternatively, email us with a secure mail: [email protected]