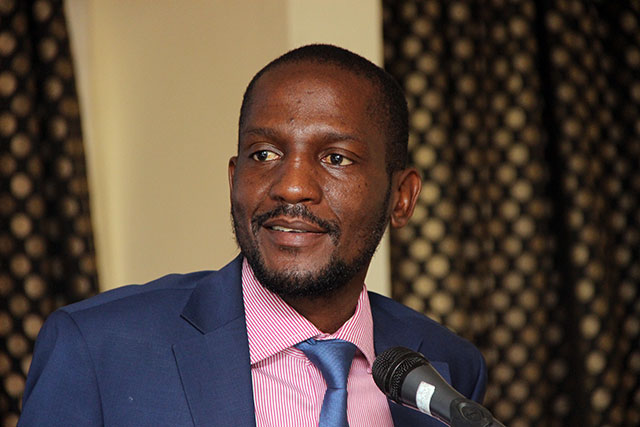 ---
By Tileni Mongudhi | 5 September 2014
---
REPORTS of a spat between Swapo Party Youth League deputy secretary Veikko Nekundi and //Karas governor Bernadus Swartbooi at the Swapo electoral college last weekend has again thrown the limelight on Nekundi that he is like a proverbial cat with many lives.
Nekundi has survived many trials and tribulations with the accusations Swartbooi levelled against Nekundi being the latest in a long list of complaints about him by his SPYL comrades.
Questions have been asked whether Nekundi is a genius among his peers and a tactical politician or a political turncoat who just goes with the wind.
The Namibian has learned that Nekundi found himself crossing swords with Swartbooi as a result of the weekend's electoral college. The stand-off between the two is said to have ended a relationship which dates back to the late 1990s.
Swartbooi allegedly accused Nekundi of 'de-campaigning' him (Swartbooi) at the electoral college and reportedly asked Nekundi to explain why he did so. The confrontation allegedly started on a What'sApp text messaging platform, informally known as the 'central committee', on Sunday.
In a text message shown to The Namibian, Swartbooi wrote: "Nekundi must say what role he played in sabotaging me in the election."
Nekundi allegedly responded by sending a message that the two of them should address their problems man-to-man. He allegedly added that no one complained when Swartbooi was appointed governor.
SPYL sources said that the two leaders later had a heated telephonic exchange.
Swartbooi's attack stems from allegations that Nekundi urged delegates at a meeting before the electoral college not to vote for Swartbooi.
The meeting took place on the eve of the electoral college at the Safari hotel, where a group of around 95 delegates allegedly strategised on who to vote for.
The convening of the meeting is believed to be the basis for a move by some party members, who fared badly, to challenge the outcome of the electoral college.
Nekundi reportedly suggested that Swartbooi should not be voted for because he was allegedly not a supporter of Prime Minister Hage Geingob from the onset and that he only supported him after he was directed to do so by President Hifikepunye Pohamba.
SPYL sources said Swartbooi was infuriated by Nekundi's actions because they had initially agreed to support all SPYL contestants at the electoral college.
The Namibian also has learned that at a meeting hosted by the National Youth Council executive chairman Mandela Kapere, the youth leaders had agreed to support each other. Other youth contestants who took part in the 'pot', and also attended the said meeting, are Paula Kooper, Sydney Ganeb and Muezee Kazapua.
Kapere said that he did not believe Nekundi de-campaigned Swartbooi and said the aim was to try and do as much as possible for the youth.
Nekundi's detractors are said to have accused him of being a chameleon and an opportunist. He is accused of throwing his comrades under the bus for his personal gain.
Nekundi said he has no problems with anyone and said anyone who has issues with him should take it up within the party structures.
"I have no problem with anyone," Nekundi said.
SPYL leaders said Swartbooi backed Nekundi since 1998, allegedly from the days when Swartbooi was Nanso president and Nekundi the SRC president at the Polytechnic of Namibia. Swartbooi allegedly backed him when he was facing dismissal from the institution.
Swartbooi allegedly also previously backed Nekundi when he ran for the position of SPYL deputy secretary.
Swartbooi could not be reached for comment.
Nekundi also shocked many in Swapo in May this year at a Swapo Central Committee meeting when he complained that his SPYL comrades were isolating him because he supported Geingob at the 2012 Swapo elective congress at which Geingob retained his party vice presidency.
Nekundi allegedly shocked the Central Committee since he was known to actively support Geingob's two opponents Jerry Ekandjo and Pendukeni Iivula-Ithana as well.
When approached by The Namibian at the time about which camp he belonged to, Nekundi only said "I belong to Swapo".
Despite reports about his flip-flopping, Nekundi worked his way into Geingob's inner circles, so much so that he became one of the main organisers in the Geingob camp, which did relatively well at the weekend's college.
Many of Nekundi's comrades now believe that he was spying on Ekandjo and Iivula-Ithana's pre-congress strategies for Geingob. Now that Nekundi's march to parliament is assured, party sources have labelled him an opportunist with no ideology only interested in personal gain.
A senior Swapo source said that Nekundi has a history of stabbing his comrades in the back. The source cited a case in May last year, when the SPYL leadership was facing suspension and dismissal for allegedly disrespecting party elders. Nekundi reportedly went behind his comrades' backs and forged alliances with some party elders so that he could be the only SPYL executive member not expelled from the party and then take over secretary Elijah Ngurare's position.
While SPYL sources said that it was after the 2013 extraordinary congress when Nekundi started playing "the politics of being a victim" by accusing his colleagues of planning to oust him while he was also being accused of plotting to unseat Ngurare.
After having navigated Swapo's political seas well, Nekundi still has a long way to prove whether he is a master political strategist or just an opportunist.