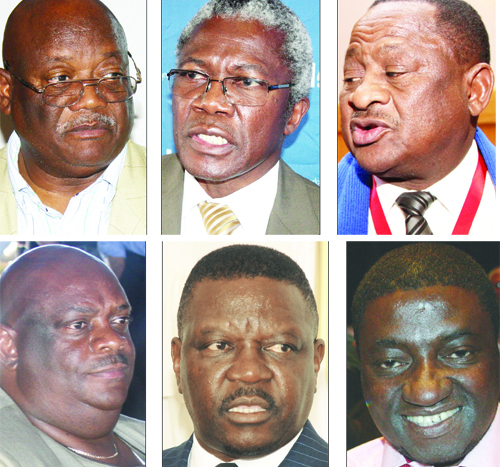 ---
By Shinovene Immanuel | 14 September 2014
---
A NAMIBIAN empowerment scheme aimed at supplying rough diamonds worth billions of dollars to beef up the local diamond industry appears overwhelmingly to serve the interests of individuals close to state power.
An amaBhungane investigation showed that politicians, their children and businesspeople affiliated to the ruling Swapo party dominate the list of hand-picked recipients, known as "sightholders", who have benefited from more than N$12 billion in diamonds over the past six years.
Beneficiaries include relatives of former President Sam Nujoma and Belgian-American diamond magnate Maurice Tempelsman, a Nujoma confidant.
Only one of the sightholder companies is wholly Namibian owned, with the rest being local subsidiaries of international operations with one or two Namibian partners.
Namibia is a leading high-quality diamond producer, with marine reserves estimated at around 80 million carats.
De Beers has dominant rights to extract diamonds in Namibia, while the diamond trade is controlled by Namdeb Diamond Corporation, a joint venture between the government and De Beers.
In 2007 Namdeb launched a subsidiary, the Namibia Diamond Trading Company (NDTC), to supply rough diamonds at a discount to selected sightholders 10 times a year for a period of three and half years.
There are currently 11 sightholders, who receive 10% of Namibia's quality diamond output. Namdeb exports the remaining 90% though De Beer's diamond hub in Botswana.
BENEFITS QUESTIONED
Critics complain that the sightholder system was created to sweeten Namibia's ruling elite and deter thoughts of breaking up De Beers's diamond cartel.
There are also questions about the local economic benefits, including allegations that some sightholders have no interest in processing the diamonds.
Kennedy Hamutenya, Namibia's diamond commissioner, the government's chief diamond negotiator, said in 2012: "We know some people just want to get their hands on the rough (diamonds) to trade and make quick returns, while others want to send them for cutting and polishing to other countries where labour is much cheaper."
He said some dealers only used local partners for window-dressing.
Elite enrichment is an issue in Namibia, one of the world's most economically unequal nations. Prime Minister Hage Geingob admitted last year that 10% of the 2,1 million citizens control the country's wealth.
NDTC chief executive Shihaleni Ndjaba said since 2007, the company has annually handed out more than N$2 billion worth of rough diamonds to sightholders.
Asked why the system benefits the politically connected, Ndjaba defended the selection process, saying it considered factors such as beneficiation performance, financial status, the quality of gems requested and their availability.
"Not only does NDTC pay substantial taxes and royalties to government, but it also generates significant employment opportunities."
The cutting and polishing industry supported by the sightholder system employs about 1 000 workers, he said.
Ndjaba said sightholders are compelled to "involve local shareholders" but there is no pressure to choose particular partners.
The sightholders are Almod Diamonds, Ankit Gems, Crossworks Manufacturing, Diacor International, Hard Stone Processing, Julius Klein Diamonds, Laurelton Diamonds, Lazare Kaplan International, Schachter and Namdar, Pluczenik Diamond Company and Trau Bros NV. Existing contracts run from 2012 to 2015.
Namdeb declined to give details of the current sightholders, including shareholding. However, an amaBhungane investigation showed that members or close associates of Namibia's ruling elite have ties with at least nine of the current beneficiary firms, and that most are from the Aawambo tribe, who dominate the Swapo leadership.
MAURICE TEMPELSMAN AND AARON MUSHIMBA
American diamond tycoon Maurice Tempelsman is a sightholder through Lazare Kaplan Diamonds Namibia, which has a stake in Namdeb's sightholder subsidiary, NamGem.
Tempelsman, chairperson of New York-based global diamond empire Lazare Kaplan International, has strong connections with Namibia's political kingpins, including Founding President Sam Nujoma.
His Namibian business partner was Nujoma's late brother-in-law Aaron Mushimba, an empowerment magnate who died last month. In 2002 the government intimated that it intended implementing legislation to open up the diamond market.
In her 2007 book Glitter & Greed: The Secret World of the Diamond Cartel, British investigative journalist Janine Roberts reproduces a letter allegedly written by Tempelsman to Nujoma offering a loan of R500 million or more if the government dropped plans to independently check the prices De Beers paid Namibia for diamond exports. The government shelved its plan quietly.
Roberts claims that Tempelsman has fronted for De Beers in the US and has pushed for policies that favour the company both there and in Africa.
Tempelsman met Nujoma before 1990 and continued the relationship after independence as an adviser to senior government officials. In 2003, Tempelsman and the late Mushimba formed Lazare Kaplan Namibia, of which Tempelsman's son, Leon, is also a director.
Tempelsman continues to court Namibia's political leaders. In 2007 – when he landed an earlier sightholders' licence – he visited President Hifikepunye Pohamba in State House in Windhoek.
Roberts said the American has been influential in other diamond-rich African countries, including Angola, Sierra Leone, Botswana, the Democratic Republic of Congo and Ghana.
His lawyer in Southern Africa, Christian Merkling, said Tempelsman was privileged to know Nujoma before and after independence and to work with Mushimba on various business deals.
He said it would be an insult to Mushimba's memory and tarnish the "enormous contributions" the late businessman made to Namibia to imply that he and Tempelsman were connected only as cronies.
"Tempelsman is privileged to have been asked for advice by senior Namibian decision-makers from time to time on various matters, some diamond-related and many others not, which he provided in good faith, with a full disclosure of interests, and in confidence. It is not for him to discuss such consultations publicly," Merkling said.
He branded reports that Tempelsman had been a De Beers negotiator as "entirely untrue and would be legally actionable".
Tempelsman himself has denied links with De Beers and former Zairean dictator Mobutu Sese Seko. Merkling doubled as Tempelsman's lawyer and the Namibian government's legal consultant when the current Diamond Act of 1999 was drafted.
"Tempelsman's view is that in the area of diamond governance… Namibia's course has been wise, and has delivered exceptional, progressively increasing rewards for the nation since 1990," Merkling said.
Merkling is also a director of Lazare Kaplan Namibia, raising questions of conflict of interest.
ZACKY NUJOMA
Nujoma's youngest son, Zacky Nujoma, owns Nu Diamond, which has a stake in sight-holder Crossworks Manufacturing. The former secretary of the Namibia's national tender board, Meriam Onesmus, is also a director.
Zacky was a partner in a diamond company with convicted mafioso Vito Palazzolo.
Nujoma's oldest son, Utoni Nujoma, is also a diamond dealer but amaBhungane could not establish whether he is a sightholder. Utoni, Minister of Justice, declared to parliament in 2009 that he had owned 10% of Namibia Diamond House since 2006.
Personal assistant to Nujoma, John Nauta, denied that Zacky had been favoured, adding that it was his constitutional right to apply for mineral rights, like anybody else.
"Zacky is a geologist by profession. What will he survive on if he does not get opportunities like any other person?" he asked.
HELMUT ANGULA
Former minister Helmut Angula is a sightholder through his 45% stake in Dinamo Diamonds, which he declared to parliament.
Dinamo is the local partner of the New York-based Julius Klein Diamond Group, which holds the sightholder's licence. Angula has also owned 10% of Namibia Diamond Holdings since 2006.
He has brought his daughter, Phillipine Angula, into his business empire as a director in Dinamo Diamonds.
JAMES AUALA
The chief executive of August 26, the State-owned defence company, Brigadier General Auala, is a sightholder through Hard Stone Processing (HSP), which he chairs.
Colonel David Ndatipo, a liberation struggle commander and Soviet-trained intelligence officer, is an HSP director and co-owner.
The other co-owners are Benjamin Thobias, a senior police officer in the security ministry; and managing director, Turkish national Burhan Seber.
HSP is locally owned and worked with the Windhoek vocational training centre to improve skills transfer.
DR KALUMBI SHANGULA
Chairperson of the ruling party's business empire, Kalahari Holdings, Shangula is a director of Ankit Gems, a sightholder through Ankit Gems Namibia.
Shangula is the former permanent secretary in the health ministry and chairs the Swapo think-tank. Another Ankit Gem director is former ministerial assistant and spokesperson Mikka Asino. Shangula declined to comment, referring questions to managing director Asino, who is also a Swapo think tank member.
SADIKE NEPELA
Businessman Sadike Nepela, a sightholder through Israeli-owned diamond firm Schachter and Namdar, is the son of one of the founders of Owambo People's Organisation (OPO, now Swapo). His father, Lucas Nepela, was the first OPO chairperson in 1959. Sadike is a former assistant to both the mine and trade ministers.
FRANS NDOROMA
The chief executive of the State-owned telecommunications company Telecom Namibia, Frans Ndoroma, is a sightholder through Laurelton Diamonds, the Namibian arm of international company Laurelton Reign Diamonds.
Ndoroma was a board member of De Beers Marine Namibia, a Namdeb sister company. He worked at De Beers from 1981 to 2002. His father worked as senior officer at Namdeb's predecessor, Consolidated Diamond Mines in apartheid-era Namibia.
SARA SHIKONGO
Sara Shikongo is a director of Duiker Investment 142, the Namibian subsidiary of New York-based sightholder Almod Diamonds. Shikongo's political connections are through her husband, Mateus Shikongo, who served as Windhoek mayor for 17 years on a Swapo ticket.
OTHERS
Former beneficiaries of the sightholder system include Dantagob and Hanganee Gurirab, sons of National Assembly Speaker and former Prime Minister Theo-Ben Gurirab.
Their company AMC-Gemxcel Diamonds, a partnership with Belgian-owned AMC Diamonds, was a sightholder until October 2012, when they closed shop after diamonds worth around R8-million were reportedly stolen from the company.
Israeli diamond billionaire Lev Leviev was a sightholder from 2007 to 2012.
His contract was not renewed after his factory was rocked by worker unrest and police allegations that stolen diamonds were being kept at its factory.
*Shinovene Immanuel is currently an intern at the Mail & Guardian investigative unit amaBhugane in South Africa. This article is part two of a series of investigations into the elite's grip on Namibian resources.
---