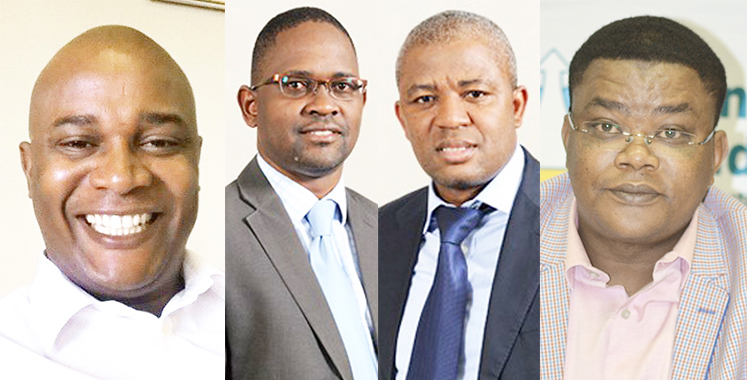 ---
By Shinovene Immanuel and Ndanki Kahiurika | 13 April 2019
---
TransNamib is one of the parastatals which survives on massive annual government transfers, and has in the recent past announced that workers would not be paid because of cashflow problems.
According to the report that was released in February last year, finance general manager Michael Gotore, acting chief executive Hippy Tjivikua, property executive Struggle Ihuhua, and head of human resources Webster Gonzo are overpaid, while information and communication technology executive Victor Hamutenyas appointment is being questioned..
Gotore, the report states, earns N$1,6 million per year. This includes an annual basic salary of N$970 000, a N$70 000 fuel subsidy, N$286 000 housing and N$300 000 car allowances, as well as a minimum annual bonus of N$100 000. His contract, the report notes, entitles Gotore to a maximum annual bonus of N$300 000.
Considered one of the top-performing executives at TransNamib, Gotore was questionably awarded a N$50 000 salary increase after his first month at TransNamib.
The report states that former TransNamib finance manager Noël Mouton, who earned N$1,1 million per year, left the parastatal in 2013 partly because the board did not want to pay him a performance bonus.
The investigators could not conclude whether Gotore was qualified for the position because there were no documents in his employment file.
Gotores CV, however, shows that he was chief of finance and property at NamPower, a portfolio manager at Old Mutual, audit manager at Deloitte Touche and finance director at Caps, Zimbabwe.
The investigators could not verify the information on his CV due to the absence of certified copies, but said "if the CV is considered materially correct, Gotore does comply with the minimum qualifications and experience required for general manager of finance". The report also probed whether operations executive Michael Feldmann was underpaid, compared to his fellow executives.
Feldmanns contract entitled him to N$1,1 million annually, including N$700 000 in basic salary, a N$60 000 fuel subsidy, and N$180 000 housing and N$180 000 car allowances.
The report confirmed that Feldmann was underpaid, compared to three other executives, even though he was graded higher.
In Tjivikuas case, the report states that he was not qualified for the position he held before being appointed as acting boss at TransNamib.
Tjivikua was the operations manager in May 2011, earning N$500 000 per year, but his salary increased by over N$170 000 after just one month in the position, to N$671 000 per year.
In December 2013, Tjivikua was appointed the executive for strategy and stakeholder management on a salary of about N$1,2 million per year.
But the report states that Tjivikua did not have experience in corporate strategic planning and performance management.
"It, therefore, appears that Tjivikua does not have the necessary skills and experience for this position," it reads, adding that the position required a bachelors degree in commerce, business administration, political science and/or economics.
Tjivikua, it was found, possesses none of these, but holds a masters of science degree in operations management and leadership, and an honours degree in education. Furthermore, the report said the position Tjivikua held was never advertised. Investigators even questioned why the particular executive position was created.
In 2014, Tjivikua was appointed acting CEO, after the suspension of Sara Katiti (née Naanda), who was responsible for most of the executive appointments being scrutinised in the report. Katitis contract entitled her to a N$3,2 million payout upon leaving the parastatal.
Property executive Struggle Ihuhua and head of human resources Webster Gonzo, who are both Katiti appointments, have both been informed that their contracts would not be renewed when they expire in November this year.
Ihuhua and Gonzo both signed their contracts in October 2012, entitling them to N$800 000 per year plus N$150 000 in an annual performance bonus, plus a 10% annual pay increase.
The report said Ihuhua was not qualified for the property executive position, and scored the lowest during the mental capabilities and behavioural test. "Ihuhua did not meet the minimum requirements for the position. He did not have the necessary qualifications or relevant experience as required in the advertisement," the report states.
The report also states that Ihuhua performed well during the interviews, but was supposed to have been placed on a capacity building programme.
"There is no documented motivation as to why he was selected over other recommended candidates who performed consistently and did not require additional development," the report reads. Ihuhua is said to have been supported by former CEO Katiti.
The report also states that Gonzo was not qualified for the human resources executive position because he also did not meet the minimum requirements.
"It appears Gonzo does not have the 10 years progressive experience at senior management level in a high-volume environment, as required," the report reads.
Another executive whose appointment came under scrutiny was head of TransNamibs information and communication technology department, Victor Hamutenya.Hamutenya resgined from TransNamib in March 2014
Investigators found that although he was qualified for the position, with four years of experience, another candidate with 13 years of experience had been recommended for the job.
Investigators said Hamutenyas name was not on the original list of candidates for the position, and that he was added to the list by former chief executive Katiti.
Ihuhua and Gonzo declined to comment, while questions sent to Tjivikua went unanswered.
Katitis lawyer, Richard Metcalfe, has claimed that the investigation by EY was not credible, and insisted that his client was never given an opportunity to respond to allegations.
---