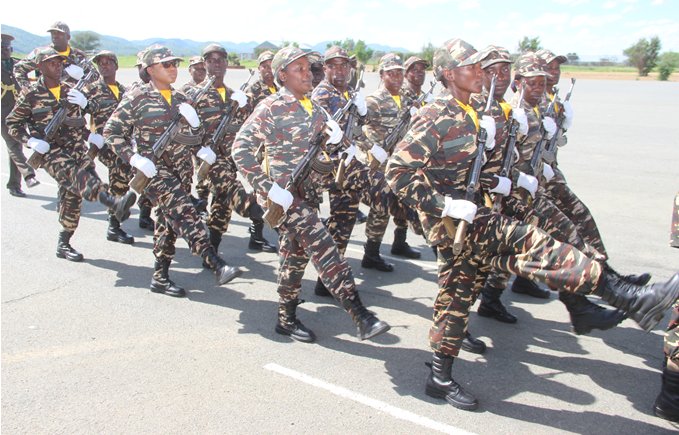 ---
By Shinovene Immanuel | 20 April 2017
---
BANKING authorities in the United States forced the Namibian government to recall N$156 million it had transferred to Chinese state-owned arms dealer Poly Technologies.
Defence minister Penda ya Ndakolo announced in parliament recently that the money was returned to the finance ministry last year, but did not go into detail about the purpose of the payment and why it was cancelled.
Two senior government officials confirmed the US involvement to The Namibian this week, stating that US officials had informed Namibian authorities that the transaction appeared "suspicious".
Poly Technologies, a subsidiary of the state-owned China Poly Group Corporation, which is headquartered in Beijing, was slapped with US sanctions in 2013 for allegedly selling banned weapons states classified as hostile by the international community.
Ya Ndakolo said the defence ministry had informed the finance ministry that the N$156 million for arms, ammunition and aircraft parts had been paid to Poly Technologies.
He declined to give details, merely stating that the matter was security-related. He, however, denied that the money was returned because US authorities had flagged it as suspicious.
The minister said the N$156 million was returned by the Chinese company via the Bank of New York because it was supposedly the end of the financial year.
However, senior military sources have said that the defence ministry was forced to recall the money and that US banking officials informed the Bank of Namibia and the finance ministry about the transaction.
The Bank of Namibia, which processes state payments and transfers out of the country and is obligated to adhere to international treaties around illicit financial transactions, refused to comment. Questions sent to the finance ministry were not answered by yesterday.
Namibia's defence spending is shrouded in secrecy. Neither the government nor the military have ever been transparent about the billions of dollars supposedly spent on "research and development" over the years.
Budget documents show that government has so far spent over N$3,4 billion of the more than N$6,6 billion earmarked for buying "operational equipment, machinery and plants" over successive medium term expenditure framework (MTEF) cycles. In the 2017/18 financial year more than N$263 million has been set aside for such purchases, which are labelled "classified information".
Ya Ndakolo indicated in his budget statement this month that the money was partly for weapons purchases.
One of the ministerial targets, he said, was to conduct research on how to modernise military equipment and to acquire specialised equipment by 2018.
"Yes, this target was achieved, however, it will be ongoing as the Namibian Defence Force has to keep up with global technology advancement," he said during his budget motivation.
He added that: "Defence equipment such as aircraft and warships take many years to be manufactured and all these contracts are in foreign currency."
Ya Ndakolo said the ministry's N$5,6 billion budget was inadequate for planned programmes, and that this underspending might compromise Namibia's security.
"The cost of acquiring navy assets, the training of crews and maintenance of both the assets and personnel, including supplies to keep them operational are high," he said.
He said the same applies to the Namibian Air Force in terms of acquiring fighter jets, transport aircraft, helicopters, the training of pilots and aircraft technicians, and the servicing and provision of parts needed for aircraft.
SANCTIONS
The Poly Technologies' website describes the company as "exclusively authorised by the Chinese government to import and export all defence-related weaponry".
The company was placed on the US sanctions list in 2013 for allegedly selling banned weapons to Iran, North Korea and Syria, an announcement on the US Federal Register website states.
News agency Reuters reported in 2013 that the sanction notices did not specify what banned weapons the Chinese company had sold to Iran, Syria or North Korea.
However, the announcement makes clear that the weapons sales violated international agreements aimed at curbing the spread, development and proliferation of weapons of mass destruction, including chemical and nuclear weapons systems.
China's Xinhua News Agency reported at the time that the Chinese government had objected to the sanctions, quoting company officials stating that China had never been part of efforts to develop banned weapons.
"We have never helped any countries or regions develop any banned weapons, nor have we exported or promised to export weapons or technologies to any countries or regions that are under United Nations Security Council resolutions sanctions," Xinhua quoted Poly Technologies saying in 2013.
Poly Technologies is known as one the world's main arms dealers and has been a frequent beneficiary of Namibian military procurement contracts.
It has also partnered with South Africa's state-owned arms manufacturer Denel in building three naval vessels for South Africa.
Denel announced in January this year that Namibian military authorities had bought eight landmine-resistant light armoured vehicles and a remotely operated weapons system from it.
The Chinese company has also been accused of making pay-offs to military officials in Namibia. Namibian prosecutor general Martha Imalwa said in court papers in 2011 that Poly Technologies paid US$499 950 (about N$3,89 million) into the Zambian bank account of former defence force chief lieutenant general Martin Shalli in two deposits of US$249 975 each in October 2008 and February 2009.
Other senior military officers were also implicated.
At the time, Poly Technologies had a contract to supply military equipment worth US$126,4 million (about N$985 million) to the Namibian Defence Force, Imalwa told the court.
Shalli, who retired in 2011, denied receiving the money in connection with the arms contract. Questions sent to Poly Technologies were not answered by yesterday.
* This story was produced by The Namibian's investigative unit in association with the amaBhungane Centre for Investigative Journalism. Send us story tip-offs via your secure email to: [email protected]
---