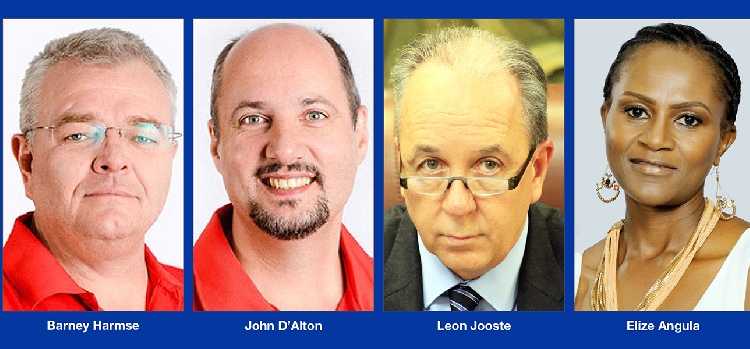 ---
By Shinovene Immanuel | 20 October June 2017
---
RAIL operator TransNamib is fuming at telecommunications firm Paratus Telecom for trespassing on its land and using its political connections to avoid paying the parastatal around N$100 million in rent.
Paratus Telecom was founded in 2005, and is part-owned by politically connected businessman John Walenga. The other directors are Paratus Telecom chief executive Barney Harmse, the company's chief operating officer Schalk Erasmus, company managing director John D'Alton, and Namibian Stock Exchange chief executive Tiaan Bazuin.
Paratus wants to lay fibre-optic cables alongside the national railway lines from the coast to enable broadband connectivity inland for services such as voice, data, video and high speed internet.
People familiar with the company's plans say Paratus could become a telecommunications powerhouse in Namibia in a few years, surpassing poorly performing state-owned Telecom Namibia, if it gets to lay its cable along the railroad.
Sources said Paratus would then be in a position to sell a range of telecommunications services to landlocked neigbouring countries, including Botswana and Zambia.
TransNamib officials said Paratus needed their permission to lay its fibre optic cables in the railway reserve alongside train tracks.
Talks between Paratus and TransNamib already started in 2011, but negotiations reached an advanced stage recently, to the extent that firm offers were made by Paratus.
On 1 June 2017, Paratus presented TransNamib with two options, both for around N$100 million to lay a cable near the tracks for 20 years.
However, on the eve of signing off on the deal, Paratus withdrew from negotiations, 29 days after making the offer.
Paratus Group CEO Barney Harmse wrote to the TransNamib board on 29 June 2017, stating that they wanted a new partnership and not the one for N$100 million.
Paratus's managing director, John D'Alton, yesterday referred The Namibian to section 60 of the Communications Act, which states that a telecommunications company "may, for the purposes of the provision of telecommunications services, enter upon any land, including any street, road, footpath or land reserved for public purposes, and any railway, and construct and maintain a telecommunications facility".
TransNamib believes that it has exclusive rights to land adjacent to railway lines.
Documents show that politically connected director Walenga wrote to TransNamib on 10 July 2017 about using the railway reserve.
Walenga, who won TransNamib contracts in the past, stated in the letter that exclusive control of railways was not in the best interest of the economy.
TransNamib's deputy chairperson, Elize Angula, has led the negotiations with Paratus, and has pushed for it to pay to lay the cables.
Some TransNamib directors believe that Paratus bosses became "arrogant" and shifted the goalposts after meeting with public enterprises minister Leon Jooste, a claim Jooste rejected yesterday.
Paratus met Jooste after failing to convince TransNamib.
One of the reasons some TransNamib directors believe that Paratus became arrogant was because of an email written by Paratus's John D' Alton on 2 October 2017 to TransNamib chairperson Paul Smit and copied to Jooste.
"Please find attached notice of provision of infrastructure including route map as well as Google Earth route plots. We hereby advise that we require three weeks to complete the fibre works on the intended route," D'Alton said.
The Google map attached by D'Alton shows that Paratus decided to single-handedly start laying cables at Swakopmund.
D'Alton's map marked a route measuring three kilometres – from the Swakopmund railway station to the town's airport – as the starting point of their fiber cable.
ANGULA FIRES BACK
An hour later, TransNamib's Angula furiously responded to D'Alton.
"I refer to your email below informing TransNamib that you are going to trespass on the rail reserve. Did you get the permission of the minister [Jooste] to do this?" she asked.
Angula said Paratus abandoned the negotiations, claiming that TransNamib took too long.
She said Paratus did not want to pay TransNamib commercial rates due to any landowner.
"TransNamib rejects Paratus Telecom's alleged right to enter upon the railway reserve as it pleases, and shall accordingly consider Paratus Telecom's action as trespassing," she said.
In another email on 3 October 2017, Angula explained why they felt Paratus was trespassing on TransNamib property.
She copied in Jooste and asked if the minister approved Paratus's installation of cables beside the railway without TransNamib's permission.
Angula also asked Jooste to explain the legal grounds "upon which the minister agreed to permit Paratus to enter the railway reserve in terms of section 60 of the act. We would appreciate to be provided with the application made by Paratus to the honoura­ble minister as well".
She said Paratus had approached works minister Alpheus !Naruseb to lay the cable along the railway.
!Naruseb agreed that Paratus should enter a commercial agreement with TransNamib, Angula said.
"A memorandum of understanding was signed, and the advice of the attorney general was sought, which advice confirmed the position of the minister of works," she said.
Angula also questioned whether Jooste could override these processes without giving TransNamib an opportunity to explain its side.
"It is also critical to take into account that TransNamib, being a public enterprise and financially in dire straits, needs the income which should be generated from the commercial arrangements between TransNamib and Paratus," she said.
The same day, Jooste responded to Angula's email.
"Dear Elize and John [D'Alton]. Please take note that I wish to formally distance myself from this matter, which is purely of an administrative nature and therefore of no relevance to my office," he said.
Jooste referred to section 60 of the Communications Act.
"I subsequently referred them to the board for the technical discussions and/or negotiations. I have no authority or jurisdiction to approve this application and I have also not done so," he said, adding that "please refrain from copying me in further emails related to the matter".
PARATUS RESPONDS
D'Alton told The Namibian yesterday that TransNamib, similar to Telecom Namibia, Air Namibia, NBC and all associated infrastructure, was paid for from public funds. Thus, access to infrastructure should also be available to the public.
He said Paratus deserved the same benefits as Telecom Namibia and MTC.
"If Telecom Namibia and MTC do not pay rental or revenue share for access, then how can it be expected from Paratus? Again, our licence grants us the same rights and privileges as that of any operator that is similarly licensed," he stated.
D'Alton said Paratus CEO Harmse met with Jooste. "He [Harmse] felt it necessary to share the frustration in not being able to conclude a mutually beneficial public-private partnership with TransNamib after six years of negotiations," he said.
He said competition and more affordable internet and telecommunications services were critical for growth of the economy. News of the stand-off between Paratus and TransNamib comes a week after the launching of Nimbus Infrastructure Limited on the Namibian Stock Exchange, which is run by Paratus director Tiaan Bazuin.
Paratus owns Nimbus Infrastructure Limited. Bazuin denied any conflicts of interest last week in the Windhoek Observer. It's unclear why TransNamib has not publicly advertised the leasing of the railway reserve.
---