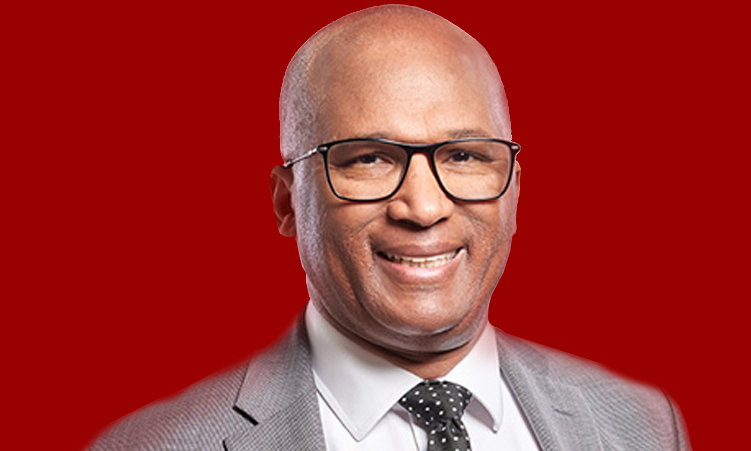 By Timo Shihepo
19 April 2023
The National Petroleum Corporation of Namibia (Namcor) has offered Lionel Matthews N$230 000 per month to lead the national oil company, but the former banker allegedly informed the parastatal that he earned N$350 000 a month at Nedbank.
The Namcor board made an announcement on 4 April, saying Matthews would assume leadership of the parastatal for six months, replacing suspended Namcor managing director Immanuel Mulunga, who reportedly earned more than N$220 000 a month.
Mulunga will continue earning his full package, but the board is now trying to find additional funds to pay Matthews, who is still in negotiations with the national oil company.
Efforts by The Namibian to get comment from Namcor's board have not been successful since Monday.
Matthews declined to comment yesterday.
"I am out of the country on private business. Please contact the chair," he said.
At least three people familiar with this matter, said Namcor made an offer this month of around N$230 000 per month for a six-month contract.
Some sources believe this was more than what Mulunga is earning, while others say it's less.
Matthews allegedly told the Namcor board that he earned close to N$350 000 per month when he was Nedbank's managing director until he stepped down in March 2020.
The average monthly salary for executives at Namcor is N$180 000, while the salary range for the managing director position starts from N$220 000.
The position of acting managing director has been vacant since the suspension of Mulunga on 4 April in what appears to be part of a power struggle between himself and a powerful faction linked to Namcor's board chairperson, Jennifer Comalie.
Comalie's faction won the battle to remove Mulunga and approached Matthews.
But Matthews appears to be conflicted.
The Namibian has reported that Matthews is listed as an adviser to a consortium that won a N$1-billion contract to build, finance, operate and maintain oil depots for Namcor.
THE CHIEF AND ASSOCIATES
While negotiations are ongoing, Namcor has appointed the company's executive business strategist Shiwana Ndeunyema to act until an acting managing director is appointed.
Ndeunyama this week declined to comment.
Questions continue to linger over why individuals close to minister of finance and public enterprises Iipumbu Shiimi are running the national oil company.
Apart from Ndeunyema, who is allegedly close to the finance minister's family, Matthews worked as an adviser in the finance ministry until last year.
"Matthews' term as adviser to the minister of finance ended last year, but even if he was still at the Ministry of Finance and Public Enterprises, I don't see anything wrong for the ministry to assign its capable staff members to a state-owned enterprise," Shiimi yesterday said.
He said the board has briefed him about Matthews.
"I have supported the appointment, because I can vouch that Mr Matthews has the necessary experience and integrity to take care of an important entity such as Namcor," he said.
The minister also commented on concerns that Matthews' appointment could be a conflict of interest.
"In a small country like Namibia there is always the possibility for potential conflicts of interest, and I want to underline the word potential. The key is how that potential conflict is managed," Shiimi said.
He said journalists "should take the high moral ground to defend brave and patriotic Namibians who stick out their necks and put their lives, those of their families and their careers at risk to create a better Namibia for future generations".
He added: "I believe in any society there will always be strong dark forces that are driven by self-interest. It is important for the media not to be captured by such forces."
The controversy over Matthews' appointment has also spilled over into the parliament, with a lawmaker asking the minister to explain concerns around a possible conflict of interest.
Popular Democratic Movement member of parliament Hidipo Hamata will ask minister of mines and energy Tom Alweendo this about Matthews' involvement in the N$1-billion tender.
"Matthews is listed as a partner corporate finance adviser to the bulk storage development project. That is a blatant and outright conflict of interest. Why was Mr Matthews' interest in Namcor hidden when he was appointed as acting managing director?" he asked.
'UNCOMPETITIVE APPOINTMENTS'
Independent Patriots for Change (IPC) national general secretary Christine Aochamus says Matthews'appointment is a clear conflict of interest.
"Uncompetitive appointments are not good at finding the best candidate," she said.
Commenting on the salary offer, Aochamus said "a CEO should not earn more than 30 times what the lowest-paid worker at Namcor is earning".
She said such a salary would only be justified if the company was highly profitable and was paying its shareholders good dividends.
"Since this is not the case, it would be better to pay top management lower fixed salaries, but with a sizable bonus upon good performance of the company," she said.
Aochamus also commented on Ndeunyema and Shiimi allegedly being related, but Shiimi denied this saying "Ndeunyema is someone we know".
"If Ndeunyema was selected among various other competitors on merit, then his family connections are irrelevant. If not, nepotism becomes a problem," she said.
Member of parliament Tangeni Iijambo said Namcor is a skewed operation benefiting political cronies.
"They want to have blind loyal people in positions so they can use them," he said.
He added that "Namcor and Namibia at large have been taken over by the culture of entitlement and self-enrichment at the expense of the nation. Nepotism has been rife and it is now self-destructing."