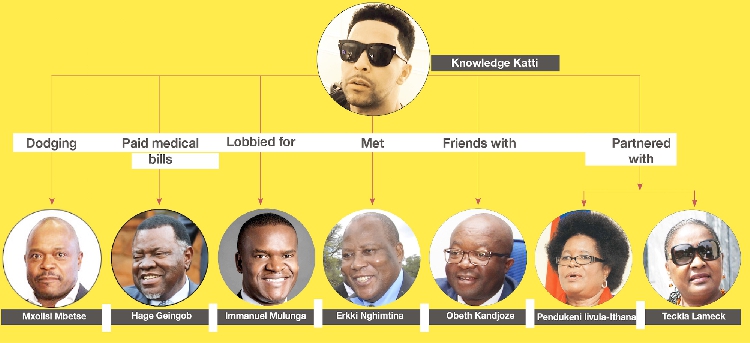 ---
By Shinovene Immanuel | 18 August 2017
---
LEAKED emails sent by serial oil speculator Knowledge Katti reveal how he boasted of his ability to use political connections to "do the magic" with officials.
Katti, President Hage Geingob's friend and financier, is so close to some politicians that his former business partners claim he bragged to them, saying he has the ministers in his pockets.
The media has over the years reported on how Katti profited from the perception that Namibia has oil deposits.
Now, leaked documents and emails seen by The Namibian and the amaBhungane Centre for Investigative Journalism in South Africa, shed light on his operating style.
The documents revolve around a joint venture Katti entered into with South African tycoon Mxolisi Mbetse to explore three Namibian oil blocks.
Katti later persuaded the South Africans to part with their majority stake, and then sold it to a Canadian energy company – allegedly behind their backs.
The emails show that Katti used the help of state officials to legitimise his plans to make a quick buck from the sale of the oil blocks. The leaked communications also show how he met some state officials at night, and promised to use political influence to apparently keep his insiders in key government positions.
Katti first met South African investment millionaire Mbetse around 2003. Mbetse was already in the oil business, and often accommodated Katti at his houses in Cape Town and Johannesburg.
Around 2004, Katti approached the South African about an oil deal in Namibia, a person familiar with the story said.
The two partnered in a company registered in September 2005 called the Namibia Industrial Development Group (NIDG), which included Mbetse's Industrial Development Group with 70%, and two Katti-owned companies, Cumoxi Investments and Knowledge Resources, which had 30%.
Former mines minister Erkki Nghimtina announced on 23 September 2006 that a black-owned empowerment firm, the NIDG, had been awarded exploration rights on onshore blocks 2815, 2195 and an offshore block, 2816, to prospect for oil in Namibia with a three-year licence.
The joint venture was on the verge of losing three oil blocks in June 2008 because it had not paid licence fees, and also failed to carry out exploration work.
The government gave the company until August 2008 to invest, or risk losing the concessions.
In an email to his South African partners, Katti suggests that he would convince the government not to cancel the NIDG's exploration licence.
"I will hit them with the following: I will announce the UNX-Cumoxi deal immediately. Then use some funds to work the magic.
"But then you have to as soon as possible finalise your negotiations and sign with them quickly – pay the outstanding fee, then I will tell them here to back off," he said.
It is not clear what he meant by magic since Katti did not respond to detailed questions sent to him on Monday.
Katti persuaded his South African partners to move their 70% interest in NIDG into a Namibian shell company he controlled.
He then sold the oil blocks to the Canadian firm UNX Energy Corp, allegedly without consulting his South African partners.
UNX later sold the blocks to Brazilian oil firm HRT in a deal that his partners claim enriched him to the amount of over N$60 million in cash and shares, without giving his partners "a cent".
Insight Magazine reported in 2010 that the Bank of Namibia's Financial Intelligence Centre, known as the anti-money-laundering unit, kept a close watch on Katti's bank transactions after the businessman sold the oil blocks.
Mbetse confirmed to The Namibian on Sunday that there is a dispute over the oil blocks.
"The issue is being looked at by our auditors and some forensic experts. I cannot directly comment on this issue," he said.
TIGHT-LIPPED
In the leaked data, Katti tells his South African partners that they should have no contact with any Namibian government officials, and should refer all questions to him.
"Don't take any call from the Ministry of Mines and Energy. There is serious pressure on our block(s)," Katti says in an email on 24 June 2008.
"They (trade ministry) agreed on a strategy to ask you questions, such as work done on the block, reports, and to confirm that you are aware that you owe monies to the (energy) ministry," he says.
"You will be on speaker phone, and will be recorded. Once you confirm the above (owing money and not funding the project), then it is over."
He said he would not let their joint venture down.
"I will not disappoint IDG [Mbetse's company], nor will I allow them to expose the inside(r)," he said.
INSIDERS
Katti claims in emails that one of his "insiders" was former petroleum commissioner Immanuel Mulunga, now the National Petroleum Corporation of Namibia (Namcor) managing director.
As commissioner, he was responsible for regulating Namibia's oil industry and penalising oil companies which failed to pay their licence fees.
Oil industry experts accused Mulunga of treating Katti's company with kid gloves.
The two men had a fallout two years ago, but the leaked emails underline how close they were at the time of the NIDG affair.
Katti admitted in his emails that the NIDG failed to pay for licences on time.
"I have to sit in meetings where strategies are plotted to take the NIDG blocks and give them to another company. I sat thinking: Do I let them grind and expose my inside contact [the commissioner], or do I let it go by leaving them to take the block back?" he said in the June 2008 email directed to his former South African partners.
In the emails, Katti indicates that one of his inside contacts is a government minister, whom he says he influenced to retain Mulunga in his job as petroleum commissioner.
The minister responsible for energy at the time was Erkki Nghimtina, now the labour minister.
"I had a long meeting last night at home with the Mi…ster [minister], and discussed all various ways. He confirmed that heavy lobbying has been done, with high-profile approaches for those that are having apparent money and ready to invest without speculating (with oil blocks). While he does not want to interfere – a situation that will show our link [to the minister] as suspected (obviously)".
"I met with Mulunga very late at night, and I must say the boy is down. However, I raised this issue last night, and seems that the M (minister) will talk to the Public Service Commission (our contact) to leave him there."
It's not clear whether Mulunga's job was at risk, or Katti was creating such an impression to scare his partners.
Nghimtina did not answer his phone nor respond to detailed SMSes.
The Namibian reported in 2014 that the Anti-Corruption Commission (ACC) was investigating how Nghimtina, as mines minister, awarded oil licences to Katti.
However, the ACC announced last year that it cleared both men of any wrongdoing because there was "no evidence implicating the suspects".
The ACC also investigated Mulunga for receiving close to N$2 million from Katti between 2009 and 2010.
He, however, denied being afraid to lose his job.
"I never feared to lose my job at that time due to the ACC investigations. As far as I remember, Katti's applications for blocks were done legally through my office as petroleum commissioner then, and didn't need any lobbying with the minister or other parties," he said yesterday.
According to the leaked emails, another Katti insider was the former Public Service commissioner Tekla Lameck, with whom he co-owned Cumoxi Investment, one of the companies involved in the NIDG joint venture. The PSC advises the President and the government on the appointment of civil servants.
In one of the emails, Katti said: "Dear Mrs Lameck, thank you very much for the meetings that we had yesterday with the rest of the shareholders".
He added, "as directors and shareholders; I suggest we think long-term by supporting the NIDG [Mbetse's company] in its current situation re the ministry's plans as discussed last night".
Katti still has a soft spot for Lameck, and regularly defends her on social media.
"Throw Teko case in the dustbin … or treat everybody the same. Easy to pick and destroy women," he said on Twitter in July this year.
He was referring to a High Court case where Lameck and others are facing fraud charges in connection with the finance ministry's purchase of X-ray scanners for US$55,3 million from a Chinese company.
The prosecution alleges that the price of the scanners was inflated to facilitate the company's payment of a 'commission' of at least US$12,8 million (over N$120 million) to a close corporation owned by Lameck. She pleaded not guilty.
Weekly newspaper Informanté reported in 2009 that some of the N$120 million was laundered to the bank accounts of several people, including Katti. He reportedly admitted receiving N$500 000 from Lameck, saying it was meant to repay money he had loaned her.
Lameck did not answer her phone nor text messages.
Katti also reportedly paid N$200 000 towards Geingob's medical bills and airfares when he was trade minister – a payment the Presidency confirmed, but said he declared to parliament.
Katti was also connected to current energy minister Obeth Kandjoze when he worked at the national oil company, Namcor, as the exploration and production manager between 2007 and 2012 when Katti started selling oil blocks to foreign companies.
Kandjoze admitted last year that the two are friends, but denied any wrongdoing. Another of Katti's former business partners was immigration minister Pendukeni Iivula-Ithana, with whom he co-owned an oil company called Kunene Energy.
In the emails, Katti speaks about the pressure from the energy ministry because of a lack of investment in the NIDG project.
He refers to the pressure, and adds: "The obvious way to save my issues was to play a political card linked to Kunene Energy."
This appears to be a reference to his business partnership with Iivula-Ithana.
Kunene was bought by Canadian UNX Energy for N$15 million in 2008.
Iivula-Ithana denied in 2015 that she benefited from the sale.
"If the sale was done in 2008, apparently, why is it important now? Where does it come from? It is difficult to comment on such limited information. I do not have a full picture, hence (it's) difficult to comment," she said yesterday.
*This story was produced by The Namibian's investigative unit in association with the amaBhungane Centre for Investigative Journalism. Send us story tip-offs via your secure email to:
---