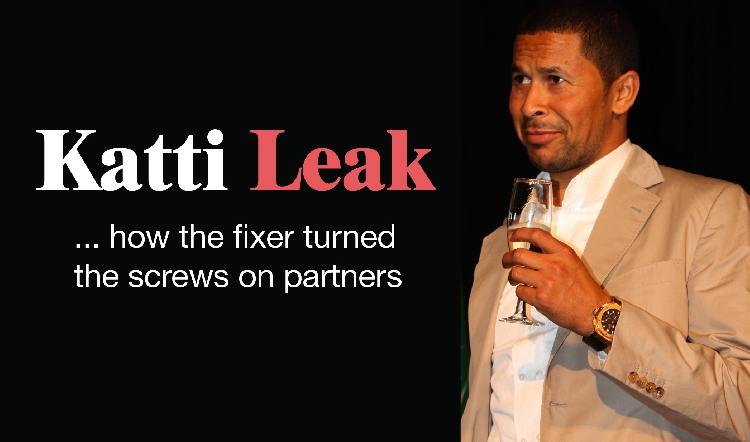 ---
By Shinovene Immanuel | 1 September 2017
---
ACCOUNTANT-turned-business fixer Knowledge Katti told his former South African partners that he would falsify documents to avoid losing oil licences that later made him millions of dollars.
Details of how Katti planned to mislead the government are contained in leaked emails and documents seen by The Namibian.
Katti, a globe-trotting businessman, is accused by his former South African business partners of making off with more than N$60 million they believe should have been shared among them.
The emails give an unprecedented insight into Katti's operating style, and how he bragged about his influence over government officials.
Although the emails date as far back as 2008, the South Africans are still trying to use them to get their share of the N$60 million from the sale of oil blocks in Namibia.
The saga began with the formation, in 2005, of a joint venture between two companies owned by Katti – Cumoxi Investments and Knowledge Resources – and a company owned by South African millionaire banker Mxolisi Mbetse.
They formed the Namibia Industrial Development Group (NIDG), where 70% belonged to Mbetse's Industrial Development Group, and Katti's companies had a 30% stake.
The government awarded the NIDG two onshore exploration blocks in Namibia, (numbers 2815, 2195), and offshore block 2816, trumpeting the deal as a major coup for black empowerment.
However, by 2008, the NIDG had not carried out any exploration work nor paid government licence fees. The energy ministry informed Mbetse that the licences on the three blocks would not be renewed.
Katti saw an opening. Public documents show that he first sold his 30% in NIDG to Canadian firm UNX Corp for around N$10 million via Cumoxi Investments and Kunene Energy, companies he co-owned with former Public Service commissioner Tekla Lameck and immigration minister Pendukeni Iivula-Ithana.
Seeing that the blocks were profitable, Katti came up with a plan to convince his South African partners to sell their 70% stake in NIDG to UNX.
An email from Mbetse's former chief executive officer, Swazi Tshabalala, says the South Africans wanted to sell their share for US$6,8 million (more than N$60 million) in cash and US$1,2 million in shares.
A source familiar with this transaction alleged that Katti inserted himself into the negotiations by telling the Canadians that they should deal with him, and not with the South Africans.
The South Africans also claim that Katti went behind their backs and sold the oil blocks to UNX officials when they met in Spain.
Katti told the South Africans by email that he went to Spain to attend the World Petroleum Congress late in June 2008 on the invitation of Namibia's former energy minister, Erkki Nghimtina.
To finalise his plan, Katti formally shifted the blocks from NIDG into an entity under his control. He achieved this by asking his partners to sell their 70% stake in NIDG to a Namibian shell company called Limpet Investments, which would be 100% owned by himself on behalf of certain unnamed 'seniors'.
"I consulted, and was given shell company Limpet to be the new investor to take over the 70%. Limpet is currently held 100% by myself – on behalf of the investor," Katti said.
He told his South African partners that he could not risk waiting for 1 August to lose the oil blocks.
Katti's office manager, Jeremy Hangula, told the South Africans in a 5 August 2008 email that "as a matter of urgency, please transfer the 70% South African interest to Limpet Investments".
The Limpet sale would be presented to the government as a new investment, thus warding off the loss of the exploration blocks.
Sources claim that Mbetse did not authorise the transfer of the blocks to another company.
The emails also reveal that Hangula asked the South Africans to manipulate documents on the transfer of the oil blocks to Limpet.
"It is, however, important to backdate the transfer to 15 July (2008)," Hangula said.
The apparent purpose of this was to show government that this was a bona fide investment, rather than a last-minute trick to avoid losing the concession.
Hangula told The Namibian yesterday that he needs to check his emails before commenting.
The South Africans asked Katti to explain the implications of the Limpet move.
"This will also allow us to properly document the decision, and ensure that what we execute when the resolutions have been drafted is clear," Tshabalala said in an email to Katti on 21 August.
Besides Hangula, Katti also wrote an explosive email on 28 June 2008, explaining his plan to forge documents by backdating the agreement between NIDG and Limpet.
"At this stage, I have to clear my name and the others by backdating an agreement that shows an apparent investment by a Namibian company purchasing the 70% for an amount stipulating past cost by IDG, etc.," he said.
"Everything will have to be done with proper documentation that shows that a quick deal was not done," Katti said.
The Companies Act states that it is an offence to knowingly forge or alter any certificate, including shares, debentures and other securities, which carries a maximum 10-year jail sentence or N$40 000 fine.
TURNING SCREWS
Documents from the trade ministry show that Katti resigned as a director of Limpet Investment on 30 November 2010, and Walvis Bay municipality general manager Thigipo Victor was named as a director of Limpet on the day Katti resigned.
Victor, the documents said, had disappeared from the ownership structure of Limpet by October 2011 when the Brazilian oil firm HRT took over.
The new directors then were HRT founder Marcio Mello, former financial officer Carlos Tersandro, ex-HRT America president Wagner Peres and former technical officer Nilo Chagas de Azambuja Filho.
Victor is also linked to Katti through Frieda Aluteni, who is the oil dealer's niece.
Aluteni and Victor were board members of the state-owned Namibia Airports Company, where Katti has been linked to major airport contracts.
Victor told The Namibian yesterday that he wanted to enter the oil business at the time, but he was not aware that Limpet owned oil blocks.
"I will call Katti and ask him about it," said Victor, who also admitted that he was Katti's close friend.
Brazilian oil company HRT bought Katti's UNX for N$781 million in a shares-only deal which included the Namibian oil blocks in 2011. Katti and his Namibian partners – understood to have included Iivula-Ithana and Lameck – were believed to have owned about 12% of UNX Energy at the time.
An official who was part of the deal said Katti made off with over N$60 million in shares and cash from the sale that included the three blocks from NIDG. Katti made that money by using companies such as Limpet Investments, Orange Petroleum, Cumoxi Investments and Kunene Energy to shift oil blocks around and sell them to the Canadians and Brazil's HRT.
SAMBA
HRT introduced itself to Namibia by hosting a glitzy event in 2011 which included exotic samba dancers from Brazil, who entertained guests, including President Hage Geingob and former president Sam Nujoma.
Besides Geingob – whose medical bills he is known to have paid – Katti had a team of politicians and top-level technocrats at his side.
He boasted in emails that he met former energy minister Erkki Nghimtina at night, as well as being closely associated with former Public Service commissioner Lameck and immigration minister Pendukeni Iivula-Ithana.
Katti is also a friend of energy minister Obeth Kandjoze, and at the time of the NIDG saga, was close to former petroleum commissioner Immanuel Mulunga, now the managing director of the National Petroleum Corporation of Namibia.
The emails also show that Katti was partly inspired by a deal which is now under investigation by the French government.
In 2007, France's state-controlled nuclear giant Areva bought UraMin's Trekkopje uranium mine in Namibia at the height of a uranium bull market for US$2,5 billion. This sale included its mineral rights in South Africa, Namibia and the Central African Republic.
It was a disastrous miscalculation, from which Areva is still struggling to recover. Years later, it conceded that the mine was worth half the purchase price.
However, some connected Namibians benefited handsomely. Geingob told The Namibian in June 2015 that he helped UraMin renew its licence, and that he "received payment, which was part of an amount of US$300 000".
One of the leaked emails quotes Katti as saying: "I planned the whole [NIDG] deal by buying a shell UNX, taking shares in it, and using it to do deals for easier fundraising. This was also motivated by seeing UraMin walking away with US$2,5 million cash, using African resources."
Katti, Lameck and Nghimtina did not respond to questions sent to them last week. Mbetse declined to comment, saying an audit firm is investigating how the oil blocks disappeared from his company.
Katti has been dodging his partners for over seven years now. A former business partner warned that Katti could use the same tactics to push for a phosphate mining project, despite concerns about its impact on the Atlantic Ocean.
BAPTISM
Even though the leaked emails add a piece to Katti's way of doing business, a look at his past shows that he was introduced to these types of deals at a young age.
Katti graduated with a degree in commerce, and was an intern at audit firm PricewaterhouseCoopers.
Katti worked at Barden International, the same company that brought Chevrolet vehicles and Michael Jackson to Namibia in the 90s.
The government bought 800 vehicles, including luxury sports utility vehicles (SUVs), for N$136 million, but it was not long before they ran into trouble.
Police and other government departments complained that the Chevrolets, dubbed 'the Michael Jacksons' in the Kavango region because they were introduced at the time the music star came to Namibia, were unsuited for the terrain.
– Additional research by Tutaleni Pinehas
*This story was produced by The Namibian's Investigative Unit. Send us story tips via your secure email to:
---