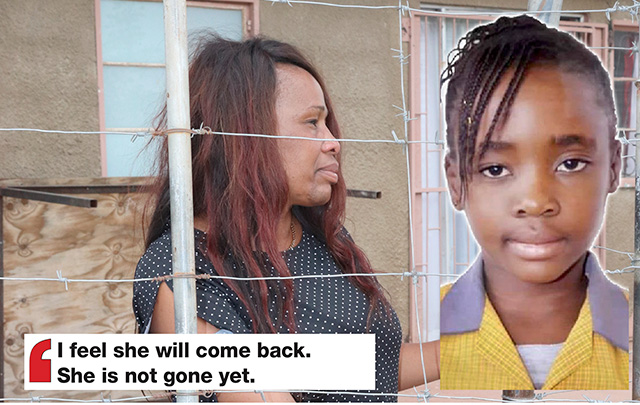 ---
By Nomhle Kangootui | 19 October 2018
---
"I'M coming now." These were the last words Pekakarua Sylvia Kaimu said to her daughter Cheryl Avihe Ujaha shortly before the little girl vanished eight weeks ago.
It was on a Sunday. Two days later, nine-year-old Avihe's mutilated body was found discarded near a riverbed between Katutura and Khomasdal. She had been raped and partially dismembered, and had to be buried without a foot, both arms and a thigh.
The horrendous nature of the murder left Namibians reeling with shock.
People from all walks of life – including former president Hifikepunye Pohamba, first lady Monica Geingos and prime minister Saara Kuugongelwa-Amadhila – attended Avihe's funeral at Windhoek's Pionierspark cemetery.
For the first time since her daughter's death, her mother – who had previously avoided talking to the media – sat down with The Namibian on Sunday to talk about Avihe's final hours.
Kaimu agreed to have the interview in her bedroom at her home in Herero Location, near the Herero Mall, in Katutura.
Several things stood out as we entered the room, including Avihe's photo on the dressing table, and two suitcases of clothes that belonged to the murdered child.
"I don't have appetite. I am trying to eat something. I hope you don't mind," Kaimu said before grabbing a mince sandwich as she sat down near the window.
Her eyes were swollen, as if she had been crying. She said Avihe's death will haunt her forever.
"She is always in my mind. I still see her face. It's just like it happened yesterday. I don't want to think about her brutal death, and how she was found. I want to think about happy memories. What is strange, though, is how I feel she will come back; that she is not gone yet," she said while fighting back tears.
"I don't ask questions like: Why me, God? If not me, then who? I would not wish this pain, devastation and heartbreak on anyone," she added.
Avihe was her youngest child, and she felt an overwhelming sense of protective love towards her, Kaimu said.
"I don't know if God was warning me. I was overprotective of her. Avihe was chubby, and because of her body, I feared for her, and so I would look for her every hour when she went out to play. She also knew that she must come back home now and then to report in," narrated Kaimu.
FATEFUL SUNDAY
As her eyes welled up, Kaimu said after searching high and low for Avihe when she had not returned home by sunset, she knew something was wrong.
"My precious, beautiful Avihe is gone, and I never even got to hold her one more time, or say goodbye. How can someone kill a child in such a horrible manner?" she asked sobbingly.
She paused for a minute, caught her breath, and dried her tears before continuing.
"One of the things which keep me sane is remembering the person she was. She was confident, smart, extremely opinionated and strong-willed."
The mother recalled how she had bought Avihe a hamburger on Saturday evening. "She enjoyed it very much. We slept on one bed. That evening, she told me she wanted to go to her father in the United Kingdom."
Kaimu said they always slept in on Sunday mornings, but that day, Avihe had gone to friends a bit early.
"I told her she should have breakfast first, but she left anyway. She was still wearing her pyjamas, so after an hour or so, I called her to come and change. She came home so happy. I was busy cooking and doing laundry, and I told her to go and take a bath".
GONE, JUST LIKE THAT
Kaimu cooks and sells food, and that Sunday, she had orders to deliver to customers.
"I left the house between 11h00 and 12h00. Avihe was busy dressing," she said, adding that she had put on her favourite jumpsuit.
"My last words to her were 'I'm coming now'," she recalled.
"I wish I had told her not to leave the house, or even that I love her very much. My last memory of her was Avihe standing in front of the mirror, and applying lotion. Life is empty without her.
"When I try to imagine how she must have suffered before she was killed, I feel so much pain in my chest that I cannot breathe," Kaimu said, tears rolling down her face.
A neighbour told The Namibian that Avihe was later seen looking for a friend at a house in the neighbourhood.
"They were very close because they had been friends since they were four years old. Avihe came again after 13h00 to look for her friend, but she was visiting her aunt. I, for a brief moment, saw Avihe playing with my other child, but how and when she left, I did not see," the neighbour said.
Kaimu said she had returned home at 15h00, but found no one there.
"But after resting a bit, I started to look for her. I went to all the houses she frequented to play, but could not find her. I then called relatives to ask if they had picked her up, but no one had."
Kaimu said a relative who had been at the house told her Avihe had gone out to play, but did not say where.
The family started circulating messages on social media, including WhatsApp, asking the public to inform them if they had seen Avihe.
Two days later, she was found dead close to a riverbed.
"My beautiful darling Avihe was gone, just like that. I sleep with something of hers every night, but her smell is starting to fade, and it scares me. I am not ready to face this," she said, crying.
Kaimu said what keeps her going are prayers.
DEALING WITH LOSS
Clinical psychologist Mara Mberira said people respond to grief or the loss of a loved one in different ways.
"Like in the case of Avihe's mother, the death was violent, and the suspect is still out there, so it is difficult for her to start grieving her daughter. She can be in a stage of denial for now," she noted.
From the five stages of grieving, denial or disbelief usually occurs at the beginning.
"To some people, denial is a form of protection because mentally, she was not ready to lose her daughter. But family and friends must be worried if this denial stage goes on for a year to two years," she said.
Mberira explained that from denial, one should move on to anger or blame. The other stage of grief is bargaining, then depression, and slowly moving towards acceptance, where you come to terms with the death of the loved one.
She added that these stages might not occur in a specific order, and can occur at the same time.
ARREST ON CARDS
Khomas regional commander, commissioner Silvanus Nghishidimbwa told The Namibian last week that Avihe's case was a priority, and they were close to making an arrest.
"Things are moving. The police are working around the clock on this case. The public, as well as family members, are helping us with clues. Once we have proof, we will make an arrest. One thing that I can share for now is that the suspect is not far from the family," he stated.
"She would have made noise or screamed when she was taken," the police officer said.
Police statistics show that 100 people went missing countrywide between 2010 and 2018, and 19 of them were children.
Police spokesperson Kauna Shikwambi said about 90% of the 100 people were found alive, or had returned home.
She added that one of the challenges they face is a lack of feedback from families, especially when relatives are found alive or return home.
"The lack of communication makes it difficult for police to close files and/or adjust their system," she said.
– This article was produced by The Namibian's investigative unit. Send us story tips via your secure email to [email protected]
---