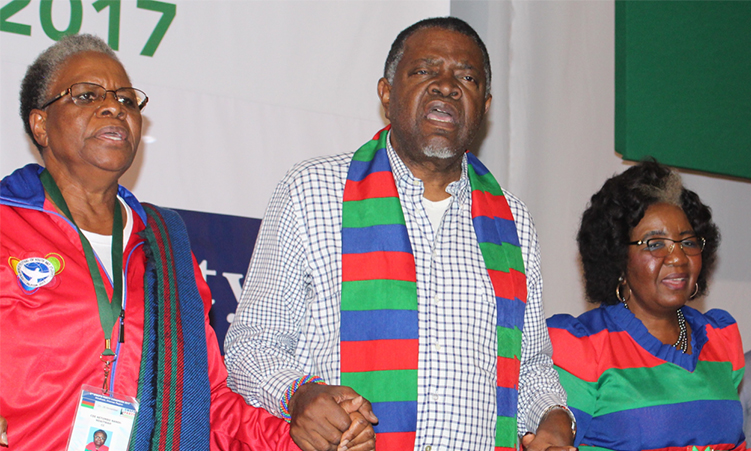 By Shinovene Immanuel and Tileni Mongudhi | 19 August 2022
PRESIDENT Hage Geingob and Swapo secretary general Sophia Shaningwa are allegedly "drifting apart" as the ruling party nears its elective congress.
News about the fragile relationship between the president and his chief administrator comes at a time when Swapo factions are positioning their delegates for the upcoming congress.

The president's faction is allegedly concerned that there was an attempt by a party security operative to investigate the backgrounds of three senior politicians linked to top positions, and likely supported by Geingob.

That power struggle appears to be linked to questioning the legitimacy of the Swapo security official who is tasked with vetting potential delegates and candidates.

The vetting official, who was appointed by Geingob's current rivals, could be key in influencing the list of candidates and congress delegates.
The president's faction also blamed Shaningwa for frustrating Geingob by blocking some of his supporters during the party's restructuring process, which could influence the delegates to the congress.

Some Swapo supporters are urging the party to take a principled decision.
Swapo member Nico Kaiyamo, who has backed Geingob in the past, says he is not endorsing anyone.

"But as a matter of principle I believe the incumbent vice president [Netumbo Nandi-Ndaitwah] must be supported the same way it was done in 2004, 2012 and 2017," he told The Namibian yesterday.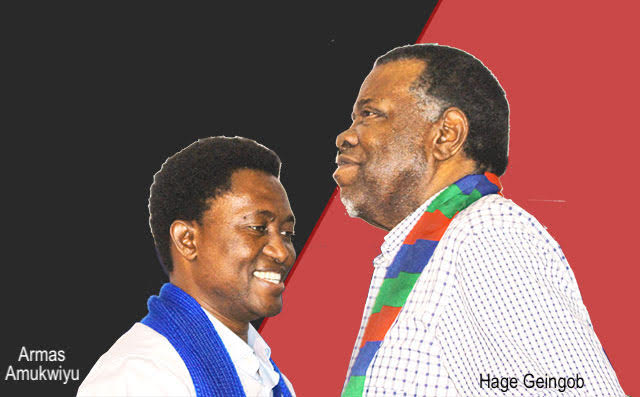 Geingob has aligned himself with a different team as that of 2017's congress, which included Shaningwa and Swapo vice president Netumbo Nandi-Ndaitwah.

Now, Geingob is allegedly not keen on supporting Nandi-Ndaitwah, and is drifting away from Shaningwa.

Sources familiar with Geingob's thinking say the president has concerns about Shaningwa's "leadership style and administrative capacity" to continue as secretary general after the December 2022 congress.

This has seemingly opened the door for Oshikoto regional coordinator Armas Amukwiyu to replace Shaningwa as secretary general.

Amukwiyu lost at the 2017 congress to Shaningwa for the secretary general position, but the Oshikoto leader has since cosied up to Geingob.

Amukwiyu – a N$5,2 million Fishrot beneficiary and state witness in the fishing scandal – is now close to Geingob.

Three people close to the president say Geingob allegedly talks to Amukwiyu more than he communicates with Shaningwa.

Amukwiyu's return to Geingob has also enabled the return of businessman Vaino Nghipondoka to the president's background team of influencers.
That group could lean more towards minister of defence and veterans affairs Frans Kapofi and prime minister Saara Kuugongelwa-Amadhila, their preferred candidate to succeed Geingob.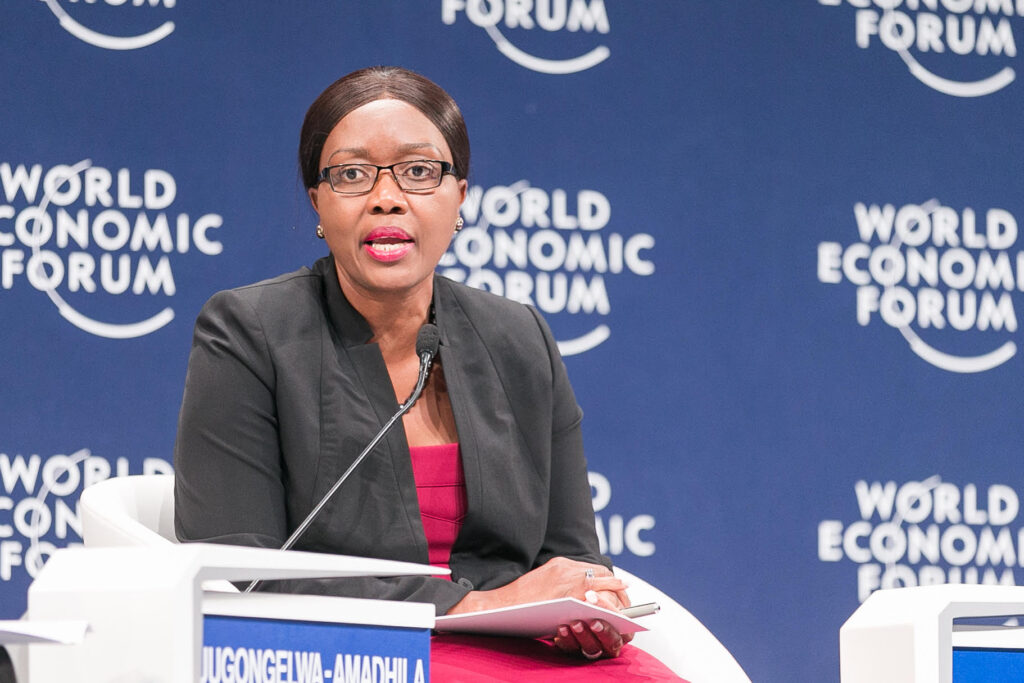 Shaningwa did not respond to questions sent to her yesterday via WhatsApp, despite reading the message.

Swapo spokesperson Hilma Nicanor declined to comment on the alleged stand-off between Geingob and Shaningwa, saying she was attending a funeral.

"Call other leaders for comment," she said.

Presidential spokesperson Afredo Hengari yesterday confirmed receiving detailed questions from The Namibian.

He said the president was delivering a statement at yesterday's Swapo youth league conference.
ON THE ROCKS
Publicly, Geingob, Shaningwa and Nandi-Ndaitwah have been putting up a unified front, but sources say things are not as rosy as they seem.

The relationship between Geingob and Nandi-Ndaitwah has not been cordial over the years.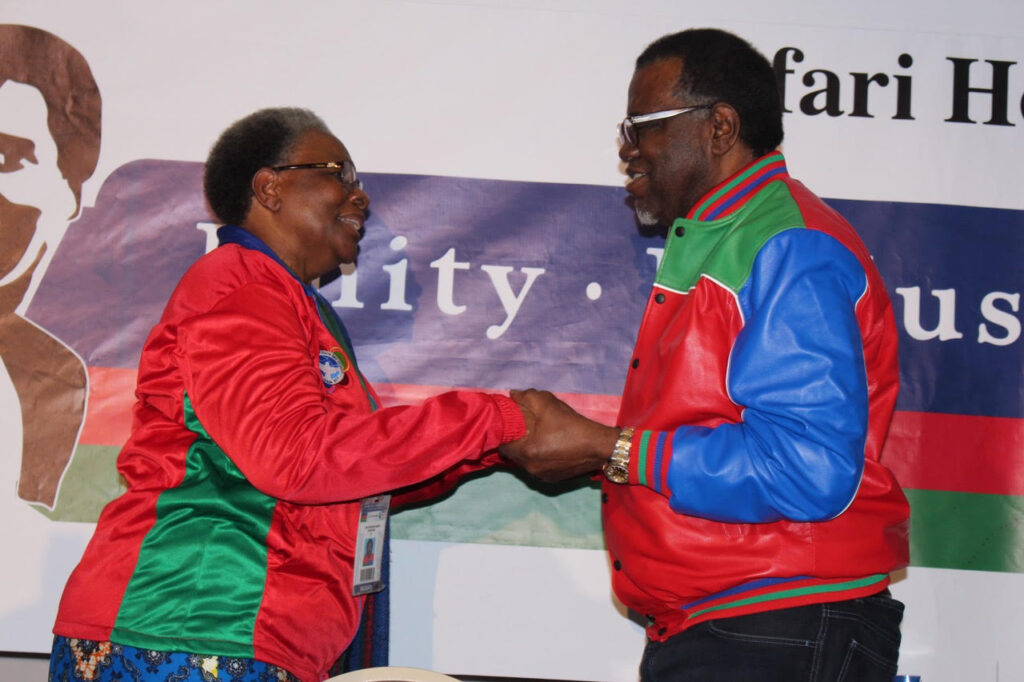 Shaningwa's allegiance to Nandi-Ndaitwah and her alleged defiance are some of the reasons for the relationship with Geingob souring, the sources say.

Party insiders say things recently got worse.

Nandi-Ndaitwah, in a meeting between the party's top-three leaders, sought to get Geingob's endorsement and for the president to push that both the party presidency and vice presidency should go uncontested at congress, they say.

Shaningwa, it appears, wanted the same for herself.

This would have resulted in only the deputy secretary general post being contested at the congress.

Geingob is said to have rejected this suggestion.

Sources close to the president say he is not hostile towards Shaningwa, but "they are not in touch as they used to be".
UNCHECKED VETTING
Geingob was allegedly recently briefed on the use of a security official at Swapo's headquarters to do background checks on Amukwiyu, Kuugongelwa-Amadhila and Katrina Hanse-Himwarwa.

This was allegedly done through vetting all party candidates, especially those running for the top-four positions.

Swapo's vetting includes contacting state agencies, such as the police, to check whether candidates are being investigated, and if so, what for.

Kuugongelwa-Amadhila is one of the candidates considered by Geingob as his successor, but people close to the president are concerned that the prime minister appears to be waiting to be given the presidency on a silver platter through an endorsement.

The vetting process was allegedly meant to use Amukwiyu's involvement in the Fishrot corruption scandal to disqualify him from running for office at the congress.

Geingob allegedly got wind that law-enforcement agencies, including the police, are being used to fight internal Swapo political battles, and has reprimanded some of the top-four leaders, telling them to stop abusing their positions to settle political scores.

Nandi-Ndaitwah has for years been backed by former president Hifikepunye Pohamba.

Shaningwa and Nandi-Ndaitwah are both allegedly supported by ex-defence minister Charles Namoloh and former minister Erkki Nghimtina.
Nghimtina is believed to have brought in military officials to work at Swapo's headquarters when he was the ruling party's secretary for defence and security.

Nghimtina yesterday confirmed that he knows Immanuel Haixuxwa, Swapo's security chief at the party's headquarters.

"Haixuxwa works for the party. His work includes checking on people to make sure they qualify," Nghimtina said.

The former defence minister denied supporting a specific candidate.
"I do not have a personal choice. Whoever wins is the one I will support. I don't have any preference," Nghimtina said.

Former Swapo newspaper editor Asser Ntinda has followed the ruling party's internal fights over the years. He says the division between Geingob and his former teammates, such as Shaningwa and Nandi-Ndaitwah, was to be expected.

"Delegates were bribed at the 2017 congress to vote the way they did. Money spoke, not principles. These divisions are a result of that," he says.
The former editor says principles were sacrificed at that congress.

Ntinda says Geingob's biggest challenge this year is to convince the congress why Nandi-Ndaitwah is no longer to be trusted.

"It's a tall order. Nandi-Ndaitwah is not a fool. She knew she was being used. There was an expiry date on her usefulness in that slate. But she will certainly put up a fight," he says.

Ntinda says slate politics "will bury Swapo sooner than we had expected".
Namoloh two months ago told The Namibian Swapo has a tradition of elevating vice presidents at congresses – a prediction seen as a direct endorsement of Nandi-Ndaitwah for the ruling party's leadership.

"It has always been like that. President Hifikepunye Pohamba became a president [of Swapo] because he was vice president, and president Hage Geingob became a president because he was vice president, so that is the Swapo tradition," he says.