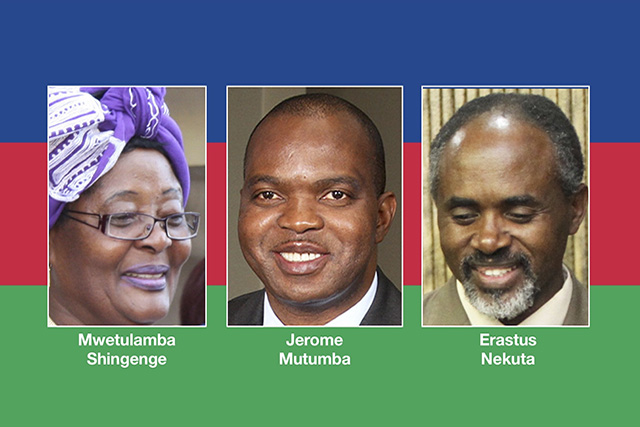 ---
By Shinovene Immanuel | 25 September 2018
---
THE chairperson of secretive Swapo company Guinas Investment, Jerome Mutumba, says the firm lost millions of dollars in what appears to be "dubious transactions" carried out over the years.
Mutumba said this in a letter to Swapo's economic affairs secretary, Alpheus !Naruseb, on 19 September 2018.
Guinas Investment is a shadowy ruling party company that – at least on paper – claims to own companies in sectors such as fishing, mining, construction, manufacturing and hospitality.
"It has come to the attention of the board, through a company-sanctioned investigation, that Guinas Investment and Swapo party – by extension, has lost millions of dollars in what appear to be dubious business transactions carried out over the years," Mutumba said.
The Namibian obtained documents, including Mutumba's letter and an investigative report commissioned by the board, which details how money flowed from Guinas subsidiaries.
Mutumba confirmed to The Namibian yesterday that he wrote to !Naruseb about the irregularities at Guinas. He declined to comment further.
News about this letter comes at a time when there is a stand-off on whether a decision by a clique of some party business leaders to fire Mutumba two weeks ago is legitimate after claims that they wanted him out while others support him to stay.
The Namibian understands that the Guinas board is aware of several alleged irregular transactions at Guinas worth over N$21 million, including the sale of N$16 million shares from Rosh Pinah Zinc [which is yet to be paid], and N$5 million paid from Guinas' stake in a hotel at Lüderitz.
In his letter, Mutumba said the board discovered that Guinas' shares in a certain company were sold without following correct procedures.
Mutumba did not mention the company, but a person familiar with this matter said he was referring to Guinas' 2,9% shares in mining firm Rosh Pinah Zinc.
Documents show that Guinas owns shares in Rosh Pinah Zinc through PE Minerals Namibia (0,8%) and Petunia Investments Four Pty Ltd (2,14%).
Questions sent to Rosh Pinah Zinc were not answered.
Another questionable transaction involving the Swapo company is its ownership in the 73-room Nest Hotel at Lüderitz.
Swapo leaders were told all these years that the party, through Guinas Investment, owned 32% shares in the Nest Hotel, but there are doubts if the party indeed owns the shares in the hotel.
FIRE WITH FIRE
Interviews with people involved in this saga paint a picture of a party company that has two camps: one that consists of older party business leaders who have been running the secretive Swapo company for decades unchecked, and the other one consisting of younger party business leaders who have a different approach.
Sources said the division is also visible among the nominee shareholders – a group of Swapo business leaders who act as the go-between the party and the Swapo companies such as Guinas and Kalahari Holdings. Swapo's current nominee shareholders are Clive Kavendjii, Hans Boois, Niilo Taapopi, Erica Akwenje and Erastus Nekuta.
The Namibian understands that there are two forces within the Swapo nominee shareholders.
One group, led by Nekuta, believes that the decision taken two weeks ago to fire Mutumba as Guinas board member stands, while another group, led by lawyer Kavendjii, is said to be against his removal. Mutumba's supporters said Nekuta and his team do not have powers to fire a director of Guinas.
The clash is also reflected in Mutumba's letter to !Naruseb.
"Contrary to what you could have been told, the current chairman [Mutumba] of the Guinas board is being made a scapegoat to divert and silence the collective view of the board on the matter of the buy-back of shares," he stated.
Mutumba asked !Naruseb to meet the Guinas board for them to explain their side of the story. !Naruseb was unreachable for comment.
A person with direct knowledge of this matter said the Guinas board was informed about the Rosh Pinah Zinc shares' transaction after they received instructions from Swapo leaders to transfer the N$16 million to the party.
A source said Guinas refused to send the money to the party because the company wanted to reinvest the funds into its operations.
That refusal appears to have caused further friction between the nominee shareholders and Guinas.
Businesswoman Mwetulamba Shingenge, who ran Guinas for decades as managing director, told The Namibian yesterday that she was fired by the Mutumba group last year.
She declined to comment when asked for comment, saying she has left the company. But Mutumba's group believe she knew about the Rosh Pinah Zinc deal, and did not tell the Guinas board.
"A LIE"
A clique in the Swapo nominee shareholders have a history of firing officials who question financial irregularities at Guinas.
For instance, documents show that former Guinas board chairperson Maria Nakale-Gaomas and other board members were fired in 2011 for probing the ownership structure of certain Guinas subsidiaries. Nakale-Gaomas was unreachable for comment.
Swapo nominee shareholder and former presidential aide Nekuta is one of the leaders accused by people familiar with this saga of firing Guinas chairpersons who question the company's finances.
Nekuta was involved in firing Nakale-Gaomas and Mutumba.
"It's the prerogative of the shareholder [to fire]. It's an internal matter," he said.
He confirmed yesterday that the nominee shareholders "fired" Mutumba, but he declined to provide the reasons, or whether they consulted the party leadership to fire him.
Documents show that Kavendjii and other people on that nominee shareholder committee rejected the decision to fire Mutumba.
Nekuta told The Namibian yesterday that claims of irregularities at Guinas are not true.
"That's a lie. Let them prove it. They can even go to court; or report the matter to the police," he said.
Nekuta claimed that Guinas had less say in the sale of shares in Rosh Pinah Zinc because it's a minority shareholder in a company that holds a stake in the mining company.
He said those who are accusing him of protecting the interest of individuals should prove it.
"I represent the party on various companies. It's unethical for me to own shares in those companies," he stated.
Asked whether Guinas owns the shares in the hotel at Lüderitz, Nekuta said: "Yes, Guinas still has shares in the hotel".
---