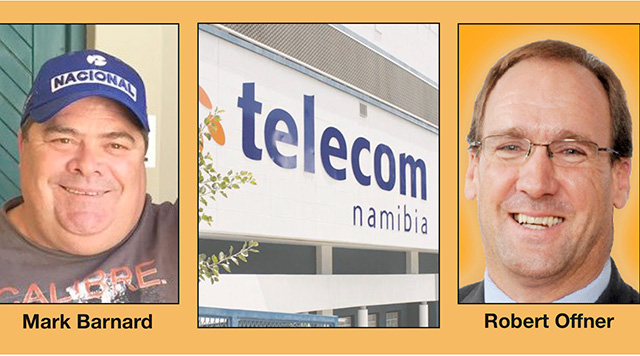 ---
By Shinovene Immanuel | 14 September 2018
---
TELECOM Namibia made 16 monthly payments towards a N$12 million contract that turned out to be fake, documents seen by The Namibian show.
The contract, between Telecom Namibia and Canocopy Pty Limited (owned by Paratus Telecom), was signed in 2013.
Canocopy, according to the agreement, would offer Telecom Namibia printing facilities for 36 months.
Papers filed in the High Court on 30 August show that Telecom Namibia paid Canocopy Pty around N$4,8 million (N$299 000 per month) from March 2016 to June 2017.
Documents show that the contract was renewed on 9 March 2016 for 16 more months, before Telecom Namibia realised last year that it was fraudulent.
The decision was based on a 2016 Telecom resolution that bore a forged signature of former managing director Frans Ndoroma, who retired in 2014.
The fake agreement, seen by The Namibian, has the signatures of former Canocopy owner Mark Barnard and Telecom Namibia's chief financial officer Robert Offner.
Canocopy and Telecom Namibia are now suing each other for this contract.
Telecom Namibia's head of legal services, Jinah Buys, told The Namibian this week that she could not comment in detail on this case since the matter is in court.
"Canocopy is seemingly seeking to enforce its alleged rights regarding what, from the face of it, appears to be a void, alternatively unenforceable agreement. We reserve our comments at this time," she said.
Asked whether Telecom Namibia is going to take action against the officials responsible for the contract, Buys said they are investigating the matter.
"Telecom Namibia has embarked on an internal investigation into the matter and will, depending on the outcome of this process (and if so advised), take any and all further steps that it may in law be entitled to take," she added.
Offner, who signed the fake N$12 million contract on behalf of Telecom, declined to comment.
"This issue is now legal, and is being dealt with accordingly. No further comments," Offner said.
Telecom Namibia is arguing in its court papers filed on 30 August 2018 that Offner did not have powers to sign the contract with Canocopy since it exceeded the N$5 million limit set under the company's policies.
This contract, the parastatal said, was supposed to be advertised, and would need the signature of the managing director.
Telecom is also claiming that it overpaid by N$70 000 per month when they paid Canocopy Pty for the fraudulent contract. The total amount overpaid by Telecom, documents show, is N$1,1 million.
Canocopy Pty is taking Telecom Namibia to court for breach of contract, and for not paying them from July last year to August this year.
Canocopy also wants Telecom Namibia to pay them N$4,9 million for using their services without paying for them from 2017 to now.
Barnard rejected claims that he signed the contract.
"I did not sign the agreement. I am an honest person. The court will decide who signed it," he told The Namibian yesterday.
"Canocopy has a history of failure and of being untrustworthy," Barnard added.
He insisted that Offner signed the contract in the presence of Canocopy co-owner and managing director Werner Lassen.
Lassen denied that he was present when the contract was signed.
"I deny that I was present when that contract was signed," he said.
Canocopy wants to sue Telecom because the company believes Barnard signed a legitimate contract, and they did not expect him to fake it.
"The matter is with the lawyers, and they are dealing with it," Lassen stated.
Telecom Namibia has over the years struggled with its finances.
The Namibian reported in 2015 that the parastatal had admitted heavily relying on presentations and external consultants to buy a malfunctioning billing system for N$50 million.
---