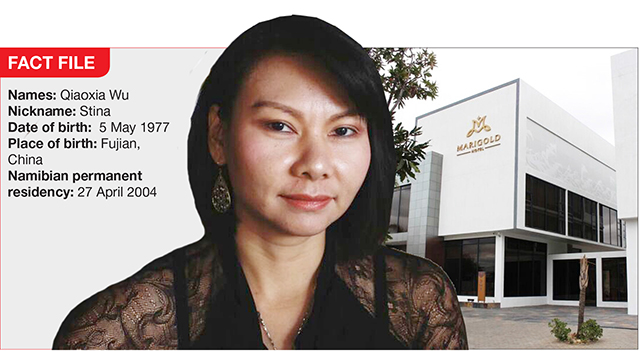 ---
By Shinovene Immanuel | 23 November 2018
---
The Namibians reporter, Shinovene Immanuel, asked Wu to tell us her story, and how she rose from being a teacher to one of the most-feared, well-connected golden girls in property deals in Namibia.
The Namibian (TN): Please take us through your journey. Why did you decide to come to Namibia? How did you hear about Namibia?
Stina Wu (SW): I came to Namibia when I was 19 years old, and this was the prime of my youth. I chose Namibia because I heard a lot of good things about it from my husband. My family, being very strong in business in China, believed that women in the family cannot do business, and must only work for the government to make a living and depend on their male counterparts. I took it upon myself to prove to my family that as a woman in the family, I can do business, and be successful in it. The risk of coming to Namibia paid off, and when my father realised the potential in me, he encouraged the entire family to include me in the business and financial support system.
TN: Where did you get money to fund your property deals?
SW: Most of my funding came from my savings as well as through great assistance from my family. When my local bankers established that I conduct my activities on acceptable and prudent business principles, they also became very helpful towards my additional business needs. My family is very big in business in China, and they render me invaluable support regarding growing my business on a continuous basis. Although the journey is not easy, I am now proudly saying that I proved myself. Many people would look at you and think this journey is a bed of roses. Yes, the risk has financial benefits, but it equally has an impact on my social and immediate family life. At the age of 19, I had to leave my parents, family and friends in China. Most of the times, I hardly get to spend quality time with my children or my spouse, and although we become emotional sometimes, we have made peace with it. I am one of the Chinese investors who did not grow wealth through government tenders.
TN: Tell us about your company At Helmsman Group. When did you start the company, and who are the owners and directors?
SW: At Helmsman Group Holding Pty (Ltd) is owned by myself, and I have a Namibian shareholder who is also a managing partner, Chris Shivolo. The group owns a plot at Karibib, where we are building affordable houses for sale to interested prospective homeowners. At Helmsman Group Holding Pty (Ltd) is an amalgamation of the smaller companies that I owned, which plied their trades in various sectors of the economy. After a study of the market, we realised that we had to realign our business to be responsive to current market trends, and be relevant in the future.
TN: What is the total value of your business empire? Please provide us with a breakdown of all the properties you own in Namibia.
SW: The total value of the properties is currently not available as some works are still in progress, such as the Kaisosi housing project at Rundu, the Ekuku housing project at Oshakati, the Klippenberg housing project at Karibib as well as the Eenhana housing project. We own the Etango Shopping Mall at Oshakati, Galaxy Mall and SME Park at Rundu, Fujian City Mall in Windhoek as well as the Marigold Hotel in Windhoek.
TN: What is your relationship with land reform minister Utoni Nujoma?
SW: Minister Nujoma is a very good friend of mine, and that is it.
TN: Our information shows that you own Kingsway Plaza, situated opposite Wernhill shopping centre. Is this true?
SW: Kingsway Plaza is owned only 35% by myself, and my other partners own the other 65%. It is currently worth around N$48 million, but we intend to demolish the existing building and build an entirely new and modern building with offices, apartments and shopping spaces, which will consist of about 21 floors.
TN: People familiar with your lifestyle said you owned a house in Ludwigdorf in Windhoek worth N$7 million, while another house in Eros is said to be worth N$9 million. Is this correct?
SW: Yes, but I had to sell these houses to have additional funds for the completion of my 5-star Marigold Hotel in Windhoek.
TN: What is your comment on allegations that political connections and protection helped you build your billion-dollar empire in Namibia?
SW: Well, these comments are not new, but no, I dont use political connections because I dont have any. My friendship with some politicians is pure friendship and doesnt mix with my business, nor do I participate in politics. Well, my empire is not yet worth a billion dollars, although I am working towards it. Also, with greater heights in society comes greater responsibility, and critics also increase; some good and encouraging, while others want to bring you down. In business, however, one needs to have a chest for these, because it is not a bed of roses.
TN: Youve contributed to seve­ral Swapo fundraising campaigns over the years. How much did you contribute to Swapo?
SW: As a businesswoman, I dont mix business with politics. I have also never contributed to Swapo fundraising activities. Yes, I have contributed to charitable causes in Namibia, including the Namibia Networks of AIDS Service Organisations (Nanaso), the First Ladies Trust Fund, a women gardening project at Okatana, Oshakati, classrooms for a kindergarten at Okaku, donated a kindergarten to the Rundu Town Council, school desks and chairs to the Etunda Farm Primary School, and many other worthy charitable causes.
TN: Do you regret paying for two trips for Rundu councillors to travel to China between 2010 and 2012?
SW: I dont have any regrets at all for contributing towards the improvement of the livelihoods of Namibians. The Rundu Town Council was looking for a city in China to twin with, and I facilitated it for them for the long-term benefit of the town and its people. I must also mention that I contributed significantly to the infrastructural and economic development of Rundu. I was the first one to put up a shopping complex at Rundu, then the rest followed.
TN: Any other comment?
SW: The investments in Namibia are encouraged by the political and economic stability in the country, and we have invested very handsomely. Part of our investment strategy in Namibia is to empower the nation through the provision of quality, affordable houses. In addition, we also contribute to worthy charitable causes such as underprivileged schools, and vulnerable groups of our society. I have a love for this country. I made Namibia my home away from home, because of her stability, her peacefulness and her helpful and friendly people.
---