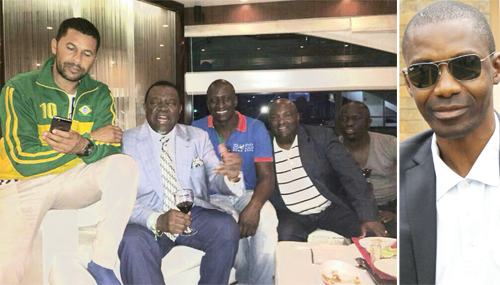 ---
By Shinovene Immanuel | 16 December 2015
---
PRESIDENT Hage Geingob's friendship with businessman Knowledge Katti continues being a secret affair even after the head of state admitted that the deal fixer has paid for his medical bills and flight tickets.
The President admitted during a press conference on Monday that Katti paid for his flights to New York in the United States and subsequent medical bills several years ago. But he did not lay all the details open, raising further questions whether that declaration really exists.
Geingob made the remark about his friendship with the wheeler- dealer following questions related to Katti's continued benefiting from multibillion-dollar government contracts and a questionable attempt to sell the mining town of Kombat to the state for N$160 million, after allegedly buying the town for about N$10.
The presidency yesterday refused to provide the exact nature of the friendship and figures detailing what Katti paid for the overseas trip and for the life-saving treatment.
The secrecy has raised red flags about what is being withheld from the public, especially when it involves Katti. Katti is one of the country's serial brokers of billion-dollar mega- deals involving taxpayers' funds. He has made millions in commission from state deals.
"You always try to link Katti and Geingob. What is this?" Geingob said on Monday.
Geingob agitatedly said that he does not understand why the media continues to link him to Katti while he in fact declared that the businessman paid for his trip to New York and his medical bill.
It is not clear when, where and in what detail Geingob declared Katti as his benefactor. The President has often insisted that he is not required to be transparent, which is viewed as a natural facet of democracy.
Sources said Katti paid over N$200 000 for Geingob's health and airfare at a time the incumbent President was in the political wilderness after being fired as Prime Minister by Founding President Sam Nujoma.
Presidential press secretary Albertus Aochamub, who refused to provide details of the Geingob-Katti relationship, referred The Namibian to the National Assembly for further information of Geingob's alleged declaration."You can source all those figures from parliament records," Aochamub said.
If Geingob declared his links to Katti in detail to parliament when he was a backbencher, that information remains confidential and not open to the public.
Aochamub added: "All these date back to when he was a Swapo Party backbencher in parliament. It was declared to parliament in terms of the rules of that house. In other words the President's commitment to transparency didn't commence in March 2015."
Within weeks of assuming power on 21 March this year, the President released a declaration summarising his wealth and gifts, but it did not include information regarding Katti's medical bill payment even though there is provision for it on the list.
Aochamub refused to answer questions such as whether the President is not worried of being compromised when he allows businessmen to pay for his bills, especially in life-saving situations. He also ignored a question regarding the list of businessmen who have funded the head of state and what the President will do to ensure that they do not unduly benefit from state resources.
Instead, Aochamub was adamant that the Presidency remains committed to transparency and would do all that is legally provided for to deal with these issues.
"But persecution of Namibian nationals on the basis of vague and unproven conspiracies will never be supported," he said.
Katti has befriended and went into partnerships with top politicians such as struggle veteran Andimba Toivo ya Toivo and minister of home affairs Pendukeni Iivula-Ithana but it is his relationship with the President that makes an interesting timeline as it shows how politics, power and money meet for personal benefit.
Here is what we know about the Geingob- Katti affair:
* Knowledge Katti paid N$200 000 towards Geingob's medical bills and air fares when the President needed help the most. In 2012, Katti attended a dinner at State House organised to fund raise and to also influence party policies. Katti boasted via The Namibian that he had pledged N$500 000 at that fund-raising dinner. The dinner was also aimed to fund the Swapo 2012 congress which saw the election of Geingob as the ruling party's vice president and also its candidate to become the state President.
* In 2013, Geingob, as the Prime Minister allowed Katti to host what some people described as a publicity stunt media conference at State House to announce that his company had found non-commercial oil in Namibia. HRT has since closed its doors in Namibia.
*In 2013, Geingob led a Namibian business delegation to Dubai and Ras Al-Khaimah in the United Arab Emirates and Muscat in Oman. Katti was part of that delegation and now he is partners with Mo- hammed Al Barwani – Oman's richest businessman who wants to mine phosphate off Namibia's coast.
* In July 2014, Geingob was pictured with Katti and three other Namibian businessmen in Brazil during the football World Cup there. Katti's role was not clearly reported. Another of Geingob's friends, businessman Desmond Amunyela, claimed he alone had paid for Geingob's trip to Brazil.
*In October 2015, the government appeared to agree to Katti's proposal to sell Kombat to the state, despite an option to expropriate the land instead of paying N$160 million for it. Geingob on Monday said: "I do not know anything about Kombat and it is none of my business. Maybe local government will talk about it."
* In November 2015, Katti allegedly clinched the N$7 billion airport rebuilding tender, which will reportedly see him pocketing about N$100 million for being a middleman. On Monday Geingob appeared to support his 'golden boy' Katti and the airport deal, saying the tender was a necessary priority.
Note:
This article was edited to correct a mistake and differs from the printed version. Katti allegedly bought Kombat for about N$10 and not N$10 million as originally stated.
---