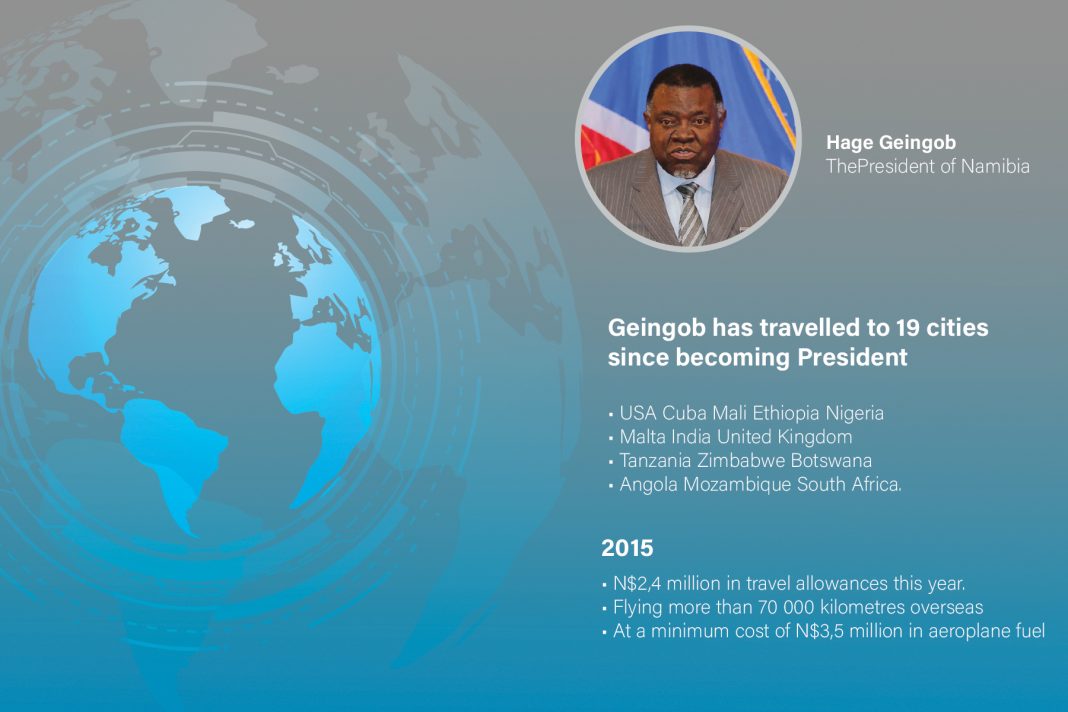 ---
By Shinovene Immanuel and Tileni Mongudhi | 18 December 2015
---
PRESIDENT Hage Geingob has made no less than N$2,4 million in travel allowances this year, flying more than 70 000 kilometres overseas at a minimum cost of N$3,5 million in aeroplane fuel.
Sources at State House claim that the President's three-week trip from Namibia to Cuba and the United States undertaken in September cost taxpayers about N$6 million for an entourage of about 50 people.
The travel allowances that the President might pocket exclude accommodation, while the fuel costs do not cover unavoidable flight expenses such as airport taxes and related services.
Speaking at a press conference to outline his achievements since assuming power in March, Geingob said he does not travel for subsistence and travelling allowances.
He did not answer whether he would claim his travel allowances or not, but instead said that he "helps other people".
"I don't live on per diem. I actually even help others when we are travelling. I pay for them, I feed them. So I don't go there (abroad) to get per diem," he said.
The presidency has remained largely secretive and evasive about the cost and motivation for the extensive travelling undertaken so far.
The Namibian calculated some of the costs for which formulae and other basic guides were obtainable from government documents.
Geingob came to power in March having criticised members of his Cabinet for going on trips that serve no obvious and useful purpose to Namibia. He also pledged not to undertake "any useless trips".
In total, Geingob has travelled to 19 cities (see map) around the world since becoming President. This includes the USA, Cuba, Mali, Ethiopia, Nigeria, Malta, India, United Kingdom, Tanzania, Zimbabwe, Botswana, Angola, Mozambique and South Africa.
Presidential press secretary Albertus Aochamub said the US visit had four aspects namely a maiden address to the United Nations General Assembly and participation in UN debates, receipt of honours, attending consultations with potential investors and leading a delegation of Namibian business persons.
Conducting bilateral discussions with other heads of state while attending the UN meeting was another reason for that trip, the presidency said.
Aochamub said the relationship with Cuba was strengthened in the areas of setting an end to mother-to-child transfer of HIV, and support in vocational training, sport and deployment of Cuban medical experts in Namibia.
The Namibian understands that some trips such as the Mali trip were a mere joyride by the President and his "friends" because they worked in the USA when he was in political exile.
Geingob said he had to travel abroad to network and introduce himself to the world.
Despite promising to be transparent, Geingob has chosen to release selected information and often duck or ignore questions when asked to elaborate. His office would, for example, not respond to basic questions regarding the trips such as the total cost of those trips or the sum of the entourage.
It is not clear from the national budget how much was allocated to the presidency for travelling expenses, but the operational cost of the office will increase by nearly N$150 million to N$548 million from the previous to the current financial year.
The Namibian found that Geingob would have made US$18 558 (about N$270 000) during the three-week trip to Cuba and USA, based on the government's "rate two S&T budget". Rate two S&T is meant to cover only meals and incidental expenses and excludes accommodation.
The Namibian could also not ascertain which State House officials and how many of them were part of the trip.
Four advisers, who we are told accompanied him, would have cost government a combined US$20 745 (about N$300 000) on a "rate two" S&T base.
The Namibian understands that State House's delegation alone spent about N$700 000 on accommodation in September.
That would bring the total bill to about N$1,3 million for accommodation and S&T for three weeks. The figure does not include the cost of travel for First Lady Monica Geingos. However, The Namibian was informed that the President paid over N$8 000 on hotel accommodation per day while in New York.
Deputy prime minister and minister for international relations Netumbo Nandi-Ndaitwah was the highest-ranked government official on the Cuba and USA trip with the President.
She would have cost the taxpayers US$25 466 (about N$350 000) for the duration of the trip on a "rate one S&T" budget that covers accommodation, meals and incidental expenses.
If President Geingob claimed S&T for all the trips he undertook this year, he would have pocketed more than N$2 million, making up his annual salary in a space of less than 10 months.
Geingob claimed he does not know how much he earns but since the presidency has been secretive about the amount, it has become a speculative figure. A State House source said Geingob, who does not pay tax, takes home N$1,1 million a year after deductions.
The President's air transport – fuel costs, airport taxes and related services, catering and inflight services – generally burn between N$11 000 and N$45 500 an hour. It is believed Namibia's presidential Falcon is one of the cheapest executive jets to operate.
Other trips such as the ones to Malta, France, India and London undertaken this year will cost the taxpayer no less than N$2,3 million in jet fuel. A basic calculation puts the amount of S&T the President would have claimed on his Africa travels at about N$411 000.
Geingob claims not to love travelling because he has done so since the 1960s, but figures show that he will smile all the way to the bank if he decides to press pay out on the S&T jackpot machine.
*This story was produced by The Namibian's investigative unit.
---