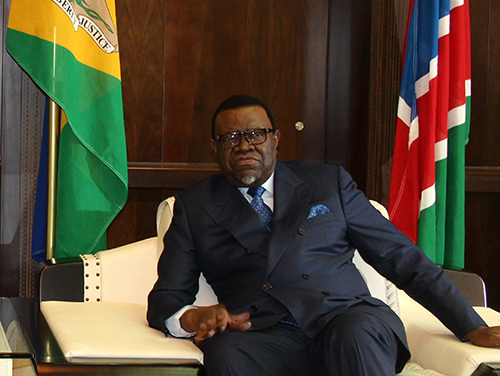 ---
By Shinovene Immanuel and Tileni Mongudhi | 29 June 2015
---
In a frank question and answer schedule he responded two weeks ago as follows.
TN: You said you earned N$1,9 million per year as the head of the United Nations Institute for Namibia. How much money did you have or worth when you came back home in 1989?
HG: I have already provided the source of income after unmasking myself and explaining that I was working at a D2 level of the United Nations salary scale for 14 years. If you have detected that there is some money that was/is missing or is hidden which you are trying to trace, then state that fact and point out how I am a suspect in that regard.
Already in 2009 I had declared my interests and listed several bank accounts namely a Nedbank cheque account, a United Nations Federal Credit Union account which I opened in 1972 while working at the United Nations, a Bank Fund Staff Credit Union in Washington which I opened while working at the World Bank and a cheque account at NatWest in the United Kingdom which was dormant and which I have since closed on advice of Price WaterhouseCoopers.
Both the UNFCU and BFSCU accounts are credit union accounts which can only be opened by members working at the United Nations and the World Bank respectively or their immediate family members.
TN: According to your statement, you bought a 12-hectare plot in Windhoek early in 1989 at a price of N$500 000 of which you sold nine hectares. For how much did you sell the nine hectares and when?
HG: I would like to inform you that I bought 12 hectares of which I sold nine hectares at a price of N$1 million during 1993/1994.
TN: How much did you earn per year as Prime Minister from 1990 to 2002?
HG: As a Prime Minister, I was a public servant which means that you as investigative journalists, with little effort, can obtain this information from the Ministry of Finance.
TN: Since you said that during most of this time, you relied on temporary overdraft facilities, until you sold land as ordered by court as settlement, we would like to know about the total overdraft that you took out during those times?
HG: When I retired from the public service after I had served as prime minister for 12 years, I had my pension paid out, which I invested with SANLAM. Instead of receiving a monthly payout, I opted to have my pension paid out on an annual basis. This totalled between N$300 000 and N$400 000.
The overdraft facilities at the bank ranged from N$300 000 to N$500 000. The pension payout of N$300 000 to N$400 000 was used to offset the overdraft amounts. That was smart management of my personal finances.

TN: Another question is about HG Consultancy. How much did this firm make and what contracts did it get? Which companies did this consultancy work for and when was it?
HG: HG Consultancy was a dormant company and was deregistered at the advice of PWC.
TN: You declared that you have about N$1,4 in an account with the SME Bank. When did you open that account? How did you earn that amount of money? It has been alleged that you insisted on the SME Bank being set up even when your colleagues in Cabinet, government and the regulators advised against it. Do you have an interest in the SME Bank, be it shares or relationship with the private owners?
HG: As a sociable individual, I have established many relationships with people from all walks of life, including managing directors of local banks. I have cordial relations with MDs of all local banks. None of these relationships has come under scrutiny. However, the mere fact that I have had interactions with SME Bank officials at a professional level seems to irk certain people.
The CEO of the SME Bank is not my friend. I have only interacted with him professionally and I met him when I opened my bank account with N$20. One example of this interaction I can give you is an instance when I wanted to withdraw money. I called my personal banker at Nedbank but could not reach him. On the other hand, when I approached the CEO of the SME Bank, he was able to organise the money and even brought it to my office. My banker, who managed to contact me later, requested me to send a driver to collect the money. If you look at the service I got from the CEO of the SME Bank and my banker who told me to send a driver, which service would a customer prefer? The professionalism and personalised service which the CEO of the SME bank would be appreciated by anyone.
As comprehensively illustrated in my declaration, the money which I deposited with the SME Bank originates from the plot which I sold as part of a divorce settlement. Furthermore, as per requirements of all financial institutions in adherence to the Financial Intelligence Act, I had to provide the SME Bank with a certificate detailing and proving the origin of the money.
The issue with these innuendos with regards to my finances is that there are people who are inclined to be corrupt. When they see another person in a certain position, they immediately assume he or she is corrupt because that is how they would have behaved if they were in that position. We must also realise that corruption is dishonesty. Telling lies about others is also a form of corruption.
I did not create the SME Bank; neither did I blindly fight for its creation. When I was appointed as the minister of trade and industry, I stumbled on a Cabinet resolution which outlined the decision by Cabinet to transform the Small Business Credit Guarantee Trust into a self-sustaining financial institution. This call was meant to ensure financial sustainability and effective service delivery. It was concluded that such an institution can only be sustainable if it accepted deposits from the public.
Subsequently, Cabinet appointed Metropolitan Bank, represented by its associate company as a preferred technical partner of the SBCGT in setting up the SME Bank. After Metropolitan Bank presented their proposal, which was very impressive, I then asked why the bank was not created yesterday. So all I did, in my capacity as the minister of trade and industry, was to ensure that the idea of the SME Bank should come to fruition.
As far as the Zimbabwean involvement is concerned, I fought for the investors as a matter of principle. And I would apply that principle for any investor. Which I have done. When I saw the manner in which the Zimbabwean investors were being persecuted by the media and others, I had to intervene.
There were all kinds of accusations levelled against the Zimbabwean investors as well as numerous attempts by several stakeholders to stall the process of setting up the SME Bank. I ended up speaking to five Zimbabwean ministers about Mr Enoch Kamushinda, a Zimbabwean entrepreneur who was a shareholder in Metropolitan Bank and asked them whether he is in good standing and whether Metropolitan Bank is credible.
They confirmed that Kamushinda and the bank are credible. As is normal practice for every investor, I sought police clearance from both the Zimbabwean police and Namibian police which I was issued and they were both in favour of the investor, Mr Enoch Kamushinda.
This is the story of the SME Bank's origins and not the falsehood that exists, stating that the SME Bank is Hage Geingob's Bank or that I have interest in it. It was an idea that I found at the Ministry of Trade and Industry and dusted off. Cabinet is the one which created the bank, not me.
TN: What do you have to say to those who claim that you were rewarded for pushing for the bank to be established even when it does not comply with banking regulations in the country, for example failure to publish audited financial statements?
HG: For those who are saying these things, I would like to inform them that from the moment I became Prime Minister, I ceased my dealings with the SME Bank. Honourable Calle Schlettwein, who succeeded me as minister of trade and industry, then took over.
I would also like you to ask those who are saying those things to prove it. Let them prove how I was rewarded. It is time that we take those who are telling lies to task. Furthermore, I have heard about those that have mentioned proxies. Let me clearly state that any proxies in my name must regard that property as their own. It is in your name, take it. The same goes for any ministers who may have proxies. There are also those who are going around claiming that I have told them certain things that they will expose. I would like to tell them that they should go ahead and expose me.
TN: When are you going to declare your assets again and will you ask the vice president to also declare his assets since he is not an MP and will not be able to do so in the National Assembly where the information will be accessible to the media.
HG: I took a voluntary decision to declare my assets. I also explained that I did not do it to project a "holy" image. I did it out of conviction. As for the rest of the Cabinet members, they are covered by the law and are therefore required to do so.
TN: How much are you earning now as a President. We are aware that as President, you earn 15% more than the Prime Minister.
HG: To be honest, I am more focused on my work than paying attention to salaries and who gets what salary. I remember even when I was appointed director of UNIN in 1975 I never asked what my salary would be. I was focused on the enormity of the job. The salary was a mere afterthought because I was seized with trying to set up the institute and get to work. I did not even know how much I would be paid. The same applies right now. I never asked what my salary is.
If you are keen on finding out the various salary scales of Cabinet members then it is easy to approach the Public Office Bearers Secretariat on those matters.
TN: Lastly, any other comment that you would like to add. Something that you think should be addressed about transparency, leadership and good governance?
HG: I have said everything regarding these topics. If you look at my speech when I opened Cabinet as well as the speech I made at the induction of Cabinet members, you will be able to gauge my stance on these matters.
As far as the UraMin issue is concerned, I would like to inform you that UraMin had offered myself, John Akwenye and another individual directorships but I chose to play the role of a consultant. I therefore served as a consultant to UraMin and helped the company secure a licence which it already had but which was about to be terminated due to several technicalities.
For this I received payment which was part of an amount of US$300 000. US$200 000 went to two South African partners who brought the matter to my attention and US$100 000 was paid to me of which I took US$10 000 to assist a person in need, leaving me with US$90 000. I don't know whether people are questioning the amount I was paid or the role I played as consultant. All consultants are paid for their services upon completion of their work.
Let me also clear up some facts involving the much talked about sale of UraMin to Areva which even some Cabinet ministers have been very vocal about. I did not facilitate the sale of UraMin to Areva as some would have you believe. That sale took place on the stock exchange! How does one facilitate a stock exchange sale? Sometimes we embarrass ourselves through shear ignorance.
As for the awarding of EPZ status to Areva, I would like to make it clear that this was a collective decision and this is contained in all the minutes which I provided to PWC in order for them to verify the information. So I hope that will put to rest some of these shameful accusations and rumours.
---