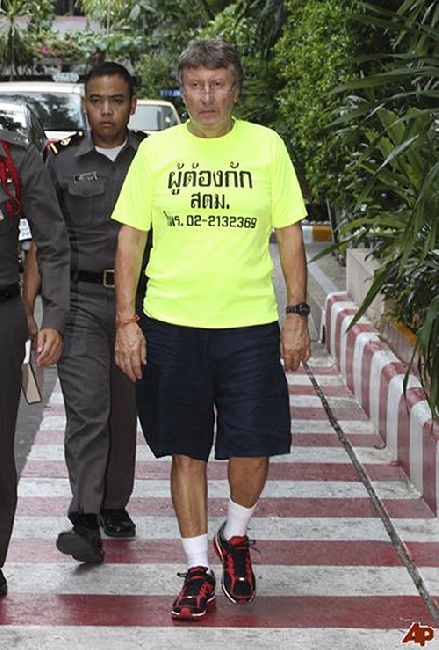 ---
By Tileni Mongudhi | 8 May 2015
---
THE Italian government is in pursuit of assets around the world, including Namibia, belonging to convicted mafioso Vito Roberto Palazzolo.
He is believed to have assets and businesses in Namibia, South Africa, Angola, British Virgin Islands, Hong Kong and other countries.
The Namibian understands Italian authorities have been seeking the assistance of Namibian authorities in tracing Palazzolo's wealth in the country.
The Namibian government has however denied receiving such a request for help from Italy.
Ministry of Justice spokesperson Simeon Idipo said the ministry was not aware of any request from the Italian government for assistance in tracing assets belonging to Robert von Palace Kolbatschenko.
"We also do not know whether Mr Robert von Palace Kolbatschenko also known as Vito Palazzolo is serving a nine-year prison term in Italy and cannot therefore confirm or deny whether it is correct or not," said Idipo in his emailed response to The Namibian.
Idipo however conceded that Italy requested for Palazzolo's extradition in 2011, despite the ministry initially refusing to give information about the request last year.
The Namibian has identified at least eight companies or entities linked to Palazzolo in Namibia. Some of the companies have been dissolved and some properties sold and liquidated, but those in the know said that Palazzolo still holds vast riches in Namibia.
The Namibian's investigations uncovered that Italian authorities have a list of entities believed to be linked to the alleged mafia member. These include Avila, Komsberg farming, Aruba Fruit Exporters, Ancash Investments, Marbela Investments, Southern Cross Aviation CC, Southern Cross Wilderness CC and Mannheim Investment.
Avila and Marbella were deregistered in 2010 after having been registered in 2005. Founding President Sam Nujoma's son Zacky Nujoma held a 10% stake in Avila and a directorship in Marbella. The 90% in Avila and the 100% of Marbella were held by a Brithish Virgin Islands based company called Diamond Ocean Enterprises, a corporation listed as being in the business of extracting precious stones. Italian authorities believe Palazzolo owns Diamond Ocean Enterprises.
Law enforcement sources said with all his activities in Namibia, Palazzolo had about 14 bank accounts, seven of which are still active with over N$17 million in them.
Despite having been deregistered in 2010, Avila's bank account remains active and is allegedly being used by Palazzolo's wife Tirtza von Palace Kolbatschenko. Tirtza von Palace Kolbatschenko allegedly transferred over N$1 million into the Avila account from her account in Bangkok, Thailand last year.
To show the intricate and shady way of how Palazzolo ran his affairs, law enforcement agencies in Namibia uncovered that he controlled about eight bank accounts all named Komsberg, from Komsberg Farming, an entity which has been liquidated.
Sources said the bulk of Palazzolo's properties in Namibia were listed as belonging to Komsberg Farming. It is difficult to trace them now that Komsberg Farming has been liquidated.
Although authorities linked Komsberg Farming to Palazzolo, former director Henner Diekman said "Komsberg Farming (Pty) Ltd never had any dealings of whatsoever nature with Mr Robert von Palace. I am rather surprised that Komsberg Farming (Pty) Ltd is listed as one of the entities purportedly belonging to Mr Von Palace."
Diekman has also been linked to a close relationship with Palazzolo, but the Windhoek-based lawyer said that he has no relationship with the Italian.
"We drafted agreements of sale on behalf of clients who sold their properties to Mr Robert von Palace. We advised our clients as sellers of these properties and not Mr Robert von Palace as purchaser," he said explaining his involvement with Palazzolo.
THE NUJOMA CONNECTION
Palazzolo's close associate and friend in Namibia is Zacky Nujoma. Out of the eight entities listed, Nujoma has been involved as director or shareholder in at least four of them.
Unconfirmed reports say that Nujoma was with Palazzolo when he was arrested in Thailand in 2013.
Last year Nujoma denied being a business partner of Palazzolo and said they are "merely friends." Nujoma refused to give details about his relationship with Palazzolo, saying he "knows nothing" and that issues with the authorities have nothing to do with him.
He also refused to comment on businesses or assets they hold together.
In 2010 Italian authorities, working through Interpol, began asking the Namibian government about extradition procedures, and indicated that Italian officials visited Namibia to meet the authorities.
Namibian police and Interpol started monitoring Palazzolo's movements. When he got wind of this, Palazzolo and Nujoma allegedly confronted Namibia's police chief inspector general Sebastian Ndeitunga, in his office. The Italians initiated a formal extradition process in 2011 but made little progress.
Nujoma's elder brother and minister of land reform Utoni Nujoma is also a known friend of Palazzolo's. Utoni was minister of foreign affairs and later of justice at the time of the request and The Namibian enquired whether the ministry's seemingly reluctance to assist the Italian authorities had anything to do with Utoni's friendship with Palazzolo.
Justice spokesperson Idipo said: "On the allegation of Mr Robert von Palace Kolbatschenko being a friend to the minister of justice, the honourable minister Utoni Nujoma has denied the allegations that he is a friend to Mr Robert von Palace Kolbatschenko aka Vito Palazzolo."
Palazzolo's other known associates listed by authorities in Namibia are architect Henry Ferdinand (Rynand) Mudge, Miriam Onesmus who is a close friend and business partner of Zacky Nujoma, Salomon Marius and Johan Christiaan Gouws.
Onesmus said: "There is nothing untoward about the business relationship between me and Palazzolo."
She added that anyone can have a business relationship with anyone and that she is not aware that the Italian authorities are looking for Palazzolo's assets or looking into her business dealings with him. She said the authorities can talk to her if they use the right channels to approach her.
---