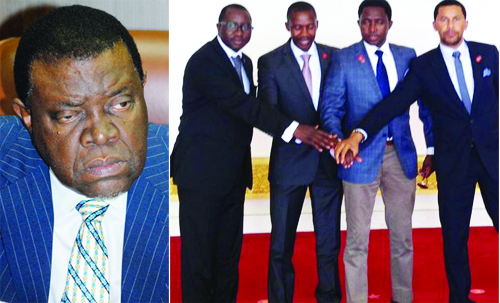 ---
By Tileni Mongudhi | 28 May 2014
---
NEW assassination claims, rumours about spying on former president Sam Nujoma and allegations of President Hifikepunye Pohamba becoming sceptical of his anointed successor have increased strained relations within the ruling Swapo Party.
These strained relations are expected to reach boiling point soon because the party's electoral college is expected to take place in September, when the list of future parliamentarians will be decided upon.
Sources say that relations among several senior leaders are characterised by paranoia, including renewed claims of assassination attempts on Swapo presidential candidate Hage Geingob by his allies, who believe the losing factions in the 2012 elective congress have not given up on trying to derail his march to State House.
Sacky Shanghala, a Geingob loyalist who heads the Law Reform and Development Commission, in response to questions by The Namibian alluded to this, saying there were new attempts to get rid of Geingob.
"Recently, however, these public myths of people seeking poisoning, shooting or a motor vehicle accident as a means of elimination of Dr Geingob have resurfaced in a more concrete (relative to then) and desperate crescendo. This information is made available to the relevant functionaries, and hopefully, this time, we do not gamble with life and peace for all, but stay on the side of caution," he said in a long response to queries from The Namibian, which he also posted on his Facebook page.
Even Geingob in his written response to questions from this newspaper, admitted that he was aware of plots to block his advance to become the next president.
"Regarding the plot, yes I am aware of this, and even of the newspaper witch-hunting on me. I am hearing some people are not happy with my election and are going around, stating that I [should] not be allowed to become the (next) President of this country. That's their own view," Geingob said.
In turn, Geingob's detractors claim the Prime Minister and his faction were simply paranoid and have taken keen interest in monitoring former president Nujoma closely.
Geingob allegedly also feels that Nujoma and Pohamba were putting measures in place to limit his choice of appointments once he becomes President.
Some people in the ruling party claim the fact that Pohamba has insisted on the 50-50 zebra-style gender parity was an indication that he was trying to restrain his "anointed one".
President Pohamba, others claim, was allegedly unhappy that the premier surrounds himself with businessmen and loyalists, ignoring relevant party and government officials, including cabinet ministers, even on official missions.
Businesspeople among them Desmond Amunyela, Knowledge Katti, Shanghala and Swapo Oshikoto regional coordinator Armas Amukwiyu have been cited.
Shanghala disputed the claim that Pohamba was unhappy, saying "there is no truth in the contention that the President is unhappy with the matter. Period".
He said if that was the case, Pohamba would have communicated his unhappiness to those involved and not the media, and that there was nothing wrong with him being around Geingob.
A government source told The Namibian that word at the Office of the Prime Minister is that Amunyela has been telling civil servants that he is Geingob's adviser and that the prime minister listens to him only.
Amunyela, in a three-page response, said the allegations were false and ridiculous. He also challenged anyone, who claims that he said Geingob only listens to him, to come out and say it publicly.
Some of the prime minister's businessmen friends have also been accused of assigning civil servants to monitor their superiors in exchange for promises of positions and favours.
In one case, party sources said that an employee working for the Office of the Founding President allegedly reported to State House that Nujoma's chief aide, John Nauta, has been sharing information from his office with Geingob directly or through Amunyela, who also serves on the Sam Nujoma Foundation as a trustee.
Amunyela, however, said he never obtained information from Nauta, which he was not supposed share. He also denied ever using his relationship with Nauta and the prime minister to obtain information using Nauta's position.
He said Geingob's office is open to the public and as a people's person, Geingob has publicly declared that no Namibian should feel left out.
The monitoring is allegedly because Geingob and his supporters are trying to ascertain whether Nujoma supports his march to State House next year.
Geingob said the allegations that Nauta monitors Nujoma for him was "utter nonsense", and that he cannot promise people positions while he is not the President.
Nauta also said allegations that he was monitoring Nujoma were false and he described them as being aimed at tarnishing his image and compromising both his and Geingob's integrity.
He also said Geingob had expressed concern over Nujoma's safety in his capacity as the chairperson of the cabinet committee on defence and security. He further said Geingob has been insistent that due to Nujoma's advanced age, he should be transported in secure government-chartered planes and not commercial ones as had become the practice.
A government source told The Namibian that Geingob's concern over Nujoma's security started last September when a man was arrested for trespassing on Nujoma's Windhoek home.
According to Nauta, Geingob then championed a government project to upgrade Nujoma's home security.
Meanwhile, some of Geingob's supporters have accused party leaders who supported Minister of Home Affairs and Immigration Pendukeni Iivula-Ithana and Minister of Youth, National Service, Sport and Culture Jerry Ekandjo at the elective congress where Geingob retained the party vice presidency, of the plotting to prevent Geingob from becoming party presidential candidate.
The Elijah Ngurare-led Swapo Party Youth League (SPYL) has especially been cited as being at the helm of the plot, which is allegedly being carried out on behalf of Ekandjo and Iivula-Ithana. The groups have allegedly been holding meetings at villages' homesteads on how to execute their plan.
Swapo secretary general Nangolo Mbumba told The Namibian on Thursday last week that President Pohamba has already made it clear that the party only has one candidate – Geingob – and that "those stories are coming from enemies of Swapo and enemies of democracy".
Iivula-Ithana said she had no time for "rotten stories since we have already moved on from 2012", while Ekandjo's assistant Mikka Asino said the allegations were ridiculous and just rumours.
Amukwiyu said his relationship with Geingob spans over six years and the two have family ties. Amukwiyu added that he is not at the level of advising Geingob or influencing him, making it impossible for him to promise people jobs in Geingob's name.
He asked why people only have a problem with his relationship with Geingob now that he is the party's presidential candidate. "Namibians must learn to tell the truth," he said.
Ngurare said he did not want to comment on internal party matters and referred questions to Mbumba.
Katti could not be reached for comment.
---