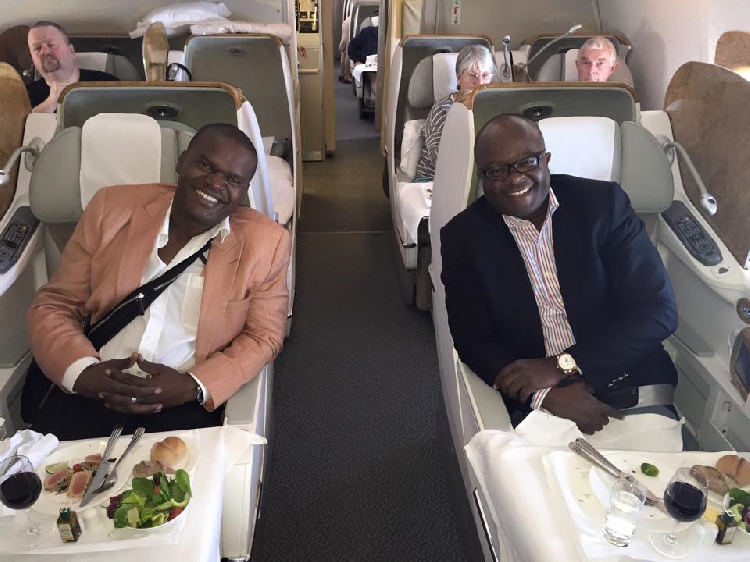 ---
By Shinovene Immanuel and Tileni Mongudhi | 24 February 2016
---
ENERGY minister Obeth Kandjoze has asked National Petroleum Corporation of Namibia managing director Immanuel Mulunga to resign and receive a golden handshake.
This comes a few days after Mulunga's marital troubles went public last week on Tuesday when his wife Sonia returned from London and found another woman in their house.
Before that Mulunga had attended several events hosted by Malawi-born prophet Shepherd Bushiri.
On Wednesday 17 February, Kandjoze summoned the board to discuss the matter but only the chairperson, Johannes !Gawaxab, and one member Merceline Geises attended.
The trio discussed Mulunga's marital public spat and !Gawaxab is said to have informed Kandjoze that the matter was private and that the board would deal with it.
But Kandjoze was not convinced. On Thursday 18 February, he summoned two more board members – Ally Angula and Anna Libana – to discuss the same issue. He then instructed them to hold a board meeting on Sunday 21 February.
On 19 February, Mulunga said he was approached by an emissary with a message from Kandjoze, which said he should either resign or be pushed out.
According to Mulunga, he told the emissary that he needed time to think about it and to seek advice from his lawyer.
Mulunga said Kandjoze then called him on Sunday 21 February, saying that the "President and the political establishment" was unhappy about his recent marital issues and reported links to Bushiri.
Kandjoze, Mulunga said, also told him that the decision to fire him should not be taken personally and that he should step down and consider taking a six-months' salary offer.
Mulunga declined to comment further on the matter on Monday.
A few hours after Kandjoze's call, the Namcor board summoned Mulunga for questioning regarding his marital issues.
In fact, Sunday's meeting was supposed to have been held on 8 March but after several meetings between the board and the minister, it was rescheduled earlier.
Minutes from that meeting show that Mulunga told the board about the emissary from Kandjoze and the six-months' salary offer to induce his resignation.
The meeting noted that "the envoy informed the managing director that he should voluntary resign and he would be paid a six month's salary and be offered a position elsewhere".
The envoy, according to the minutes, informed Mulunga that Kandjoze had said President Hage Geingob "was very concerned" regarding the latest marital scandal and his links to prophet Bushiri.
The minutes further said Kandjoze's emissary told Mulunga that the minister was under pressure from the presidency to take action. Documents seen show that the board reminded Mulunga about the Namcor code of conduct that says "we will all uphold Namcor's good name and reputation.
We are expected to behave in a dignified and civil manner all the times, whether we are on or off duty".
The minutes show that Mulunga apologised, saying he was a victim of a situation which he did not cause and that it had happened outside working hours.
He also told the board that "his choice of religion and links to prophet Bushiri was his Constitutional right", the minutes further show.
The board, the minutes said, did not agree with this version of the time when the fracas happened.
Kandjoze, a former Namcor MD declined to comment on questions sent to him yesterday. He referred the queries to the Namcor board.
!Gawaxab told The Namibian yesterday that Mulunga has not been fired.
"We are still debating and consulting on the matter. Once a decision is made, it will be announced," he said, adding that whatever happens, the board will follow due process and will be fair to both Mulunga and the company.
!Gawaxab confirmed that a meeting took place on Sunday but denied that it was to discuss Mulunga's troubles.
"We met to discuss the impact of news articles and social media postings and the impact they have on Namcor," Gawaxab said, adding that Namcor's name was mentioned in the postings and media articles.
"At no point did the board receive instructions from the minister to dismiss the managing director. Not verbally or in writing," said !Gawaxab.
!Gawaxab also confirmed that he met Kandjoze on Wednesday but denied it was to discuss Mulunga's fate. He said the meeting was to discuss the Kudu project, Namcor's 50% oil importing mandate and performance. It is not clear why only two board members would discuss three key issues with the minister.
Revelations about a plot to kick out Mulunga, who was only appointed Namcor managing director in September last year for five years, brings to the fore long held suspicions of cracks in the 16 years of his friendship with Kandjoze.
It is not clear why Kandjoze would want to fire his comrade, but sources said the minister never wanted Mulunga to get the Namcor job in the first place.
Last year, Mulunga topped the list of those interviewed for the Namcor job but Kandjoze only took Leonard Apollus, the mineral resource manager at De Beers Marine Namibia, as the nominee to Cabinet.
Cabinet sent Kandjoze back for the score sheets compiled by Deloitte Namibia who were present during the job interviews. And that is how Mulunga ended up getting the job.
Kandjoze was key in the suspension of former NamPower managing director Paulinus Shilamba last year. Kandjoze used his Twitter account to sum up his sentiments regarding Bushiri: "Executives and professionals (who) rush to the falsehoods of the deceitful Bushiri leaves with me the sourest of tastes! Amazing," he said on 1 February
2016.
---