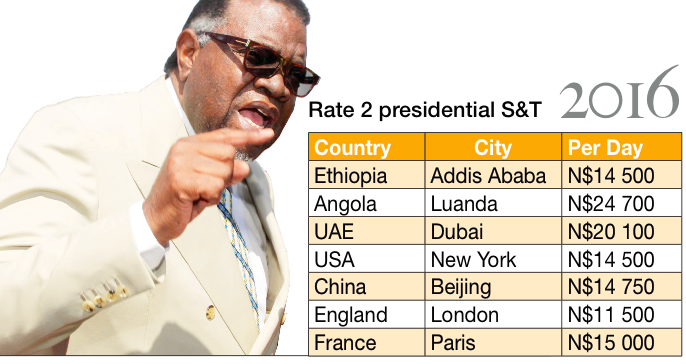 The amount has dropped drastically from last year, Geingobs first as President, when he raked in N$2,4 million in a space of eight months, travelling to 19 cities.
State House statements reviewed by The Namibian show that Geingob was out of the country for a combined 49 days in 2016, visiting countries such as Ethiopia, Kenya, the United States of America, France, England, Swaziland, South Africa, Cuba, Zambia, Botswana, Sweden and Rwanda.
The allowances, known as ST (subsistence and travelling) have been identified as one of the areas costing the state massively in terms of money spent and time lost from work.
Many public workers have been known to create opportunities to travel, because ST is such a lucrative cash-cow, from which they make extra income to buy cars, houses and other luxuries.
There have been several calls from the general public to reduce what is viewed as too generous travelling allowances, especially to senior officials such as the President, whose entire cost of living is paid fully by the taxpayer.
The President also travels with a large amount of cash allegedly as "contingency" funds.
The President earns around N$1,7 million untaxed per year. Some claim the amount is higher. Despite promises of transparency, the Presidency has remained largely secretive and evasive about the cost and motivation for the travelling undertaken so far.
Unlike last year when it still responded to some questions, this time State House flatly ignored questions regarding the cost to the state of the Presidents trips with his entourage.
The Namibian used the most conservative estimates based on trips undertaken and that reveal the President personally qualified for around N$700 000 in travel allowances in 2016. The reviewed document is titled "Daily subsistence allowance payable for travel abroad on official duty for political and other office bearers".
The document includes categories on how much pocket money a political appointee should be paid when abroad. They are Rate 1 which caters for accommodation, meals and incidental expenses; Rate 2 which includes meals and incidental expenses, while Rate 3 covers incidental expenses.
As reported last Friday, Geingob mostly uses Rate 2 in order to pick the most expensive hotels, even though the hosts offer free accommodation.
TAKE-OFF
Geingob kicked off his foreign trips this year with a visit to Addis Ababa in Ethiopia to attend the 26th ordinary session of the African Union assembly, which took place from 29 to 30 January.
He qualified for around N$32 000 for the two days in Ethiopia, since government regulations state that the President should get N$16 000 per day when working in Addis Ababa.
Geingob travelled to the United States of America for the United Nations General Assemblys debate on Sustainable Development Goals on 21 April in New York. His day in New York earned him N$14 600 in allowances.
The President then flew to Sweden to attend the Progressive Governance conference from 26 to 27 May in Stockholm. He qualified for N$18 300 for a day in Stockholm.
July was a globe-trotting month for the head of state. He travelled to Botswana from 11 to 13 July. His three days in Gabarone earned him N$26 000.
Two days later, the President made around N$30 800 for three days in Rwanda for the 27th African Union Summit in Kigali.
Three days after Rwanda, Geingob went to Kenya for the United Nations Conference on Trade and Development, where he accused developed nations of blocking the debate on issues relating to ill-gotten money from developing countries. He made around N$45 000 in allowances for his six-day trip to Nairobi.
Geingob went to Zambia for an official visit between 29 and 30 July, earning N$30 400 for two days work in Lusaka.
The head of state remained in the country for about a month before he flew out again. This time he travelled to Mbabane in Swaziland from 29 to 30 August for the 36th SADC summit of heads of state. Geingobs two days there earned him N$13 200 in allowances.
The President stayed in Namibia for about 40 days before he embarked on a 20-day visit to the United States from 11 September to 3 October for the United Nations General Assembly, lecture and investment-attraction meetings. He retuned to Namibia on 4 October 2016.
Our calculations exclude four days of travelling to and from the USA. The President qualified for N$14 600 per day or N$622 per hour. As a result, Geingob was to make around N$300 000 for his 20 days in New York and Washington.
While in America, the President was mostly stationed in New York, even though he also travelled to Washington. In addition to the UN meeting, Geingob gave lectures at two universities and attended business events meant to attract investors to Namibia.
The President again left the country a few days after he landed in Namibia from the USA. This time he travelled to Johannesburg in South Africa for the two days SA-Namibia Bi-national Commission meeting. Geingob made N$6 600 in one day for his stay in the city of gold. It could be double if the arrival and departure dates were to be counted as working days.
What public officials make from ST per trip can dwarf many Namibian workers monthly wages. The Namibia Statistics Agency said in 2014 that 60% of Namibian households (283 000 out of 471 300 households) live on an income of N$1 000 a month or less.
That was not the end of Geingobs global travels. The Namibian reported last week that Geingob and his team picked one of the priciest hotels in London during a week-long trip that took him to Paris, Havana and London, from 27 to 30 November.
Geingob was entitled to N$30 000 in allowances for his two days work in France, while he qualified for N$13 700 for his one day stay in Havana, Cuba, to attend former leader Fidel Castros memorial service.
The Presidents four days stay in London earned him around N$57 000. The Office of the Prime Minister declined to comment on matters relating to allowances of politicians and referred The Namibian to the Public Office Bearers Remuneration and Benefits Commission, which did not respond to questions sent to them this week.
*This story was produced by The Namibians investigative unit team. This is an overview of the Presidents travels that will be done every year. Send us story tips via your secure email to: [email protected]