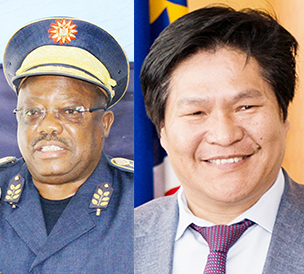 ---
By Shinovene Immanuel | 22 December 2016
---
SEVERAL Chinese companies, including one linked to millionaire Jack Huang, President Hage Geingob's business partner and friend, are being investigated for fraud, tax evasion and money laundering involving more than N$3 billion.
The Namibian learnt this week that police began raids, targeting 30 Chinese businesses countrywide, but had not swooped on Golden Phoenix Enterprises, a company that is connected to Huang.
Huang was seen with police Inspector General Sebastian Ndeitunga last week.
Even though Huang has strongly denied owning Golden Phoenix saying he resigned from the company 10 years ago and that he is not being investigated, public information obtained from the ministry of trade shows that he co-owns Golden Phoenix.
Golden Phoenix, which is listed among 30 Chinese companies being probed by the state for financial foul play, is not the property development company that Huang owns with Geingob.
Ndeitunga confirmed on Monday that he sanctioned an operation into several companies that are suspected of defrauding the state. "Investigations are ongoing. I cannot provide more information because it will jeopardise our investigations," he said.
Police raids have mainly focussed on //­Karas and Erongo regions and the town of Oshikango on the border with Angola in northern Namibia.
Information seen by The Namibian shows that a search warrant was issued for 30 companies, whereby all computers and other documents were to be confiscated.
Sources said yesterday, police had targeted Namibian companies that provide import and export services for the Chinese.
Besides Huang – linked Golden Phoenix, some of the companies accused of suspected fraud, money laundering and tax evasion are China South Industry and Trading CC; Golden Star Textiles Enterprises CC; Hua Neng Manufacturing and Trading CC; Jia Mu Trading CC; Shashi Import and Export CC; Shuai Ang Investment CC; Trust Investment CC, and Windhoek China House Store CC.
Another company suspected of financial cheating is Nam-Dan Import and Export CC, a company that allegedly employed Chinese rhino poaching suspect Geng Zhi. The prosecutor general, Martha Imalwa, said in court papers filed this year that she believed that several properties owned by Zhi were from proceeds of unlawful activities such as poaching, tax evasion and money laundering.
Huang initially denied links to Golden Phoenix saying "I am sorry to inform you that I am not the owner or employee of Golden Phoenix." Data obtained from the trade ministry shows that he is one of the owners of Golden Phoenix, together with fellow Chinese nationals Li Dan, Xiaojun Chen and Huizhong Tao.
When The Namibian showed him evidence of ownership, Huang then claimed that the information obtained by this newspaper is outdated and not correct "since Huang has already sold all his shares a decade ago". Huang said Xiaojun Chen sold all his shares many years ago and had left Namibia.
He said he does not have information about who the current owners are.
Huang initially promised The Namibian, through his lawyers that they will provide contrary evidence that he is not the owner. But his lawyer Sisa Namandje yesterday said that "my client maintains that he is not the owner of the company". He said his clients were still requesting documents.
MEETING
Huang allegedly met Ndeitunga at the police head office last week to talk about the poaching of Namibian wildlife. Thereafter, he is said to have organised a meeting of the Chinese business community in Windhoek last Thursday, where Ndeitunga warned the Chinese against poaching. Huang also spoke at that event where he discouraged fellow nationals from involvement in criminal activities.
Other sources suggest that Ndeitunga and Huang had an opportunity to talk about the probe into fraud, tax evasion and money laundering before that community meeting. That, sources said, may explain why Huang's businesses had not been searched by Tuesday, even though other companies suspected of wrongdoing were raided last week.
Some suspect Huang is being handled with kid gloves because he is a friend to Ndeitunga, while others insist that two people were arrested yesterday at Huang's company premises.
Ndeitunga denied allegations that he is protecting Huang and that he had discussed the latest investigation with him.
"We have some kind of relationship, but it is a professional relationship without attachments. It is not based on benefits," The police boss said.
Police are also accused of targeting Namibian custom companies that work for the Chinese companies, instead of questioning the Chinese nationals directly.
"Our actions will not spare anybody," Ndeitunga said. Chinese nationals complained to Ndeitunga last week that their businesses were being raided. Ndeitunga allegedly told the Chinese business people not to count on his assistance, because the police officers were carrying out their national duties.
Asked about his links to Ndeitunga, Huang said "the relationship between Inspector General Ndeitunga and myself is just like that of yourself with him, as well as every Namibian citizen with the Namibian police."
Golden Phoenix Enterprises, based in Oshikango, is the same firm that reportedly funds Namibian students to study in China through the China Loving Heart Organisation, an institution he chairs.
The Chinese millionaire said "The Namibian-Chinese Loving Heart Organisation has not received any funds from any other companies, including the company you mentioned".
Huang is a jack of all trades. He owns Sun Group International, a company that has invested in and constructed commercial buildings such as Freedom Square, Dragon City, China Town and Sun Square Hotel at Oshikango and the Ondangwa Sun Square Mall.
Huang has connections to the country's top office through private dealings with the President and other senior government officials. Huang and Geingob co-own African Sunrise Investment, a real estate company that aims to build a township east of Windhoek.
Geingob, through his family trust, has a 20% stake in African Sunrise Investment; his ex-wife Loini has 20%; while their partner, Huang, owns 60%.
The company wants to build 400 apartments, 24 villas, two mansions and a hotel in the upmarket area east of Windhoek. Geingob donated a house to the Hansen family in Katutura after they lost their home in 2007. The new house was built by Huang's company Sun Investment Group for N$600 000.
*This story was produced by The Namibian's investigative unit team. Send us story tips via your secure email to: [email protected]
---