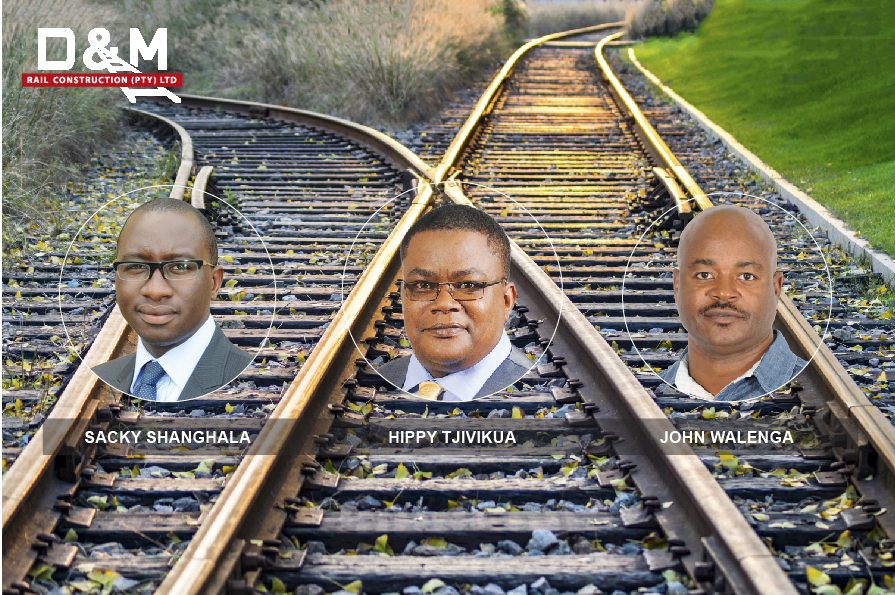 ---
By Ndanki Kahiurika | 19 July 2016
---
THE WORKS ministry has questioned a multi-million-dollar open-ended agreement between TransNamib and D&M Rail for the rehabilitation of the Kranzberg-Tsumeb railway line.
Documents seen by The Namibian show that the works ministry had approached the Office of the Attorney General in January this year, asking for advice about the validity of the agreement that TransNamib had with D&M, and if it could be nullified.
D&M is owned by attorney general Sacky Shanghala's friend and business partner James Hatuikulipi as well as John Walenga, among others.
TransNamib had entered into an agreement with D&M in 2014, where they agreed that D&M would be the appointed contractor to undertake rail maintenance and heavy repairs.
Together, they formed Namibia Rail Construction in 2014, in which TransNamib holds 51% ownership, while D&M Rail and Construction owns 49%.
Over N$400 million has been spent on emergency repairs since 2012 when D&M rail and TransNamib had signed a four- months' contract for emergency repairs.
Acting TransNamib chief executive officer Hippy Tjivikua had written to permanent secretary of works Willem Goeiemann on 1 January 2016, saying the agreements he had signed with D&M were borne out of a desperate situation in which TransNamib found itself back in 2012.
He confirmed the content of the letter in an interview with The Namibian yesterday.
Tjivikua said TransNamib had experienced seven derailments in a matter of two months due to the poor condition of the rails and needed urgent help, hence the agreement to have D&M Rail fix the railways. As a result of this, TransNamib signed an agreement with D&M on 1 December 2012 which ended on 31 March 2013, after which another preliminary agreement was signed to keep the railways running.
The latest agreement, signed in 2014, is worth N$100 million a year.
Windhoek Consulting Engineers' (WCE) Victor Rieger told The Namibian yesterday that D&M Rail has only been doing emergency repairs since 2012, and has not yet started on the rehabilitation of the railway.
WCE was appointed by the works ministry to carry out supervision on the work done by D&M Rail.
Rieger also said the agreement had not included a stipulated time frame in which it should come to an end because the ministry was not sure whether they would have enough money for the project in each year's budget.
The works ministry had wanted to award the tender to four other companies, but its hands were tied as TransNamib had already entered into an agreement with D&M.
Shanghala did not shy away from giving advice on the contract, although he is facing a conflict of interest due to his partnership with Hatuikulipi, saying the works ministry cannot get out of the agreement as only TransNamib has the power to end it.
Shanghala, who disputed that his advice was compromised as it involved a company owned by his partner, had told the government that: "It is fruitless to question the validity of this agreement".
He told The Namibian that the agreement was crafted with the utmost integrity.
TransNamib has autonomous power over the country's railway structures, as per the National Transport Services Holding Company Act of 1998 to manage the railways, and be responsible for the costs.
The company can also bypass tender board regulations and enter into agreements with any person, organisation and authority. Another agreement with government which gives TransNamib powers to negotiate on its own is the Railway Management Agreement of 2001, which is still valid.
Shanghala warned the government that it could be taken to court if it terminates TransNamib's contract with D&M Rail.
"It is […] advisable that caution be taken in seeking to terminate without justification, as such would necessarily attract sanction from our courts," he said.
The works ministry had hoped to find ways to terminate the agreement because of the omission of the time frame.
However, Shanghala said "that the 2014 agreement lacks the stipulation of a definitive time period is generally not a requirement for the validity of a contract, and as a matter of fact, such omission may have been deliberate".
He said this does not mean the agreement 'will last until Jesus comes', but for a reasonable time.
During the same time that the works ministry sought Shanghala's advice, it also requested TransNamib to submit a report on the status of the 2014 agreement and Namrail.
Tjivikua said TransNamib appreciates, cherishes and is comfortable with "these symbiotic relationships. Besides, Namrail has won tenders, and has been participating in various private projects.
"TransNamib is of the opinion that it should be given preference to carry out such work because it is a state-owned company, in a similar fashion that the Roads Contractor Company has been empowered to supply ballast for construction projects," Tjivikua stated.
The works ministry did not respond to questions sent to them last Wednesday.
---