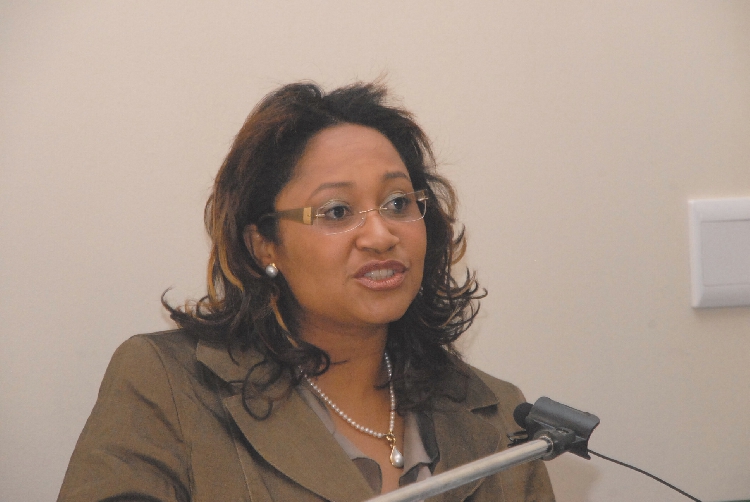 ---
By Shinovene Immanuel | 13 June 2016
---
A NATIONAL fund set up to help poor students who cannot afford university fees has handsomely paid N$2,2 million to its board members last year, including a N$120 000 allowance to the board chairperson for a trip to Cuba.
The Namibia Students Financial Assistance Fund (NSFAF) board members who were appointed in January last year have been claiming sitting fees like never before. Board fees seen by The Namibian paint a picture of a cash cow, with allowances increasing from N$315 000 in 2013 to N$1 million in 2014 and to over N$2,2 million in 2015.
NSFAF chairperson Patty Karuaihe-Martin was paid N$120 000 for her trip to Cuba from 12 to 20 September last year (enough to pay registration fees for 40 students at the Namibia University of Science and Technology for one semester).
The N$120 000 included eight nights in Cuba for N$10 500 per day, which equals to over N$84 000 in board sitting fees. Her travel allowances for that trip equalled N$40 000.
The Namibian Broadcasting Corporation, which accompanied the Namibian delegation, reported last year that there were 23 Namibians who were studying in Cuba in 2015.
Karuaihe-Martin told The Namibian last week that she met Namibian students in Cuba to hear their problems, which she said were solved later.
"A follow-up trip was undertaken by the NSFAF secretariat to Cuba," she stated.
This means that low-ranking NSFAF officials also claimed money for the follow-up meetings in Cuba.
Besides the Cuban trip, Karuaihe-Martin was paid N$74 000 in May last year. Part of that money was board sitting fees for meetings with top government officials, such as a March 2015 meeting with President Hage Geingob, then Prime Minister.
Ironically, it was at that meeting that she urged former NSFAF beneficiaries who failed to repay their loans not to be selfish, and to think about future applicants.
Karuaihe-Martin was paid N$10 580 in board fees for the meeting with Geingob. The rest of the N$74 000 paid in May to her includes N$30 000 in March last year for three meetings which include talking to the education permanent secretary, the minister of education and signing performance agreements with the line ministry.
While she was paid N$74 000 in May, her fellow board members averaged around N$26 000 in that month.
They were were paid as follows: Mbushandje Ntinda (N$25 800), Leezhel van Wyk (N$27 200), Timotheus Angala (N$26 600), Franz Gertze (N$14 900) and Olavi Hamwele (N$27 900).
Although the NSFAF board chair insisted that there was nothing untoward about the payments, the government banned board members from claiming travelling fees after her trip.
In October last year, public enterprises minister Leon Jooste told parastatal board members to stop unnecessary foreign trips and claiming sitting fees for meetings abroad.
Karuaihe-Martin said the Cuban trip was not NSFAF's initiative.
"NSFAF was not a lead institution for the undertaking of the trip concerned, but was merely invited to form part of the presidential delegation," she noted.
Sources said higher education minister Itah Kandjii-Murangi insisted that Karuaihe-Martin should travel with her to Cuba since a NSFAF executive was heavily lobbying to tag along.
"The payments made in my favour were done in accordance with the NSFAF board remuneration policy as approved by the minister of education," the chairperson stated.
Karuaihe-Martin was not the only one enjoying the newfound riches at the fund through board fees. In fact, sources said most board members travelled to countries such as Thailand and Malaysia, trips which allowed them to claim allowances.
The NSFAF's board is responsible for the management, administration and control of the fund.
The trend in the figures provided to The Namibian shows that the chairperson has been one of the biggest beneficiaries of board fees. However, these figures might massively change if the claims of other board members who travelled abroad are included.
The NSFAF is one of the biggest beneficiaries of state subsidies. The fund is set to receive over N$4 billion from the government in the next three years.
A board member who declined to be named said they deserve the allowances since they deal with a budget of over N$1 billion per year. The same source claimed that they have now decided not to claim for most of their meetings after the line minister complained about the trend.
A source sympathetic to Karuaihe-Martin said the board chairperson meets NSFAF's chief executive Hilya Nghiwete each week (even though that has not happened in recent weeks) to guide and help the executive sort out the troubles at the fund. The same source said the chair did this without claiming allowances.
Karuaihe-Martin insisted that there were governance matters which needed urgent attention.
She said the board travelled to understand NSFAF in order to develop a strategic plan.
Even though the administration of the NSFAF has improved since 2013 when it became an independent parastatal, the institution has been rocked by controversies over its affairs, which has attracted the eyes of the Anti-Corruption Commission.
---