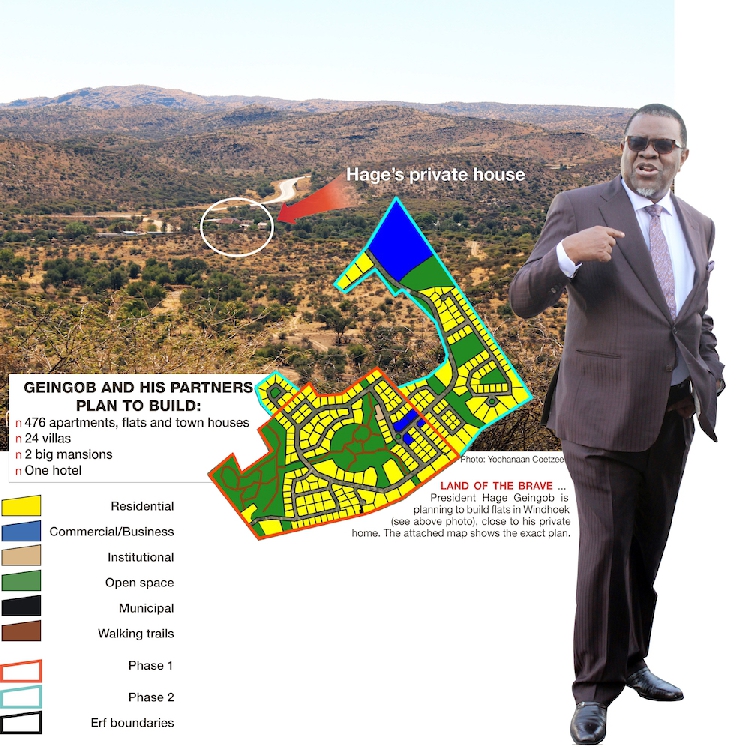 ---
By Shinovene Immanuel | 3 June 2016
---
The President, in his private capacity, is part of a project that will build more than 400 apartments, 24 villas, two mansions and a hotel in the upmarket area of the Klein Windhoek farmlands (east of the capital). His partner is a Chinese national.
The land is alongside the road linking the capital city to Namibiarsquo;s only international airport, named after Namibiarsquo;s liberation icon Hosea Kutako. It is the same township where government is rebuilding former President Sam Nujomarsquo;s house at a cost of over N$20 million.
Geingob and his business ally will build the township through African Sunrise Investment Pty Ltd, a firm of which he owns at least 20% through the Dr Hage G Geingob Family Trust, according to his asset declaration made public a year ago.
His exminus;wife Loini owns 20% of African Sunrise Investment, while the remaining 60% belongs to Chinese millionaire Yuequan Jack Huang (48). Huang is a director of the firm, together with the Presidentrsquo;s daughter ndash; Nangula Axabi Geingob Dukes (38) and Helmuth Angula (40), Loinirsquo;s son.
Geingob and his exminus;wife sold 39 hectares to African Sunrise Investment in 2014 for a measly N$393 000, according to the deeds register. The market value for such a space would be anything over N$50 million. The 39 hectares sold by Geingob and his exminus;wife to their own company for N$393 000 can accommodate over 1 300 lowminus;cost houses measuring 300 square metres each.
The land sold was a portion of an area next to the Presidentrsquo;s private villa, the Casa Rosalia.
The President insisted this week that he cannot be termed a partner of Huang because his shareholding in the same company with the Chinese millionaire is through the family trust. However, Geingob is the key trustee and beneficiary of the Chineseminus; dominated firm, which listed the Presidentrsquo;s address as the company address. In fact, company meetings are held at his villa. [Read the full answers of the President on page 6.]
Geingob also said he did not know the details of the project.
Information about the planned township comes from a May 2016 document prepared by African Sunrise Investment on the appointment of consultancy firm Geo Pollution Technologies which will assess the environmental impact of the development.
Geingob and his partners plan to establish a new township on Portion 105 of the Klein Windhoek Town and Townlands No. 70 and lsquo;potentially on neighbouring land yet to be acquired for a hotelrsquo;, the document said.
The development is split into two phases. According to the document, they plan to build apartments on the land measuring 39 hectares for phase one. But the President and his partners also want to get an additional 29 hectares from the City of Windhoek to build more apartments and a hotel.
If they succeed in getting the additional 29 hectares, it will mean that Geingob and his Chinese partner could own land measuring over 60 average football fields (60 hectares) in Klein Windhoek.
The document seen by The Namibian shows that the first phase will produce 151 plots to be used as follows: 164 duplex apartments, 88 townhouses, 140 flats, 24 villas, three plots for businesses and one plot for a cregrave;che. Two lsquo;big mansionsrsquo; on a 10 000 square metre [one hectare] plot will also be built.
The second phase will include 15 residential plots, 84 duplex apartments, eight plots for public open spaces and one hotel which will be built on land measuring around five hectares (enough for 160 plots measuring 300 square metres each).
The planned development, including a hotel, comes at a time when the government has budgeted to build a dual carriageway road from Windhoek to the Hosea Kutako International Airport for N$800 million. Geingob and the government have strongly advocated for the building of a bigger airport, apparently to turn Namibia into a travel hub in the mould of Singapore and Dubai.
Before going ahead, however, Geingob and his partners need an environmental clearance from the environment ministry. Windhoekrsquo;s perennial struggle with water might be the biggest concern for the everminus;expanding city.
The developers said some of the benefits of the project include increased residential property, economic development, access to public services and skillsrsquo; development.
The project comes amid tension in Namibia over the shortage of housing for the middleminus;class and the poor, who are in need of over 100 000 residential units. Property developers, together with the banks, are amongst the biggest winners of the housing shortage.
The move by Geingob to allow Chinese nationals to own large tracts of land goes against policies mooted by the ruling party on foreign land ownership.
In fact, a bill to ban foreigners from owning land was introduced last year by urban minister Sophia Shaningwa.
ldquo;We have gone back to the Cabinet decision that dictates that foreigners must not be allowed to acquire land in Namibia, and that they may only lease it,rdquo; Shaningwa said. That bill was withdrawn last year.

IT WASNrsquo;T ME
Geingob told The Namibian via State House press secretary Albertus Aochamub that he is not involved in the township project, and ldquo;is therefore not aware of the aboveminus;mentioned plans, nor is he aware that final plans have been draftedrdquo;.
This is despite proof that plans are at an advanced stage and newspaper advertisements were published this week, inviting the public to submit their views on the proposed development. The President has not said whether he keeps an eye on what is done in his name.
Aochamub said: ldquo;The President does not own 20% in African Sunrise Investment. A separate legal entity, the Dr Hage Geingob Family Trust, owns 20% in African Sunrise Investment. The President is one of a number of family beneficiaries of this trust.rdquo;
Geingob also denied knowing about a plan by his company to buy extra land measuring 29 average football fields.
ldquo;Please provide evidence that an additional 29 hectares has been applied for by African Sunrise Investment as the President is neither aware nor in support of such an additional land request, if such assertion is true,rdquo; Aochamub said. Proof was emailed to him afterwards.
The spokesman insisted that Geingob is not aware of a plan to construct a hotel on the land that his partner wants to get from the city of Windhoek.
ldquo;The President is not aware that a hotel will be built on the property and if that is the case, how a hotel whose ownership is undetermined will unduly benefit from stateminus;related transactions is unclear,rdquo; he said.
Geingobrsquo;s partnership with Huang is also under the spotlight, but the Head of State maintained that his involvement is a result of a forced transaction because of his divorce from his former wife.
Aochamub said appropriate measures are in place to ensure that there is an armsminus;length relationship between the 20% shareholding owned by the Family Trust in African Sunrise Investment.
ldquo;African Sunrise is limited to the development of the property partially sold. Further mitigation measures have been taken to remove the holding from the family trust and have it independently managed as an investment,rdquo; Aochamub stated.
Huang told The Namibian: ldquo;Jack Huang is not a business partner with Hage Geingob himself, but the shareholder of a company with the Dr Hage Geingob Family Trust.rdquo;
Last year, Geingob donated a house to the Hansen family in Katutura after they lost their home in 2007. The new house was built by Huangrsquo;s company Sun Investment Group for N$600 000.
Huang said the Klein Windhoek project is still at a preliminary stage.
ldquo;As far as we know, the board of directors of African Sunrise hasnrsquo;t had any plan to get involved in any other projects, not to mention state projects/deals, except this development,rdquo; he noted.
ldquo;Jack Huang has been investing in Namibia for more than 17 years. He and his variety of businesses donrsquo;t rely on or require undue benefit from the state. Instead, he has undertaken lots of social responsibilities, such as the wellminus;known medical scholarship project which has sent more than 30 students overseas for their sixminus;year study,rdquo; he said.
READ: Geingob explains township deal
bull; This story was produced by The Namibianrsquo;s investigative unit. See questions and answers with the President on page 6. Email us story tips: [email protected]
---