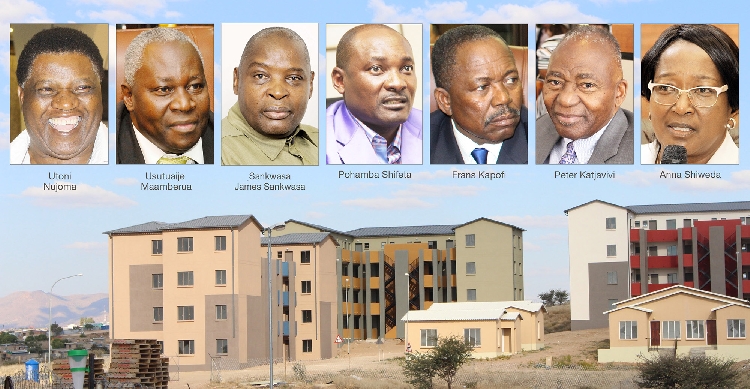 ---
By Okeri Ngutjinazo and Shinovene Immanuel | 9 March 2018
---
These details are included in the 2015-16 MP assets declarations.
The rules of parliament state that members of the National Assembly are required to declare their assets and financial interests annually to ensure that they do not use their positions corruptly to enrich themselves.
The release of the latest assets declarations comes nine years after parliamentarians last revealed what they owned in 2009.
The documents show that there is no housing affordability crisis among Namibian parliamentarians, with only eleven out of 104 lawmakers indicating that they "did not own" any residential property. The data shows that 93 MPs own a combined 176 houses and plots.
According to the database, 48 lawmakers own more than one house or plot. Farms owned by MPs were excluded from their property portfolio for this article.
While some lawmakers were honest in declaring what they owned, others appeared to conceal their properties, only indicating that they have investment companies in which they effectively hide their property holdings from the public.
Environment minister Pohamba Shifeta is on paper one of the lawmakers with the highest number of houses and plots under his name.
Shifeta declared that he owns seven properties. These include a residential plot measuring 6,8 hectares (around seven average football fields) and a four-bedroomed house in Windhoek, a 770 square metre plot at Henties Bay, and a 1 400 square metre plot at Eenhana in the Ohangwena region.
He also disclosed that he owns two residences (a five and a 10-bedroomed house) at Ongenga in the Ohangwena region. Shifeta indicated that he also owns a 1 200 square metre residential plot, but did not indicate where it is.
Deputy works minister Sankwasa James Sankwasa owns six properties, including three residential plots at Katima Mulilo, measuring 900 square metres, 1 326 square metres and 1000 square metres, respectively. He has another 1 300 square metre village plot at Mafuta in the Zambezi region, which he said was being developed.
Home affairs minister Frans Kapofi owns four residential properties in Windhoek, and an additional property at Ondangwa in the Oshana region.
Deputy agriculture minister Anna Shiweda owns a 1 700 square metre plot in Windhoek, as well as a 20 000 square metre plot and a property at Swakopmund.
She also owns a small shop measuring 1 000 square metres, and a cattle post of 10 hectares.
Land reform minister Utoni Nujoma declared that he owns four residential properties in Windhoek, Ongwediva and "Kawasaki".
Other politicians who own four properties each are works minister John Mutorwa, Swanu MP Usutuaije Maamberua and trade minister Tjekero Tweya.
Maamberua and Mutorwa both declared one property less in 2016 than in 2015.
National Assembly Speaker Peter Katjavivi owns three properties in Windhoek through a close corporation. Katjavivi did not declare, at least publicly, the details of the close corporations that own his houses, but he owns 50% in two of the properties and 35% in the other.
Economic planning minister Obeth Kandjoze declared that he owns three residential properties, including 50% of a 730 square metre vacant plot at Swakopmund. He also owns 50% of two properties in Windhoek, namely a two-bedroomed flat and a 1 270 square metre residential property.
Prime Minister Saara Kuugongelwa-Amadhila disclosed that she owns three residential properties in Windhoek. She said two of the houses had four bedrooms each, while the other had two bedrooms.
Loide Shinavene owns three properties, including a four-bedroomed house in Windhoek, a restaurant and a six-flat complex at Engela in the Ohangwena region.
Deputy prime minister Netumbo Nandi-Ndaitwah and former home affairs minister Pendukeni Iivula-Ithana are in a group of 26 lawmakers who own two properties each.
Nandi-Ndaitwah owns a property at Henties Bay and at Eenhana, while Iivula-Ithana has one property at Ongwediva and one in Windhoek.
Finance minister Calle Schlettwein owns a property in Windhoek, and one at Swakopmund.
Revelations about the property portfolios of lawmakers come at a time when government and parliament continue to fail to adequately address the nations housing crisis.
The Namibian reported in 2015 that a special Cabinet committee adopted 89 resolutions on land and related matters. Most of those resolutions were never passed into law, as proposed.
---