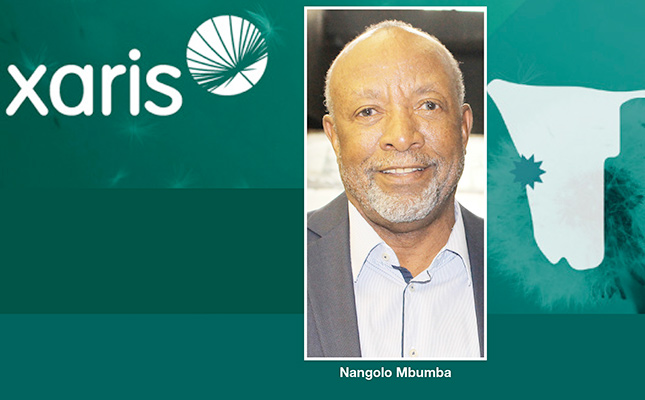 ---
By Ndapewoshali Shapwanale and Shinovene Immanuel | 7 March 2018
---
PARLIAMENTARY documents show that vice president Nangolo Mbumba failed to declare his interest in Xaris Energy and two properties to parliament as required by law.
Mbumba, who now occupies the second-most powerful position in government after his appointment last month, was supposed to declare what he owns as required by law.
The Constitution states that members of the National Assembly should submit their financial assets and interests every year to ensure that they do not use their newly appointed positions for self-enrichment.
Before two weeks ago, the last assets register for lawmakers was published in 2009.
The latest declarations, for 2015 and 2016, show that Mbumba did not declare his interest in Xaris Energy for those two years and his farm and Ondangwa house in 2016.
Xaris is a company that wants to partner NamPower in the construction of a N$5 billion power plant at Walvis Bay. Mbumba and his family are part-owners of Xaris, with businessman Boni Paulino's family.
Xaris was at the forefront of getting the deal to construct the power station at Walvis Bay, but that plan was stopped at the end of last year by the NamPower board.
The Namibian reported last week that new energy minister Tom Alweendo said the NamPower board had informed him two weeks ago that they had terminated the N$5 billion Xaris Energy deal.
Even though the contract was cancelled, people familiar with the matter suspect that Xaris could still be paid millions by taxpayers as a settlement for the cancelled power deal.
Xaris claims on its website to have already invested close to N$400 million in the project, a figure disputed by some experts, who say the amount looks inflated.
Mbumba has publicly confirmed his shareholding in Xaris. He told the media at State House last month, when he was sworn in as vice president, that his business dealings will not cause a conflict of interest because he has already declared his interests and assets to the President.
"Which one can cause a conflict of interest? Yes, I have business interests in Xaris, but it is a dormant thing now, stopped by those who have the power," he said.
It is not only Xaris that the vice president failed to declare.
Mbumba, according to the National Assembly assets register for 2015, disclosed that he owned a farm in the Grootfontein district, measuring 5 300 hectares, two houses in Windhoek and one house at Ondangwa.
The 2016 assets register, however, shows that Mbumba did not declare his Ondangwa house and the farm.
The executive director in the Office of the Vice President, Moses Pakote, avoided answering questions about the lack of consistency in Mbumba's declarations.
He said "the declaration made by the vice president is a public record", and that it was open for public scrutiny.
"There is nothing new about it, unless there are amendments of course," Pakote said.
Mbumba will not be obliged by law to declare his assets since he is now vice president. His declaration shows that he owns 30% of a service station, called Agra Ondangwa.
Under directorships and partnership, Mbumba indicated "Agra 70%".
National Assembly Speaker Peter Katjavivi refused to explain whether Mbumba disregarded parliamentary rules in not fully declaring his assets.
"This is a matter for the parliamentary committee on privileges, and therefore in my capacity as Speaker, I am not answering these questions," Katjavivi told The Namibian on Monday.
Mbumba's inconsistent declarations add to concerns that many politicians are disregarding the law, and continue to under-declare their assets and interests.
Katjavivi himself failed to explain how much he was paid by international mining company Vedanta Mining for "advising" it on social responsibility.
He refused to answer questions, but was unhappy with how The Namibian reported the matter last week.
Katjavivi was especially irked by a sentence in a Friday article that said international mining companies have a history of paying politicians to push through deals under the smokescreen of consultancies.
"Your comment in the story is a misplaced generalisation, insinuating that this applies to me. This is insulting and completely baseless," he stated.
Katjavivi claims that he helped the international mining company with their work.
"This consultancy started a few years ago when I was an ordinary member of parliament. My role is one of advising on national development priorities, government policies concerning natural resources, the importance of local beneficiation, and the greater involvement of local communities through social responsibility projects, including the social upliftment of youth, the development of sports and health facilities for the community," Katjavivi said.
Another declaration which attracted attention was that of deputy public enterprises minister Veikko Nekundi, who said a company called Jeovani Properties bought him a vehicle. Nekundi said he will pay back the company "on certain repayment terms".
The politician said the company bought him the vehicle before he became a lawmaker. He said information about the price of the vehicle was confidential.
Little is known about Jeovani Properties, but it was one of the entities that The Namibian linked to businessman Vaino Nghipondoka in an article in 2016.
Jeovani Properties won a N$60 million contract to construct the fisheries ministry's head offices in Windhoek.
At the time, Nghipondoka denied direct links to Jeovani, saying "those are my boys … They are doing well".
Jeovani Properties' owner, Bernad Mumbashu, was also unhappy with the link, saying he has no connection to Nghipondoka. He said he owns 100% of the firm.
Mumbashu said he was friends with Nekundi, and bought him a vehicle on "agreed terms" when Nekundi's car broke down.
---