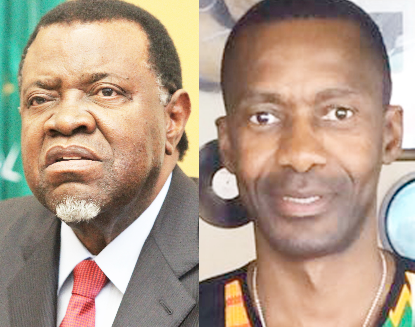 ---
By Shinovene Immanuel | 10 March 2017
---
THE Bank of Namibia's financial crime-busting unit, the Financial Intelligence Centre (FIC), investigated whether politically connected businessmen Desmond Amunyela and his partner Lazarus Jacobs helped relieve the hefty municipal debts of President Hage Geingob in return for protecting a former Israeli fugitive.
The investigation is confirmed in an FIC report seen by The Namibian, which indicates that the centre did not reach a final conclusion about whether any politician benefited from the fugitive's dollars.
However, it found that Amunyela and Jacobs paid various municipalities – including Windhoek – to which Geingob was heavily indebted.
The centre said an intensive police investigation was needed to ascertain which municipal accounts were credited.
The report makes it clear that Geingob was one of the politicians it investigated, naming him in its conclusions.
The FIC denied that any investigation was currently underway, however, Amunyela confirmed that he and Jacobs were questioned by the police last year in connection with transactions, including payments to the Windhoek municipality.
THE BEGINNING
The FIC is an elite investigative unit at the central bank that monitors transactions for money-laundering, the funding of terrorism and other financial crimes.
Documents show the FIC probed the two businessmen's bank accounts, focusing on transactions between 2006 and 2016.
It wanted to know whether Amunyela and Jacobs helped Israeli-American businessman Jacob 'Kobi' Alexander, a former fugitive from American justice, pay Namibian politicians to stave off deportation.
Alexander first arrived in Namibia around April 2006, and officially settled in July 2006. He returned to the US 10 years later to face multiple counts of fraud and money laundering involving US$138 million (N$1,8 billion at the current exchange rate).
He was sentenced to 18 months in prison last week in New York.
The Namibian reported in 2014 that court documents showed that Jacobs admitted that he received N$6,7 million from Alexander. However, he said this was for advertising work they had rendered to him.
The two businessmen were close to Geingob at the time.
The FIC probe came seven years after Geingob was fired as prime minister by former President Sam Nujoma in 2002. Geingob was still struggling financially in 2008.
The weekly tabloid Informanté reported in 2008 that the Windhoek municipality threatened to sue Geingob over N$371 000 in unpaid water and electricity bills.
The FIC investigation was triggered by information it received on 27 October 2009, the documents show.
The inteligence report states: "Information obtained stated that Alexander and his business associates paid the water and electricity bills for prominent political figures on condition that (he) be granted … permanent residence in Namibia, and his work permit extended to 40 months from the current … 24."
The allegation was that bills of politicians – referred to in the report as politically exposed persons – were paid via Paragon Investment Holdings, a company owned by Amunyela and Jacobs.
A politically exposed person is defined by the intergovernmental Financial Action Task Force as an "individual who is – or has been – entrusted with a prominent public function, but that their positions can be abused to perpetrate money-laundering offences, corruption and bribery."
As Namibia's first Prime Minister and later trade minister, Geingob was considered a politically exposed person.
The FIC investigated eight bank accounts of top politicians, to determine "whether there were any funds' inflow from Alexander, and the alleged payments to the City of Windhoek in favour of the named prominent politicians".
Three of the accounts were held at First National Bank, three at Standard Bank and two at Nedbank.
Investigators said they found no payments by Alexander directly into the accounts of suspected politicians.
"However, there were payments made to the City of Windhoek and other municipalities (by Amunyela and Jacobs), as well as to Otto Ipinge, the former mayor of Otjiwarongo from the following accounts," the report stated.
Ipinge told The Namibian that he does not recall the N$10 000 paid into his bank account.
Other municipalities which received money from the two businessmen include Grootfontein, Otjiwarongo, Omaruru, Swakopmund and Walvis Bay.
Informanté reported that Geingob agreed in 2007 to pay N$10 000 per month to settle the arrears, but that by 2008, he had failed to honour this commitment.
The FIC report states that the money paid by Amunyela and Jacobs to the Windhoek municipality was below "the alleged N$10 000 monthly payments in favour of Dr Hage Geingob".
It continued: "Although the FIC was able to detect the above payments made to various municipalities, the determination of respective municipal accounts that were paid proved futile as it is beyond the mere account statement analysis, and requires intensive inquiry by law enforcement agencies."
The implication of this is that the transactions linked to Geingob and other politicians should be investigated by the police. The Namibian could not establish whether the police conducted such an investigation.
At the time of the investigation, Amunyela was Geingob's close friend and referred to him as his "uncle", but their friendship soured in December 2014 after a personal fallout.
At the time of the alleged payments, Geingob was the trade minister, with strong prospects of following Hifikepunye Pohamba as President.
The FIC started investigating in 2009, but the probe is understood to have gained momentum in mid-2012. Sources said the police monitored and collected boxes of bank transaction statements of the two businessmen and their companies.
"IT'S NORMAL"
Amunyela confirmed the investigation, and said that the FIC questioned him and Jacobs last year regarding the transactions.
He said he saw nothing wrong in financial transactions between him and Geingob "since we were close at the time".
"It's normal. Our relationship was such … that it will not be strange for us to exchange money. We have been together for such a long time. One thing you can't take away from Geingob is that he is a giver," he said.
Amunyela dismissed claims that they funded Geingob, knowing that the politician had a good chance of succeeding Pohamba as President.
"It's not about buying someone to get favours. We didn't know that he would be President one day. I know for sure that Geingob had no links to Kobi, nor did he meet with Kobi. If he did, it was not through us," he said.
"The Kobi issue was as a result of Max Hamata's writing that fugitive money was being used to buy a media company (Windhoek Observer), and that Geingob was not fit to be President," Amunyela said.
Hamata, editor of the weekly Confidénte tabloid, was the editor when Informante exposed Geingob's municipal debt scandal. Hamata said last week that he should not be dragged into fights between the businessmen and the President.
The Namibian understands that Amunyela and his partner have not been informed that the investigation is closed since they were questioned last year, a sign that the investigation was either ongoing, put on hold or recently closed.
---