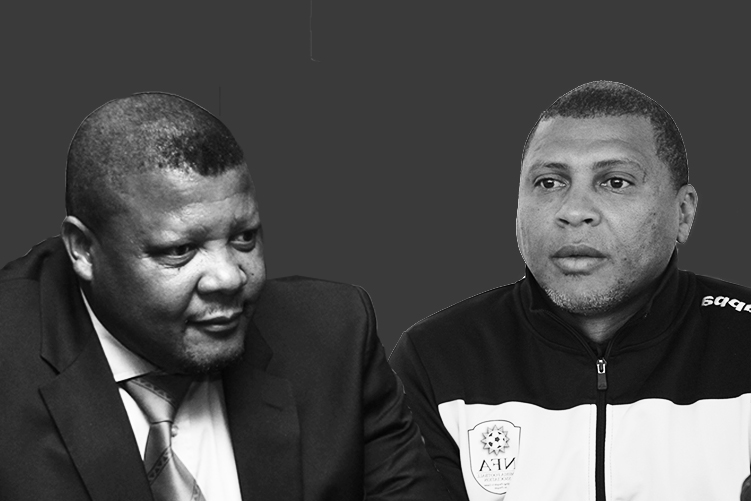 ---
By Timo Shihepo | 30 October 2020
---
THE Anti-Corruption Commission (ACC) is widening its investigation into several football personalities, including former Namibia Football Association (NFA) secretary general Barry Rukoro and ex-national team head coach Ricardo Mannetti, for alleged corruption.
Mannetti and Rukoro have denied any wrongdoing. Former Brave Warriors assistant manager Ghanaian Jakes Amaning, who came to Namibia in the 90s is also implicated.
Rukoro was football's chief administrator for 12 years and accused others of accepting bribes to support Morocco's 2026 Fifa World Cup bid.
Football regulator NFA, has been paralysed by power struggles, corruption and bribery allegations over the years.
ACC spokesperson Josefina Nghituwamhata confirmed that investigations started two years ago and are moving forward.
"Yes, I can confirm that a case was opened in 2018. The investigations are at an advanced stage. More people could be included," she said.
An ACC letter titled: 'Investigation of alleged corrupt practices into the financial affairs of the Namibian Football Association' dated 25 April 2019, shows that at least 11 people were being investigated.
The probe focuses on corruption and self-enrichment allegations.
The letter was addressed to the Fifa normalisation committee that was set up last year to temporarily run Namibia's football.
"The commission is investigating alleged corrupt practices of employees of the Namibia Football Association and other role players," the ACC said.
The list includes: Mannetti, Rukoro, national team manager Tim Isaacs, Amaning, ex-NFA executive member Roger Kambatuku, national team kit manager Immanuel Mungendje and former senior national team captain Ronald Katjijere.
The others are NFA internal auditor Benjamin Ntithemuka, NFA caterer Taimi Vilho and Rukoro's wife Leonardine.
Mannetti yesterday said he had not been questioned by the ACC.
"I am surprised that a coach has been brought into financial affairs," he said.
Documents seen by The Namibian show that Amaning received more than N$2,4 million between 2015 and 2017 from NFA.
Ironically Rukoro signed for about N$488 000 of what Amaning allegedly got.
'LIFE GOES ON'
Rukoro said the allegations stem from the fact that some people opted to sleep at home instead of hotels and pocketing the allowances.
"We were paying people hard cash as they preferred sleeping at family houses instead of hotels," Rukoro said.
"Why is it a problem when NFA is doing it if people in government also do the same?" he asked.
Amaning has returned to his home country, Ghana.
The ACC insisted they will work with international partners if necessary.
"It doesn't matter whether a person is in the country or not. Should they be charged, we will work with international authorities to make sure the law is respected and followed," the ACC spokesperson said.
Isaacs confirmed being questioned by the ACC but said he was not worried.
"Are they taking long to conclude? Investigations are of course investigations. I am sure they will be concluded, and they (investigations) have not affected my way of living. Life goes on," Isaacs added.
NFA executive member Roger Kambatuku commented: "I was supposed to be questioned last week but it was postponed because the person who called me said something had come up".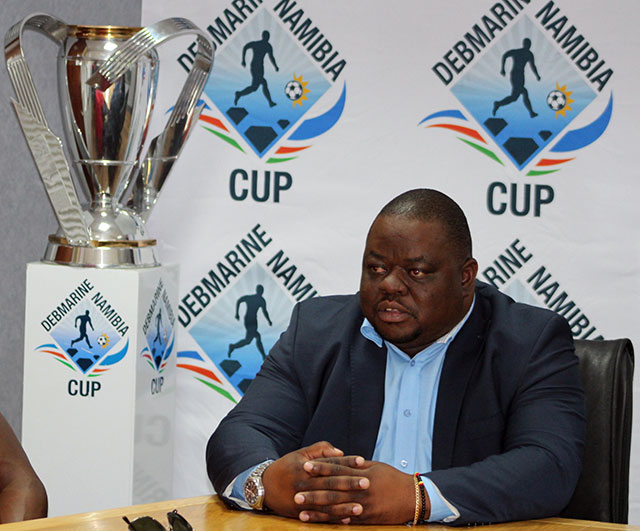 Kit manager Immanuel Mungendje said: "I have been questioned twice, last year, but I am not in any way worried."
Katjijere was not reachable for comment.
SITTING PRETTY
"After six months of being neglected, why should I now go play for the national team […] to feast on expensive food at the best hotels when my young daughter doesn't have anything to eat?"
This was a response from a national team player when asked why he had not reported for a training camp after the Covid-19 state of emergency ended.
The player was referring to how the NFA allegedly neglected footballers even after it received N$8 million from Fifa to take care of activities affected by the lockdown.
Rukoro earned N$76 000 per month, including a basic salary of N$40 000 and allowances such as travelling (N$9 000), housing (N$10 000), cellphone (N$2 000) and entertainment (N$5 000).
Also included was a N$10 000 "inconvenience fee".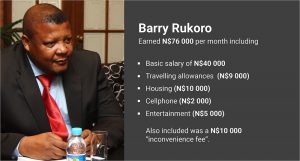 Rukoro said this fee was to compensate him because it would have been costly for NFA to pay him overtime.
"It was impossible to calculate overtime because of the irregular hours matches would take place. It was agreed that an inconvenience fee would save NFA from paying more money," said Rukoro.
He added: "Organising football in Namibia is expensive. If I wanted to eat (sic) money at NFA, I would have organised committees every day, and get sitting fees."
Former NFA president Mbidi was paid N$340 000 from the Confederation of African Football (CAF) per year. He claimed head of delegation fees of N$7 000, and match appearance fees of about N$10 000. Mbidi claimed and was paid about N$560 000 as allowances for NFA president in 2017 and 2018.
The NFA is yet to settle Mbidi's N$20 000 claim for appearing at the Chan game when Namibia played Morocco. He also submitted a claim for N$40 000 after Namibia qualified for the 2018 Chan second round but NFA is yet to pay him.
Sources said these claims would be higher if the team played away from home. This practice was stopped by the Fifa normalisation committee.
Sources said NFA officials would withdraw as much as N$200 000 in cash and reference it as the players' bonus or S&T but the players rarely saw any of this.
"It's this kind of money that makes people so keen to cling onto power," a source said.
* This article was produced by The Namibian's Investigative Unit. This article is part of a series of stories in football.
Read more at https://investigations.namibian.com.na for additional commentary on football tribalism and the stopped spending spree.