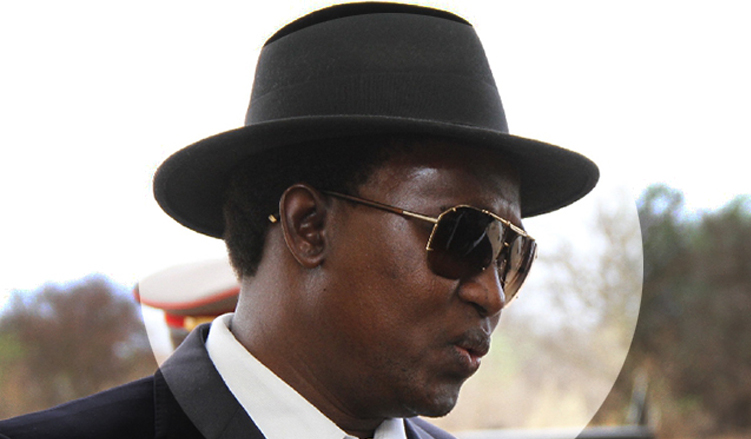 ---
By Shinovene Immanuel, Sakeus Iikela | 21 February 2020
---
SWAPO's Oshikoto regional coordinator, Armas Amukwiyu, was paid N$6 million from money diverted from the National Fishing Corporation of Namibia (Fishcor).
The Namibian reported two weeks ago that last year, Amukwiyu returned a N$1 million vehicle to the Anti-Corruption Commission.
The N$6 million payment to Amukwiyu – via a Sisa Namandje & Co trust account – is a separate transaction from the N$6 million paid to businessman Vaino Nghipondoka.
Those two transactions are part of N$15 million transferred from Fishcor to Sisa Namandje & Co's trust account in November 2015.
The Namibian understands that Amukwiyu made a statement under oath to the Anti-Corruption Commission last year, saying he did not know that the money had come from Fishcor. Sources said Amukwiyu told officials that he thought the money was a party donation from businessman James Hatuikulipi, who was Fishcor's chairperson at the time. Amukwiyu is said to have paid other party leaders for Swapo operations.
Hatuikulipi is among the people so far accused of corruption in what has become known as the Fishrot scandal. Amukwiyu declined to comment when approached for comment yesterday. "I've already given a statement to the authorities. I don't want to compromise the investigations," he said. Amukwiyu's statement could be the clearest evi-dence that money was channelled from the national fishing company to ruling party campaigns.
Amukwiyu was part of the circle of businessmen who was once clustered around president Hage Geingob. He supported Geingob's march to State House at the 2012 Swapo elective congress.
The Namibian reported in April 2015 that Geingob wanted Amukwiyu to become acting Swapo vice president.
But his sudden rise did not last long. Amukwiyu and his friends Nghipondoka and businessman Des-mond Amunyela fell out of favour with Geingob by early 2016.
Geingob – the man they once called "un-cle" – turned into a political rival at various party leadership contests since then.
CAMPAIGNS
Government officials suspect that Amuk-wiyu's payment was a reward for his role as head of a regional coordinator forum.
Party regional coordinators – or regional political heads – often yield influence at grass roots level.
The regional coordinators' forum chair-personship was ostensibly created to, among others, secure Geingob's political interests in the regions.
"It was an extension and continuation of Team Hage which won at the 2012 congress," a source told The Namibian in 2017.
Most of the individuals who benefited from the Fishrot scandal are said to be linked to Geingob's political campaigns.
Some estimate that a minimum of N$100 million was paid to Swapo for political campaigns.
It is, however, not clear if the president knew that his closest allies benefited from the Fishrot payments.
ACC director general Paulus Noa declined to comment whether the ACC is investigating transactions that involve money channelled to the ruling party.
Noa said current investigations were focused on analysing the bank transac-tions of people and entities implicated in the scandal and not allegations made on social media.
"We have seen allegations made on social media implicating some people who we are not investigating.
Our investigation is focused on the movement of money from Fishcor and an analysis of bank accounts of individuals who are implicated. By indi-viduals I mean persons and entities that are implicated in the scandal," Noa said.
He, however, said if the ruling party re-ceived money, the ACC would not be able to tell the amount channelled to Swapo at this point because the investigations are still not completed. "I will not be able to tell at this point how much money went to what entity or went into whose bank account. We have seen how some people received money and promised to transfer it somewhere else, but we saw that they deposited the money into their personal bank accounts," he said.
The president's supporters claim that it is not factual to say that the funds were paid to Geingob's supporters only, since most of it was paid as donations.
The Namibian understands that the Swapo donation committee were often told by the Fishrot masterminds that the funds came from the "white private sector".
Party officials admitted that the source of funds was never checked, making the party susceptible for questionable funders.
Swapo has since last year failed to admit that the party was contaminated with Fishrot funds. But Geingob has in a way admitted that the party funding was affected by the fishing scandal.
He said the government needs to enact a law to regulate public donations to political parties for elections or campaigns.
Such a law would clearly define what donations and contributions are given to political parties for election campaign purposes, Geingob said at last year's last Cabinet meeting.
SWAPO-DE KLERK TIES
The Namibian understands that Fishcor funds were partly paid through the law firm – De Klerk, Horn & Coetzee (DHC) Inc.
The law firm is accused of diverting around N$75 million from Fishcor to certain indi-viduals. Swapo is said to be a beneficiary of these payments.
Stoan Horn, a director of DHC Inc, on Tuesday declined to comment on allegations that the law firm paid funds for Swapo."The question that you asked forms part of the investigation. We are giving our full cooperation to the government institutions and do not want to jeopardise any investiga-tions," Horn said.
The key person in this transaction is said to be lawyer Marén de Klerk, who travelled to South Africa last month and has not returned. He is a co-partner at DHC Inc. He also served as a director of a Fishcor subsidiary that faces allegations of corruption.
Swapo's leadership refused to comment on questions about payments made to the party.
Swapo has been mum on allegations that its party campaigns were funded with proceeds from fishing corruption.
The Namibian reported last year that statements submitted to Namibian authori-ties by whistleblower Jóhannes Stefánsson, then managing director of Icelendic fishing company Samherji's operations in Namibia, indicate that Samherji started paying bribes to politicians in 2014. "In the preparation in 2014, N$5 million was paid from Mermaria Seafood Namibia's bank account at FNB to one of the companies of
James Hatuikulipi in Namibia. This pay-ment was to move things forward with the higher-level politicians in Namibia," he said.
Mermaria Seafood Namibia is owned by Samherji. Stefánsson said in an Al Jazeera investigative documentary that another N$2 million was allegedly for president Hage Geingob's election campaign in 2014 to "pay his sup-porters".
He said James Hatuikulipi asked him for the campaign donation.