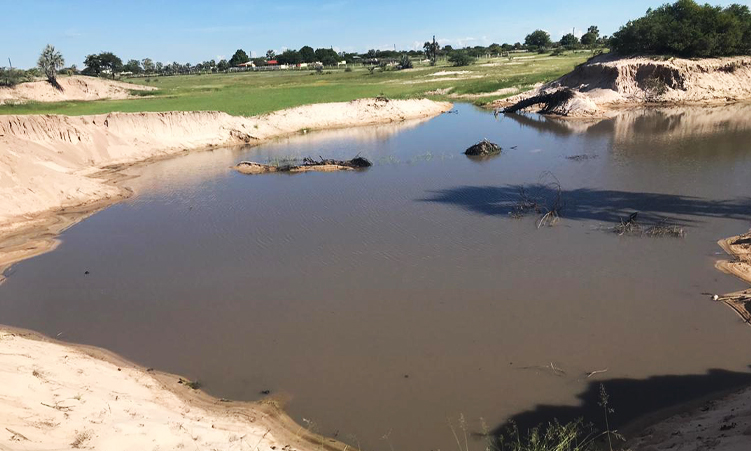 ---
By Eliaser Ndeyanale | 15 April 2021
---
"I HAVE lost a child who drowned in a sandpit. I don't want sandpits near houses," says Fiina Abed (55) from Ondando in the north.
Rainwater collecting in open pits is but one of a number of dangers posed by sand mining.
Abed's sentiments also sum up the stand-off between the community in northern Namibia affected by sand mining and the businesses which keep insisting their trade causes no harm.
Sand mining often leaves death traps in and around villages.
While some see the industry as destructive, others see it as lucrative.
The sand costs those involved nothing. Their only costs are operational, industry experts say.
The manager of a sand-selling company, who prefers to remain anonymous, says a single load costs between N$950 and N$1 950, depending on the distance it needs to be transported.
She says her company makes around N$5 million or more per month by selling sand.
Workers, however, are paid less than N$5 000 per month.
Truck drivers receive N$4 000, while excavator operators are paid N$3 400 per month.
DECEPTION
Abed is only one of a number of people opposed to sand mining at their village.
But she and others have been deceived, she says.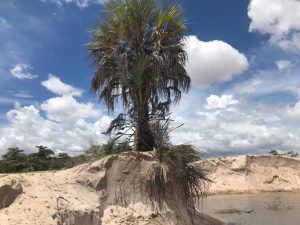 Last year she attended a meeting at her village hoping to discuss the construction of a kindergarten and police station in the neighbourhood.
Two months later, she learnt her attendance was allegedly used to approve a controversial sand mining operation at Oniipa.
"The senior traditional councillor of the Epale district invited me and my neighbours to a meeting, and when I got there, we were told to write down our names and cellphone numbers.
"They did not tell us why we should write down our names . . . They did not discuss anything about sand mining, and we did not give consent to it," she says.
DEADLY BUSINESS
Andreas Hosea (59), also from Ondando, says he does not support sand mining because in 2007 one of his children drowned in a sandpit a few kilometres from where the Ondonga Traditional Authority was given permission to mine sand.
In 2018 a total of three children – two of them sisters – drowned in sand-mining pits in the Ohangwena region.
At the time, regional spokesperson inspector Kaume Iitumba said an 11-year-old girl drowned while fetching water from a sandpit left behind by contractors at Omufitu waNakashole.
The next day, sisters Julia and Elizabeth Naluwe, aged 13 and 15, drowned at Onamwilwa village.
Iitumba said the sisters had gone swimming.
In February this year, three children drowned in sand-minig pits at Rehoboth in the Hardap region.
TAKING OATHS
Six of Abed's neighbours say their names were presented to the Ministry of Environment, Forestry and Tourism by the Ondonga Traditional Authority as having given permission for sand-mining activities on two plots near their mahangu fields.
The meeting allegedly took place in May last year.
Five officials from the Ondonga Traditional Authority also appear on the list as residents who consented to the sand mining.
Abed and her six neighbours have declared under oath that they did not give their approval for the sourcing of sand at their village.
They say they do not understand why the name of the senior traditional councillor is on the list when she was not at the meeting.
The declarations now form part of an appeal against the environmental clearance certificate issued to the Ondonga Traditional Authority on 15 October by the environment ministry.
ROYAL ORDERS
Martha Mupetami is another resident who feels done in.
She says a traditional councillor told her to move her fence because she allegedly tied one end to a camelthorn tree.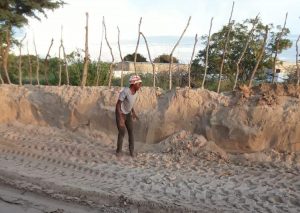 "I moved it because if I don't, they will accuse me of disrespecting a member of the royal family, Anneli Sakaria. I thought it was taboo to refuse to move," Mupetami said.
"Traditionally, if a member of the royal family orders you to do something, you have to comply," she says.
Mupetami later found out that removing her fence was to facilitate the building a gravel road to the sand-mining site.
In January this year, sand miners brought more than six trucks and an earth-moving machine and started mining on land about 400 m from her fence.
"I was in the field cultivating. One of them said they want to start extracting sand from my field and pay me out," Mupetami says.
Sakaria allegedly also instructed Reinhold Mbwiti (73) to remove a fence he erected 38 years ago.
"I told them I am not going to move my fence. I pay for it every year. Sakaria then took out her phone and showed me a video of a fence being destroyed in eastern Ondonga," Mbwiti says.
"She then said if I don't move my fence, she would tell Onalusheshete senior traditional councillor Kashona Kamalulu to come and destroy my fence in the same fashion as the fence in eastern Ondonga," he claims.
PETITION
An application written to the appeal panel in October last year by 25 residents of Ondando states that the "certificate should be withdrawn from the Ondonga Traditional Authority until consultation with interested and affected parties is undertaken".
The villagers also asked that the list as proof of community consent be "declared false".
They also petitioned environment minister Pohamba Shifeta, asking for the clearance certificate for the mining operations to be revoked.
The proposed new site area in which the traditional authority wants to mine is about two kilometres from Oniipa.
It is also close to an open sandpit where trucks, owned by businessmen at Ondangwa such as mayor Paavo Amwele and headman Petrus Shambo, collect sand.
Villagers fear that if the ministry allows sand mining to continue, they will end up with several open sandpits, nowhere for their animals to graze, and no fields for their crops.
They also fear their children would drown in the sandpits.
Ministry of environment spokesperson Romeo Muyunda confirmed that Shifeta received the villagers' petition.
"The minister will study the petition and make an appropriate decision based on evidence available," he says.
He says five traditional authorities, 14 individuals and four municipalities were awarded environmental clearance certificates last year.
Traditional authorities are said to often sell environmental clearance certificates to businesses after obtaining them from the ministry.
BLAME GAME
Former Oniipa constituency councillor Ngwena in January claimed those complaining about sand mining have a political agenda.
"It's not true what they are saying. They are buying faces," he said.
According to documents, sand is to be extracted for five years.
The Ondonga Traditional Authority indicated in its application there are no homestead crop fields near the area.
However, The Namibian found that the site comprises about five hectares and has been fenced off by the Ondonga Traditional Authority. It is also near crop fields.
According to a number of residents, they fear pipeline supplying water to their houses would be damaged as a result of the sand mining.
Former Ondonga Traditional Authority secretary Joseph Asino wrote to environmental commissioner Timoteus Mufeti on 12 June 2020 that "I have no reservation to recommend it for sand mining under supervision of [the] Ondonga Traditional Authority".
Petrus Shambo, who manages the construction of the gravel road, said the sand mined from the pit is taken to produce bricks that are sold for the construction of Andimba Toivo ya Toivo Secondary School and Onandjokwe State Hospital at Oniipa.
Shambo refused to reveal the names of the more than 10 businesses involved in building the gravel road.
Amwele says the Ondando residents opposed to sand mining belong to opposition parties.
"I bought that piece of land from its owner in 2009 and I applied for the clearance certificate, but the ministry refused to give me an environmental clearance certificate because I applied individually. That is why now I surrendered it to the Ondonga Traditional
Authority, but we are going to mine in a group," the Swapo politician said.
ADMISSION
The environment ministry has in the past admitted that some mining is conducted without environmental clearance certificates as prescribed by the Environmental Management Act of 2007.
Members of the community must also agree to it, it said.
In November 2018, former environmental commissioner Theofilus Nghitila instructed the Namibian Police to fine Amwele.
Amwele was to be fined with businessman Otto Shikomba of Oniimboto Trading for mining sand illegally in a 10-hectare area at Ondando.
Last year, Amwele was caught on camera engaging in a heated argument with property developer Petrus Shambo over sand mining near Ondangwa.
"Beat me or kill me," he is heard saying in the video clip.
The Institute for Public Policy Research (IPPR), in a report last year said unregulated and illegal sand mining has been of great environmental concern in Namibia since 2015.
It said that the environment ministry is failing to control sand mining, leading to the severe destruction of the environment, and posing a danger to people and animals.