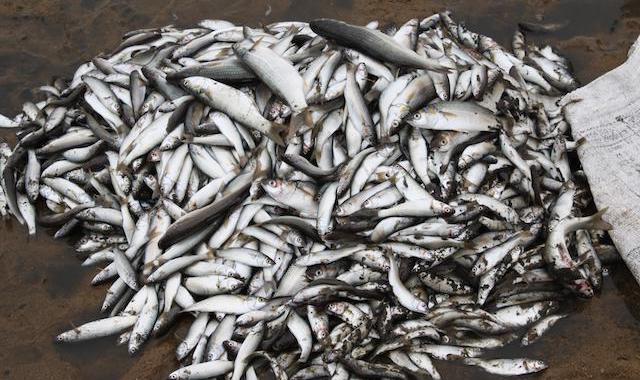 ---
By Mathias Haufiku and Tileni Mongudhi | 20 January 2020
---
The government has allocated a 25 000 metric tonne horse mackerel bailout quota to the National Fishing Corporation of Namibia (Fishcor) because the company was unable to pay salaries and fund its operations.
The quota came weeks after two cabinet ministers and others were implicated in the country's biggest fishing scandal, involving N$150 million channeled into the pockets of individuals.
Acting fisheries minister Albert Kawana last week confirmed that the government had provided an additional quota to Fishcor.
He said the parastatal did not have enough money to pay salaries for December and January.
According to Kawana, fears of closing the company and possible retrenchments prompted the government's intervention.
With more than 1 000 employees, Fishcor is the second-largest employer at Lüderitz.
Its closure could have an adverse impact on the coastal town's economy, Kawana said.
The company will be allocated additional quotas despite receiving more than N$900 million in fishing quota allocations between 2014 and 2019 by former minister Bernhard Esau.
This bailout quota comes more than a year after Fishcor paid dividends of N$6 million to the Regional Governors Trust, which has a 22% shareholding in the state-owned fishing company.
Official data shows that Fishcor is the second-largest recipient of hake quotas – with rights to approximately 11% of the total allowable catch.
Industry insiders claim Fishcor plans to use a vessel owned by controversial Icelandic seafood company Samherji – which was implicated in the Fishrot corruption scandal – to exploit the bailout quota.
Fishcor chairman Bennett Kangumu confirmed to The Namibian that the company had received a horse mackerel quota to bolster operations.
However, Kangumu said the board is yet to decide how the quota will be exploited.
Former Fishcor chairperson James Hatuikulipi and suspended CEO Mike Nghipunya are among a number of officials implicated in the massive Fishrot corruption scandal.
Hatuikulipi, Esau and other people who were arrested last year for their involvement in the corruption scandal remain in police custody on corruption charges.
PREFERENTIAL TREATMENT
The situation triggered questions on how the company finds itself with a begging bowl, despite receiving preferential treatment from the government.
The Namibian reported that Esau gave Fishcor quotas of more than 360 000 metric tonnes of horse mackerel from 2014 to 2019. The first batch of 360 000 metric tonnes – valued at N$35 million – was issued in 2014.
He subsequently dished out quotas to Fishcor worth N$60 million (2015), N$159 million (2016), N$220 million in 2017 and N$216 million in 2018, and around N$200 million in 2019.
The Namibian reported that the parastatal has, over the years, been selling its quota below market value to third parties for catching and processing, specifically to Samherji Seafood.
Fishcor does not have the capacity to catch horse mackerel as it was initially a white fish company. This means it specialises in catching and processing hake.
The Namibian understands that Esau's intervention was aimed at pumping money into the company's hake operations to make its production process profitable as it was running at a loss.
However, questions about a more sinister motive surfaced following the Fishrot scandal revelations.
There has been reports that suggest that the company was used as a conduit for questionable transactions by Esau, Hatuikulipi and Nghipunya and several foreign companies.
Fishcor also channelled N$17,5 million through Sisa Namandje & Co Inc Trust in 2015 and 2017 – money linked to the Fishrot scandal.
FINANCIALS
In its 2017 annual report, Fishcor said the group's profit after taxation was N$67,9 million compared to N$40,6 million achieved in the 2016 financial year. Group assets reportedly grew by 6% from N$471 million to N$499 million.
The report states that the total wet hake quota allocated was 7 115,14 metric tonnes (mt), of which 7 115,14mt was landed by its three wet hake trawlers by the end of September 2017.
The allocated hake freezer quota of 3 728,35mt was fully utilised by Seacope. As per the agreement between Fishcor and the fisheries ministry – whereby the minister allocates quotas for governmental objectives to the group – a total freezer hake quota of 16 200mt and a total horse mackerel quota of 88 000mt were allocated to the group for this purpose.