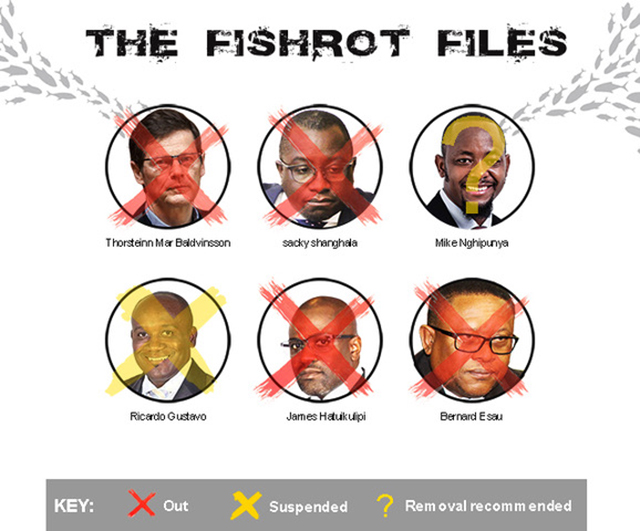 ---
By Shinovene Immanuel, Sakeus Iikela | 15 November 2019
---
TWO MORE 'big fish' implicated in the Fishrot scandal – which spans Namibia, Angola and Iceland – have resigned.
James Hatuikulipi yesterday stepped down as Investec Namibia managing director, and Thorsteinn Már Baldvinsson, chief executive of Icelandic seafood company Samherji, also quit his job.
Investec Asset Management client director Ricardo Gustavo, who reports to Hatuikulipi, has been suspended.
In a related development, public enterprises minister Leon Jooste yesterday recommended the immediate removal of Hatuikulipi from the board of directors of the state-owned National Fishing Corporation of Namibia (Fishcor). Jooste also wants Fishcor chief executive officer Mike Nghipunya suspended immediately.
'WE TAKE IT SERIOUSLY'
Hatuikulipi's resignation was announced by Investec's business manager, Gwynneth Rukoro.
"We can confirm that James Hatuikulipi has resigned with immediate effect. Due to the serious nature of these allegations, Ricardo Gustavo has been suspended with immediate effect, pending the outcome of our ongoing independent investigations," she added.
Rukoro said they were aware of media reports concerning two of their employees who are alleged to have been involved in impropriety in relation to fishing quotas in Namibia.
"Although the alleged activities were conducted in their private capacity, Investec Asset Management takes allegations of this nature very seriously. Our internal investigation into the matter is ongoing, and we remain open to cooperation with the authorities," she added.
Hatuikulipi and Nghipunya are implicated in the WikiLeaks Fishrot scandal as being among the Namibians who received kickbacks of more than N$150 million.
Some sources estimate that the amount involved could be as much as N$2,5 billion, if questionable transactions made through Fishcor are included.
Hatuikulipi registered a private company, Tundavala Invest Limited, on 24 May 2014 as the sole director, sole shareholder and company secretary in Dubai.
Esja Holding, owned by Icelandic seafood company Samherji, paid "consulting fees" to Tundavala through several transactions.
Tundavala slapped Esja with an invoice of US$350 000 [N$5 million] for "consulting fees" on 31 October 2014. Hatuikulipi's firm sent another invoice – for US$447 488 [N$6,6 million] – to Esja on 26 January 2015; and another on 31 March 2015, asking for US$256 500 [N$3,8 million].
The fishing quota scandal has already led to the resignation of fisheries minister Bernhard Esau and justice minister Sacky Shanghala.
FISHCOR
The Namibian understands that minister Jooste recommended the removal of Hatuikulipi – Shanghala's close friend and business partner – from the Fishcor board to acting fisheries minister Albert Kawana yesterday.
"With reference to the various allegations of fraud and corruption related to Fishcor in the media on 13 November 2019, I wish to recommend the following in line with Article 14 of the Public Enterprises Governance Act 2015…
"That James Hatuikulipi be removed as a board member and chairperson of Fishcor and any subsidiary of the company with immediate effect," Jooste told Kawana, a person who read the letter said.
According to a person familiar with the matter, Jooste suggested that "any form of power of attorney, including signing powers at financial institutions, be revoked immediately".
The letter, sources said, mapped out a plan for the board to convene a meeting to appoint a new chairperson.
"[That the board considers the immediate dismissal of the chief executive officer of the company (Mike Nghipunya), or alternatively, immediately suspend the chief executive for further investigations," he stated.
"Dear colleagues, I believe the above recommendations are in the best interest of the company and its subsidiaries, and that these interventions will protect the interests of the state as shareholder," Jooste said.
Jooste and Kawana could not be reached for comment. Questions sent to Hatuikulipi and Nghipunya met with no success.
Nghipunya admitted to The Namibian last month that the parastatal had dealings with Icelandic company Samherji's subsidiary Mermaria Seafood, which is accused of gobbling up N$60 million from a company co-owned by Namibians.
Nghipunya was in charge of Fishcor when it received a 15-year N$1,8 billion fishing quota from Esau.
That quota was given to a joint venture owned by Fishcor, but controlled by a South African with Angolan business ties.
TAINTED LAWMAKERS
Shanghala and Esau will remain MPs, despite stepping down as ministers this week.
The two have not resigned their parliamentary seats, and will be paid for the next four months until the new parliament sits in March next year.
An MP earns close to N$700 000 a year, which translates into at least N$60 000 a month.
The two resigned on the day they were exposed for alleged corruption and receiving kickbacks.
They are accused of benefiting from several fishing quota transactions, including one donated to the Angolan government, from which N$150 million in kickbacks was paid to several people.
Speaker of the National Assembly Peter Katjivivi told The Namibian that the two had not yet resigned from the National Assembly.
He said he would only know if the two would remain MPs when the National Assembly resumes its sittings in February next year.
"Yes, they have resigned from their Cabinet positions, but they still continue to be members of the National Assembly because they are still on the party list. That is a separate issue. It is not my decision to make," Katjavivi said.
"It depends on the party that they serve," he added.
Shanghala and Esau are also on the Swapo Party list of candidates for this month's presidential and National Assembly elections, and could be elected to the National Assembly next year.
Swapo's executive director, Austin Samupwa, refused to comment on the fate of the disgraced ministers yesterday, saying there was nothing to report yet.
Swapo secretary general Sophia Shaningwa did not answer her mobile phone.