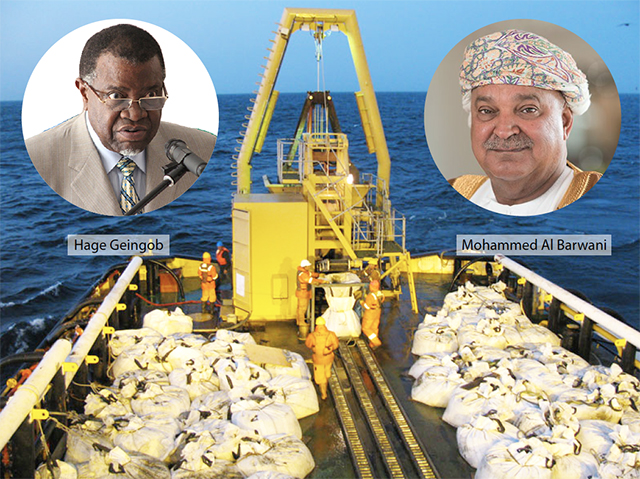 ---
By Mathias Haufiku and Tileni Mongudhi 14 Novemebr 2019
---
PRESIDENT Hage Geingob is applying pressure on Cabinet ministers to take a decision on the controversial marine phosphate mining plan, despite a government report warning that it would endanger Namibia's ocean.
The president is demanding an "immediate solution".
Marine phosphate mining, a contentious issue worldwide, has become a major bone of contention in Namibia over the last few years. It has seen the fishing sector drag the government to court over the issuing of a licence to a company owned by Omani billionaire Mohammed Al Barwani and Namibian middleman Knowledge Katti, a friend of the president.
The company wants to extract minerals from the Atlantic Ocean seabed to produce fertiliser to sell abroad.
Geingob's intervention comes despite the ongoing court case.
The president is pressuring his ministers to take a decision on marine phosphate mining, which is seen as toxic to the environment.
Geingob wrote to environment minister Pohamba Shifeta on 13 June 2019 in a letter titled 'Namibia Marine and the Sandpiper Marine Phosphate project'.
The letter, which The Namibian has seen, was copied to prime minister Saara Kuugongelwa-Amadhila, fisheries minister Bernhard Esau and mines minister Tom Alweendo.
Geingob said his communication to them was prompted by a letter from billionaire Al Barwani.
"It is disheartening that almost 10 years down the road since the development of the Sandpiper Marine Phosphate Project was first mooted, there is still no decision whether the environment clearance certificate duly issued to Namibia Marine Phosphate (NMP) remains valid or not," Geingob stated.
He added: "There is an unwelcome trend where potential investors in Namibia are frustrated by drawn-out processes and indecision by Cabinet ministers. Ministries fail to respond to investors in a timeous and professional manner".
Geingob continued: "I urge you, comrade Shifeta, to liaise with the ministers of fisheries and marine resources, and mines and energy, presided by the prime minister, to highlight issues emanating from their sectors, and find an immediate solution."
The president expressed dismay over the handling of the issue, and requested Shifeta to provide him with a comprehensive update on the future with regards to "delaying the finalisation" of his decision on marine phosphate mining in Namibia.
To some people, this is tantamount to applying pressure on Cabinet on behalf of investors whom Geingob brought to Namibia from his overseas trip six years ago when he was prime minister.
A government leader familiar with the phosphate saga said Geingob seemed to have forgotten about the court case, which effectively ties the government's hands for now.
"Geingob should be careful with this phosphate matter because it is still sub judice," said the senior government leader.
With so many investment proposals gathering dust in government offices, several sources who spoke to this newspaper did not understand why the president is so keen on marine phosphate mining, especially given the content of the letter written to Shifeta.
Presidential spokesperson Alfredo Hengari was evasive about Geingob's instructions.
"Since when does the president instruct ministries to approve such?" he asked in response to questions sent by The Namibian. He later referred questions to the line ministries.
Government sources said Geingob's letter took all but his inner circle by surprise, especially as the marine phosphate mining case is still on the court roll.
Proponents of marine phosphate mining claim it has the potential to boost Namibia's food production capacity, as well as generate substantial revenue for the state.
However, environmentalists say that amongst others, it would release hazardous substances (including radioactive materials, methane gas and hydrogen sulphide), which would directly kill wildlife, cause many commercial fish stocks to be unmarketable, and affect the food supply chain for human beings.
WARNING SHOT
Environment officials told The Namibian that the ministry had late last year concluded a review on whether the ministry could open the door to marine phosphate mining in Namibia.
It found that Namibia Marine Phosphate's proposed mining methods were potentially harmful to the marine ecosystem as its proposed seabed mining system would release its waste material into the water, and could prove poisonous to the marine ecosystem.
This essentially strengthens the objections by the fisheries ministry and the fishing sector.
The officials said the ministry's review also proposed safer, albeit more expensive, alternatives.
One is to mine with a system ensuring that waste material from the dredging process is laid back on the seabed without the risk of contaminating the water.
This is apparently seen as a possible breakthrough in paving the way for the government to allow marine phosphate mining. The Namibian could not establish whether this system has been tested elsewhere before.
The fishing sector remains adamant that marine phosphate mining should not even be entertained in Namibia.
Representatives noted that fishing provides about 16 000 direct jobs and generates an estimated N$10 billion a year in revenue. This translates into about 5% of the country's GDP.
People familiar with the ministry's review told The Namibian that when it comes to direct job creation, marine phosphate mining would not be able to compete with the fishing sector and that it was capital-intensive, possibly employing no more than 100 people per vessel operation.
The source said only if the phosphate mining translated into a fully fledged fertiliser industry could jobs be realised.
GEINGOB-KATTI TIES THAT BIND
Geingob's friend, Katti, stands to be one of the biggest winners if the government approves marine phosphate mining. He is spearheading NMP's marine phosphate drive in Namibia.
Katti has been accused of leveraging his influence within the administration to push for his lucrative phosphate business deal with his foreign partners.
Sources claim Geingob and Katti finalised details of the marine phosphate pact during a secretive visit to Oman in 2013.
Former presidential affairs minister Frans Kapofi in 2017 rejected suspicions that there were underhand dealings from that trip.
The Namibian previously reported that Geingob's trip to the Middle East resulted in investors in marine phosphate mining coming to Namibia. The Omanis partnered with Katti.
NMP is owned by Al Barwani through his company Mawarid Mining LLC with 85%, while 15% is owned by Katti.
Government officials familiar with the Oman visit and the phosphate deal told The Namibian that the Middle East investors are highly rated by the Namibian government.
They cited a 2014 trip to Cuba. Katti and two Middle East businessmen, believed to be from Oman, were part of then prime minister Geingob's official delegation.
During the trip, The Namibian was informed, Namibia's ambassador to Cuba made his official vehicle available to Katti and his two business associates, while having to share another embassy vehicle with two other ministers from Namibia.