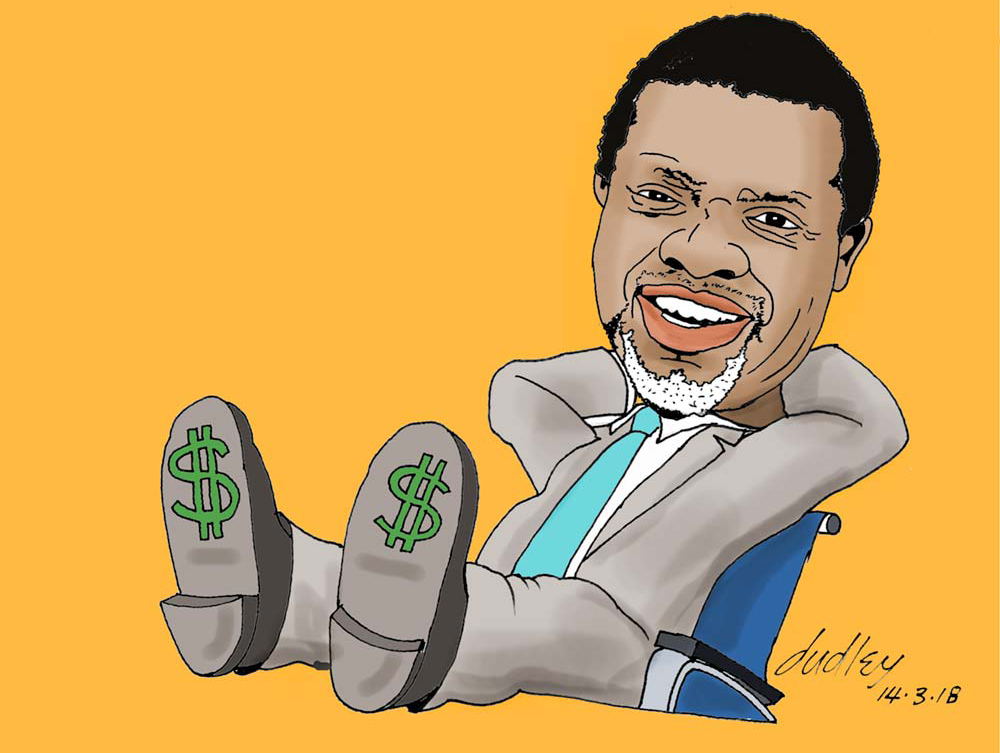 ---
By Shinovene Immanuel | 14 May 2019
---
PRESIDENT Hage Geingob bought a bed for N$120 000, as part of a N$1,6 million splash on his furniture imported tax-free through people implicated in Namibia's N$3,5 billion tax evasion, fraud and money laundering scheme.
The luxury goods were bought from China, shipped to Walvis Bay and, according to people familiar with this transaction, transported to President Geingob's private residence by his friend and business partner, Jack Huang. Huang is among the people implicated in the country's biggest tax evasion case. Although the President obtained an exemption from paying import duty, the transaction raises questions about abuse of privileges, as well as the loss of money to the country through spending on top-of-the range luxury goods.
Experts said Geingob would have paid around N$950 000 in value-added tax and import duty for importing the furniture. Geingob's office refused to answer detailed questions sent to them this week, saying this is a private transaction which the President paid for by "using his funds for his private residence".
The office did not answer questions on what Huang's role was, and whether the President was comfortable with the transaction, knowing that it was linked to people accused of involvement in fraud and money laundering. The Namibian has seen documents showing that the N$1,6 million furniture cost includes N$100 000 as shipping costs from Shenzhen to Walvis Bay. It was handled by a Chinese shipping company called Zhejiang Longfortune Import & Export.
Documents also show that the furniture included 30 sets of sofas costing N$390 000, 40 sets of recreational chairs for N$320 000 and 49 pieces of "eating chairs", possibly referring to dining table chairs, for N$142 700. The furniture was shipped to Namibia in three containers from China on 7 July 2015, and delivered in Namibia in August that year. The shipping of the furniture was paid to the Bank of China.
PRIVILEGE
After the money for the furniture was paid, a senior special assistant to the President, Rachel Gowases-Chibas, wrote to the finance ministry on 30 July 2015, asking whether the President was exempt from paying import duty or related taxes. On 4 August 2015, former customs commissioner, Bevan Simataa, wrote to Gowases-Chibas, advising her on 'procedure for exemption on the importation of goods for His Excellency the President and his family'.
Simataa told Gowases-Chibas that customs and excise, as well as VAT laws, give the President and his family the privilege to import goods into the country without paying taxes or fees.
The taxman said the two laws allowed "for duty-free importation of goods for personal use or official use" by the President and his family. The former customs commissioner said State House only needed to contract a clearing agent to bring the furniture through customs offices.
ENTER HUANG AND CO
Documents show that Geingob's furniture was imported through Extreme Customs Clearing Services (XCCS), the Namibian company at the centre of the N$3,5 billion tax evasion allegations. The company's owner, Laurensius Julius, is accused of falsely lowering the value of goods imported into Namibia to avoid paying commensurate taxes. Geingob's furniture is not the subject of scrutiny as he got exemption for it, but officials briefed about this matter said Huang directly facilitated the import through clearing agent Julius. Documents from Namport show that the furniture shipment passed through Namibia's port on 5 August 2015, and was loaded into a truck with a registration number N181-260W on 12 August 2015. Ju-Fang-Yuan Transport and Services CC owned that truck used to transport the furniture. This entity, according to trade documents, was founded and owned by Huang.  Even though documents show that Huang resigned from that firm in 2009, people familiar with this transaction said the Chinese businessman was involved in the transport of furniture. Trade documents show that other owners of that outfit were Jianguo Chen, Jie Zhang, Xudong Qian, Fei Chen and Thamsanqa Arron Mtebe.
Huang avoided answering detailed questions about this transaction, and instead focused on his stay in Namibia. "I came to Namibia 20 years ago, and it is home to me. In the past one to two years, some few individuals, one time after the other, are making up stories to create chaos," he said yesterday. Huang said Geingob "was elected by the Namibian people in a landslide victory, which means the majority decides to support him. How many of you care about the society and its economic growth?" he asked, adding that "do you know what are the economic performances of other countries on your continent, and how much Namibia has fallen behind? Wish you all the best."
Clearing agent Julius refused to be drawn into the furniture import issue. "I have no comment. Ask the President himself since there is a court case going on about this matter," he stated.
Asked about the owners of the trucks which transported the furniture, Julius said: "Request the information from your informant, as I have nothing to comment. They must give you all details."
Presidential spokesperson Alfredo Hengari told The Namibian this week that he is uncomfortable with answering questions relating to the President's private spending.
"In this case, furniture purchases of the President from his funds, and for his private residence. Moreover, my unease is accentuated by the fact that these were transacted in conformity with all the relevant and applicable provisions," he said.
LUXURY
It is unclear why the President and his family are exempted from paying duty for luxury goods. Presidents receive almost everything for free from the state: accommodation, vehicles, water, electricity and clothing, among their many perks. That excludes a salary, in Geingob's case of N$1,7 million per year (more than N$141 600 per month). Namibia is heavily reliant on import taxes, with N$14 billion out of N$48 billion generated from taxes on international trade, including customs duties, in the 2016/17 financial year. Geingob always defended (and sometimes boasted about) affording his expensive taste in 2016. The Namibian reported about another instance of similar taste, in how the President demanded from the French government, and got to stay at a N$350 000 per day hotel in Paris during a state visit. He has also asked for renovations at State House [Auasblick], claiming the decoration done during former President Hifikepunye Pohamba's tenure were antiquated and not to his liking. The Namibian reported last year that the renovations on a section of State House that accommodates the offices of the President, his aides and other officials would cost government over N$40 million. The President moved out of the Chinese-built presidential palace around September 2015, which is also being renovated. Geingob and his family have since been living at his private villa, Casa Rosalia, which is situated on the eastern edges of Windhoek, along the road linking the capital city to the Hosea Kutako International Airport.
The rest of the furniture are as follow:
Item Cost
Tea Table (27 pieces) N$118 200
Table (8 pieces) N$110 000
Decorating painting (41 pieces) N$100 000
Spring mattress (6 sets) N$55 000
Bookshelf (2 pieces) N$18 500
Sideboard (3 pieces) N$26 700
Carpet N$22 000
Ceiling lamp (2 sets) N$19 400
Bedside cupboard N$33 400
*This story was produced by The Namibian's Investigative Unit. Send us story tips via your secure email to: [email protected].