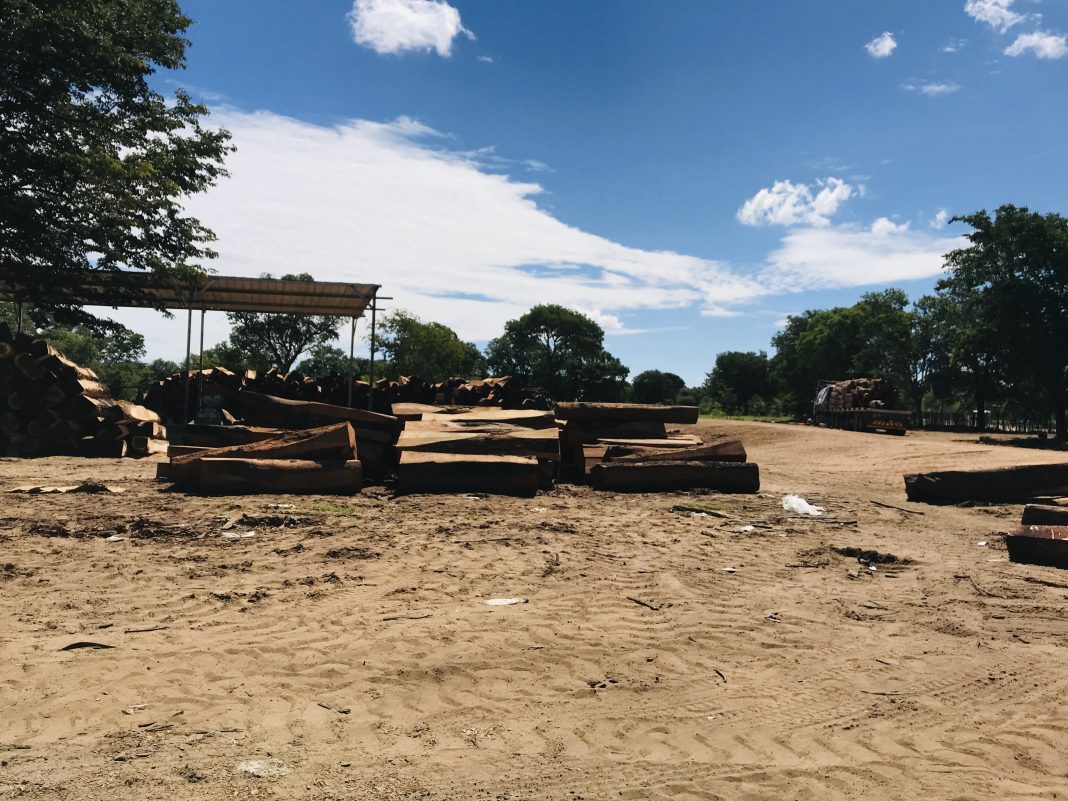 ---
Shinovene Emmanuel, Okeri Ngutjinazo and Nghinomenwa | 1 March 2019
---
PARLIAMENTARIANS, government officials, councillors, police bosses, traditional leaders and church leaders rank among 230 individuals who want to cut down around 200 000 rare trees in Kavango East.
Those set to benefit include Kavango East governor Samuel Mbambo, Rundu mayor Isak Kandingu, former Namibian ambassador to Austria Simon Maruta, Swapo member of parliament Sebastiaan Karupu, All People's Party (APP) president Ignatius Shixwameni, and Kavango West's Namibian Police crime investigations coordinator, deputy commissioner Rudolf Mbumba.
They are named on a list of 230 people who, since November 2018, have applied to cut down tens of thousands of rosewood trees on land spanning 570 000 hectares.
This is more than the combined size of Namibia's capital Windhoek (513 300 hectares) and Okahandja (16 420 hectares) combined. Those named are already the recipients of state land. They each received, on average, a 2 500-hectare farm to lease for 99 years.
Now they want to cash in on the lucrative timber trade.
The Namibian government banned the cutting and transportation of timber in November because of concerns that timber was being harvested without following the correct procedures, as well as broader concerns over damage to the environment caused by logging – mainly in the Kavango East, Kavango West and Zambezi regions.
Rosewood is protected worldwide because of overexploitation. Experts note that some species of the tree take 100 years to reach maturity.
In Namibia's sub-continental forests, some trees are 400 years old.
Most of Namibia's rosewood is reportedly sold to China, where it is in high demand. It is primarily used to make furniture.
POLITICAL PRESSURE
The Namibian understands that political pressure is being placed on the environment ministry to lift the ban.
Sources say political leaders in Kavango East, via Swapo leaders, are trying to use Namibia's national elections in November as leverage.
They argue that the ruling party Swapo will lose votes if they don't bow to demands to scrap the ban.
Despite being given farms for next to nothing, they also want the government to give them funding to develop their farms.
Former Kavango East governor Mbambo, who previously served as Namibia's high commissioner to India, has emerged as one of the proponents of lifting tree-and timber-related restrictions.
Although he never publicly declared that he had an interest in the timber trade at the time, he was vocal in criticising the government's decision to call a halt to harvesting trees and transporting timber.
What he remained silent on, though, was that he is part of an elite group from Rundu which stands to gain from chopping down the rare trees.
Documents show that Mbambo was given the green light to cut down 1 230 trees over five years.
On the one hand, he argues that farmers have invested heavily in their logging operations, and on the other hand, he says they do not have money to invest in their farms.
"The question is, where will we get the funds to develop the farms that we received from the state?" Mbambo asked when he spoke to The Namibian this week.
THE OTHERS
The new list of applicants shows that an application by Namibia's former ambassador to Austria, Simon Maruta, to cut down trees was not approved.
Maruta retired last year, and could not be reached for comment.
An application by Swapo MP Sebastiaan Karupu to cut down 350 trees was approved.
APP president Ignatius Shixwameni was granted a quota of 1 230 trees, while a Swapo National Council member, Michael Shikongo, can chop down 1 830 trees.
The list includes traditional leaders such as chairperson of the vaShambyu Traditional Authority, Kosmos Makanga; Muremi Nairenge, a councillor in the Sambyu Traditional Authority; and Christiana Sikongo, secretary of the Tradition Shambyu tribe.
Councillors on the list include Titus Kandjimi Shiudifonya (Mpungu); Kaheke Hildegard Mangundu (Ndiyona); Elia Kamati, a chief council member on the Ukwangali Traditional Authority, and Johannes Karondo (Kapako).
Gabriel Kangowa, deputy director for risk management in the Office of the Prime Minister, and reverend Ludwig Hausiku, a special adviser to the youth minister, are also applicants.
He said the agriculture and forestry ministry had studied their farms, and found that most are home to three species of rosewood that can be cut and sold.
Mbambo insisted that the plan to cut down the trees was approved by the agriculture and forestry ministry, which also promised to train people on how to cut the trees.
He said the ministry told them that each farmer could cut down 1 800 trees, but only 600 per species.
Mbambo also argues that the timber ban will negatively affect the region's economic growth.
The government lifted the ban on transporting timber two weeks ago until the end of this month to allow the transportation of timber that was already harvested.
Asked if he was worried about selling timber to questionable people, including the Chinese mafia, Mbambo said he had no evidence to this effect.
"I hear about these things. Whether they are criminals, I don't know. I don't have the facts or evidence," he stated.
*This article was produced by The Namibian's investigative unit. Send us story tips via your secure email to [email protected]
WHO GETS WHAT
Namibian Sun reported last year that farmers decided on a price for
the trees that typically range between N$300 and N$450.
Sources claim that the timber is then sold at Walvis Bay to a Chinese
buyer, who pays around N$12 000 a cubic metre for it.
This means the local farmer gets between N$180 000 and N$270 000
for 600 trees. The Chinese 'investor', however, pockets more than N$3
million for the trees, according to the report.
The Namibian has established that a worker is paid N$20 for a rosewood
tree. They are given a N$5 bonus for trees that are massive.
Drivers are paid around N$200 a trip in the local areas. They negotiate
on rates outside the region.
*This story has been updated.
---